For any woman who loves to look different and stylish, an invitation to a sneaker ball is definitely exciting. Pairing comfortable sneakers with glamorous outfits is a fun thing to do, albeit a challenge. You may cross the line between a fashion-forward look, or a sloppy one. Here are some trending sneaker ball outfit ideas which you can try the next time you are invited to one.
So, what is a sneaker ball? These are usually fundraiser events aimed at amassing funds for the needy. The parties have a dress code for the attendees where you need to pair your semi-formal attire with sneakers. Your look should be a balanced fusion of glamour, comfort, and your personal style. From stylish satin pantsuits to dresses that make you feel empowered, there are a lot of options to go for.
As stated above, some might feel that pairing their kicks with formal outfits is a bit tricky. If you are in the same boat, you can get many ideas in our outfit guide below.
Sneaker Ball Dress Code
The dress code for sneaker balls has basically two rigid rules. One, that you wear formal evening attire, and two, that you wear sneakers with it. In other words, it is a great opportunity to break the conventional dressing rules and create an extraordinary look.
Women opt for captivating gowns, shimmery dresses, skirts, and suits. Wearing clothing such as sweatshirts, jeans, t-shirts, and tights is not allowed. The strictly enforced "sneakers-only" rule means that heels, sandals, and other evening-wear shoes are also not permitted.
You can pick a glamorous, flowy dress adorned with sequins or a silk shirt with a leather skirt. Round off your sneaker ball outfit with a hint of your own style.
Sneaker Ball 2022 Trends
Though the dress code for the sneaker ball gala remains unchanged, the outfit trends surely change every year. In 2022, bold color combinations, neon outfits, and platform-soled trainers are some of the well-known trends. Here are the popular styles of gowns and dresses that you can wear to the sneaker ball this year.
Ball Gowns and Sneakers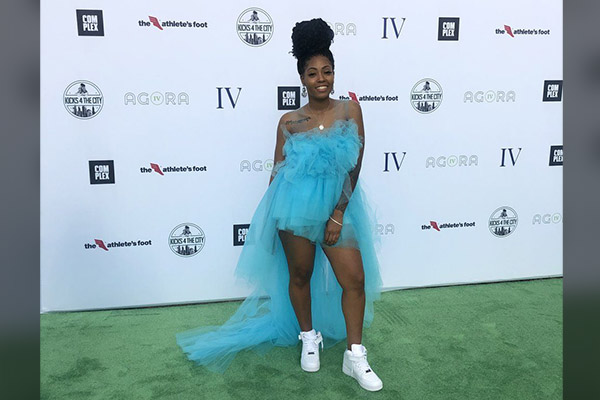 What can be better than a stunning gown for the sneaker gala? They give a strong style statement, and choosing the right one means you will bedazzle the attendees at the soiree. You can either opt for a minimalist A-line ball gown or a mermaid-style one for an elegant look. If you have an affinity for the trending regency core aesthetic, choose an empire waist version.
Recently, the trumpet-style gown is in fashion, and you can go for it if you want to emphasize an hourglass figure.
Sneaker Ball Dresses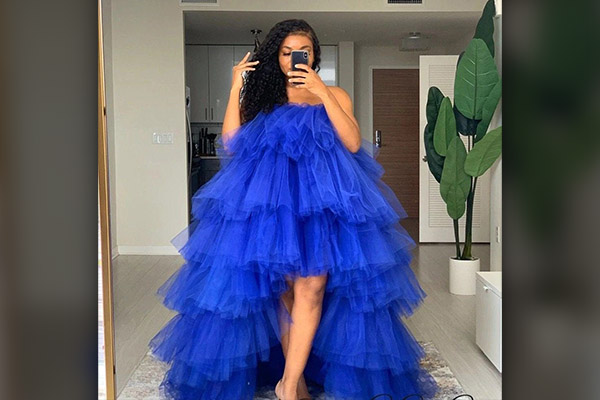 As gowns are usually floor length, dresses may be a better option for the sneaker gala to reveal your footwear. To draw the attention of people towards you, go for a flattering dress and pair it with a magnificent pair of trainers.
Satin slip dresses rule the evening dress arena these days, and you can pair them with matching arm warmers or leather jackets. Other options for a sexy look are side slit dresses, sequined dresses, high-low tulle dresses, or short-tiered dresses. 
Experiment with attractive styles of dresses with sneakers, such as a smocked bodice midi dress, a bold off-shoulder number, or a blouson dress. For the sneaker gala, a blazer dress or one-sleeved dress is a voguish option.
Sneaker Gala Outfit Ideas
You can unleash your style and creativity by pairing elegant or bold evening attire along with fashionable sneakers. To satiate the lazy fashionista within you, take cues from the sneaker ball party outfit ideas suggested below.
Cute Sneaker Ball Dresses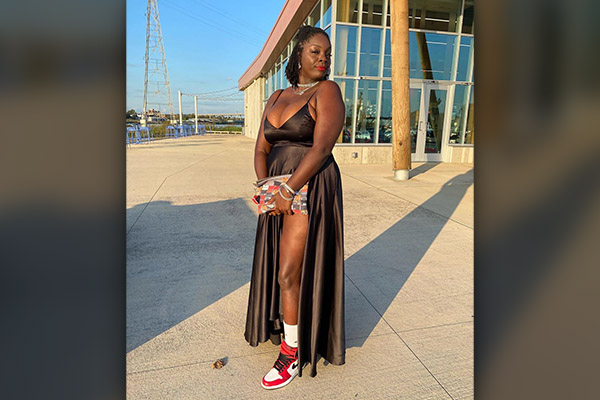 The kind of look that you want to achieve is up to you. Though the theme is semi-formal, you can opt for an aesthetic that appeals to you the most. If you want a cute and feminine look, try the following ensembles.
A pastel pink slip dress is the foundation piece for a soft girl aesthetic outfit. To add some edgy flavor to it, layer it with a cropped leather jacket in a silver-grey color. Silver and white platform-soled sneakers are the perfect choices of footwear for this outfit.
You can also go for a co-ord pantsuit in a shimmer fabric. A high ponytail hairstyle and a glam makeup look are enough to make you stand out at the party. With this outfit, you can wear white chunky sneakers.
Opt for a shimmery bronze tulle dress with a high-low hemline. Pair it with white sneakers with a golden stripe. Choosing your best sneakers is the key to nailing this look as they will be the highlight.
Elegant Sneaker Ball Party Outfits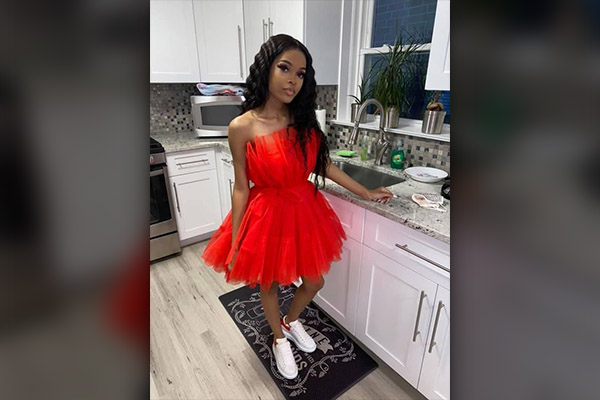 Graceful outfits with a touch of glamour are very easy to put together. If you are not able to decide what to wear for a sophisticated look, here are a few ideas.
Go for a black dress with feather details and pair it with a neon yellow blazer. Wear sneakers with a hint of yellow with this attire.
Another way to look charming is to wear a black leather skirt with a green silk shirt with a plunging neckline. Round off the look with black and white trainers.
A white body con midi dress with cutout details is an easy formula to dress for the sneaker gala. To layer this outfit, go for a mustard trench coat. Light brown trainers and a statement necklace will seal the look. 
Sneaker Ball Outfit Ideas for Plus Size Women
Getting an invitation to the sneaker ball is not a thing to worry about if you are plus size. No need to hide those body curves with shapeless outfits. You can go for any of these outfit ideas to look like a diva.
An asymmetrical hemline dress is an ideal choice for a plus-size woman. It diverts the focus toward the legs rather than the torso. Pair a plum-colored dress with grey sneakers for an eye-pleasing look.
An interesting way to show up at the sneaker gala is to pair black sequin flare pants with a black crop top and a red blazer. Complete this red and black outfit with a stylish pair of trainers.
Create a flattering look with a black lace cocktail dress and finish it off with white sneakers.
FAQs – Sneaker Ball Outfit Ideas
What is the purpose of the Sneaker Ball?
Sneaker Ball is a philanthropic event that is held every year. The attendees raise money or donate shoes for the needy. The attire for the sneaker ball is formal evening wear. Everyone must wear sneakers at the ball. 
Can sneakers be stylish?
It is a commonly conceived notion nowadays that sneakers are the new heels. Gone are the days when they used to be associated with sports and fitness. Although plain white sneakers can be equally stylish, you can go a notch up by going for neon sneakers, sneakers with glitter patches, or pastel-colored sneakers. 
Do sneakers go with dresses?
Sneakers and dresses are a trending combo nowadays. The pairing symbolizes the desire of a woman to fuse style with comfort. The sneaker gala event is one such example, where women opt for dressy gowns and beautiful dresses along with sneakers. 
Wrapping Up
Our suggestions for the sneaker ball outfits will ensure a fabulous and unique look for you. Just make sure to choose formal attire that suits your body type. Pair it with the most fly kicks you have got to nail the look with perfection.