White doesn't need a season; white doesn't need a reason. This quote stands true in vogue because a white outfit is bound to emanate beauty and grace. However, styling the perfect shoes to wear with white dress without losing its elegance can put you in a fashion dilemma.
A white outfit can bring balance, purity and calmness to your aura. Adding a pair of shoes according to the occasion can open a vast range of possibilities. For classic touch, try wearing neutrals and for a trendy and sporty touch, go for bright colored footwear.
Below you will find our recommendations on what color shoes to wear with white dress. Go get inspired!
Neutral Color Shoes to Wear With White Dress
Neutral colors refer to white, black, brown, beige, gold and silver. All these colors provide a calming effect to the whole outfit and can be usually used to craft laid-back and casual looks. Neutrals also complement any types of dresses in white such as gowns, flowy dresses or cocktail dresses.
Valuable questions such as what color shoes to wear with white wedding dress can be addressed in the category of neutrals. A perfect white sandal will look most elegant, while silver heels will be the choice of a fashionista bride.
Let's take an insight into the different muted shades for shoes that will enhance your white outfit like never before.
White Dress With Black Shoes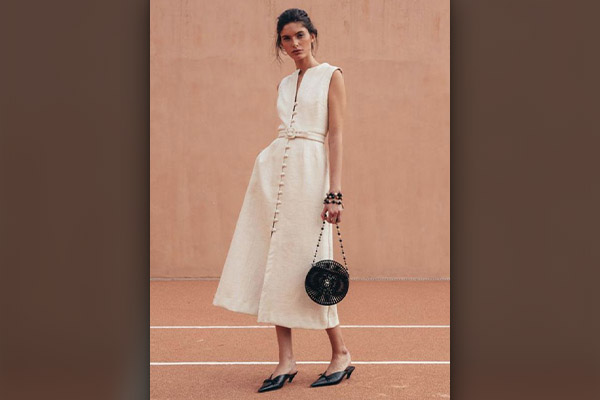 Irrespective of how bright or pale your white outfit is, the safest option is to go for black shoes. This combo gives you a simple yet classy look.
If you want an instant lift to your white cocktail dress, try wearing black stilettos with straps or graceful pumps. However, black ankle boots would look stunning with any frilly dress for a girls' night-out.
No one can ignore the all-time beloved pairing –white dress, black heels!
White Dress With Nude Shoes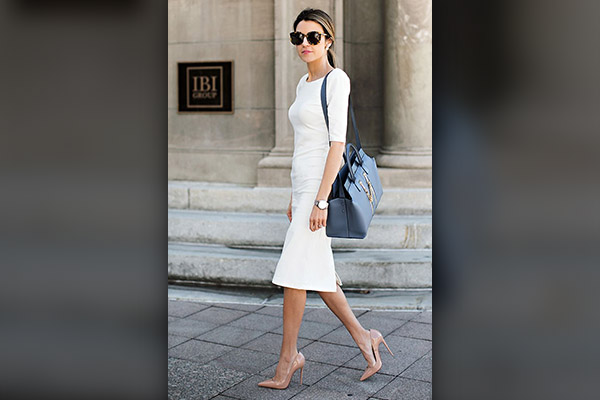 Nude shoes can help all those humble and introverted women who wish to downplay their outfit looks. If the shade of nude matches your skin tone, then it can give you the edge of elongated legs.
It is a decent choice to wear the "white dress-nude heels" combo to summer weddings or even at formal gatherings. With the perfect white outfit you can craft a look that is timeless and works as an added plus to your beauty and confidence.
White Dress With Gold Shoes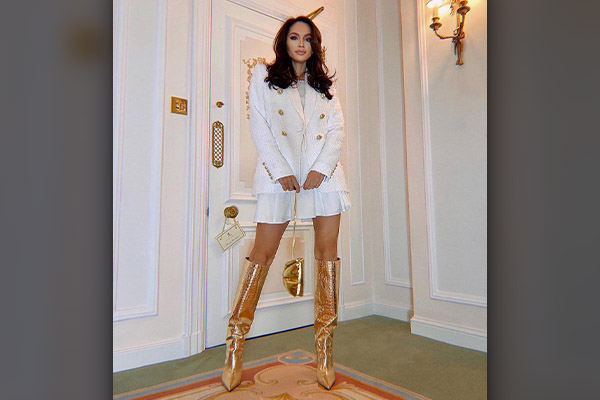 Gold plays a vital role in dressing up any simple white dress. Gold sandals and pumps look remarkable when worn to any formal event.
Dull and matt shades of gold such as bronze or copper look elegant and smart with creamy white and pure white outfits. It adds a touch of royalty too. For any special event, keep these as one of the most versatile shoes that goes with white dress.
White Dress With Beige Shoes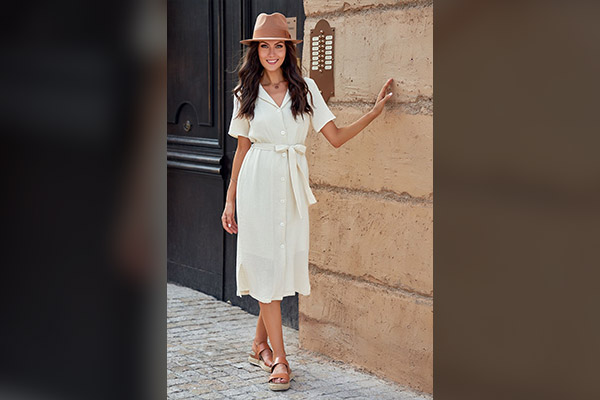 From the family of nudes, we have another subtle shoe that can easily align with your skin tone –beige shoes. You can opt for a summer-time casual or semi-formal look, especially if they are made of suede material.
Women tend to adore beige colored shoes. They are a wonderful addition to your closet for all around the year. Nowadays wedges are in trend and if you are looking for shoes that go with everything, then go for wedges in beige.
White Dress With Silver Shoes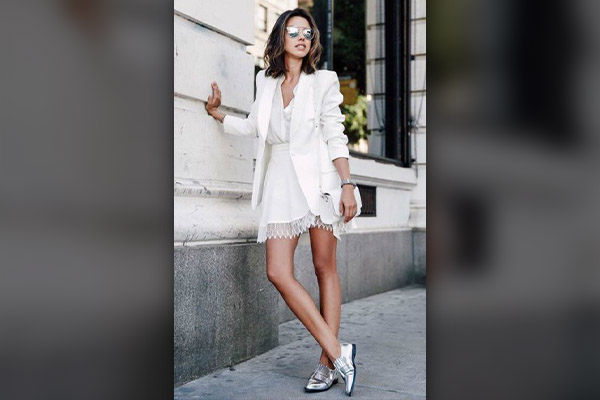 Silver shoes are available in varied designs. You can choose from holographic, glittery and metallic styles –whichever you feel comfortable with.
Silver heels for white dress can be a perfect choice for special occasions, especially wedding parties. Infact, silver shoes with cool undertones are more appealing to the eye. With silver shoes, you don't need to worry about them overpowering your dress. Instead, they complement the dress more.
White Dress With Brown Shoes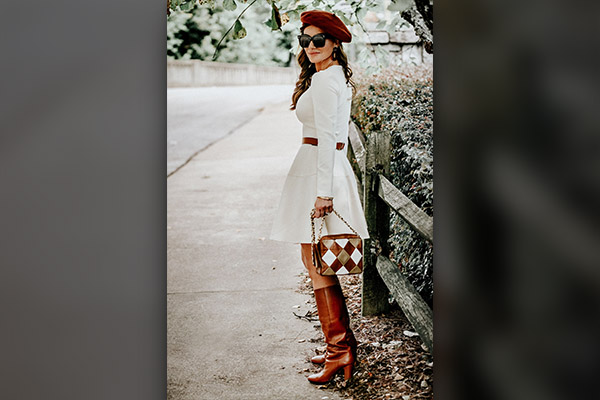 One of the most sophisticated shoes to wear with a white dress are brown shoes. If you choose classic brown leather mules, you can easily bag the title of 'comfortable shoes for work wear'.
This neutral tone shoe can be paired with a white outfit to craft the most casual and unbeatable looks. However, you may slip into brown clogs and get that boho vibe for the summers.
White Dress With Clear Heels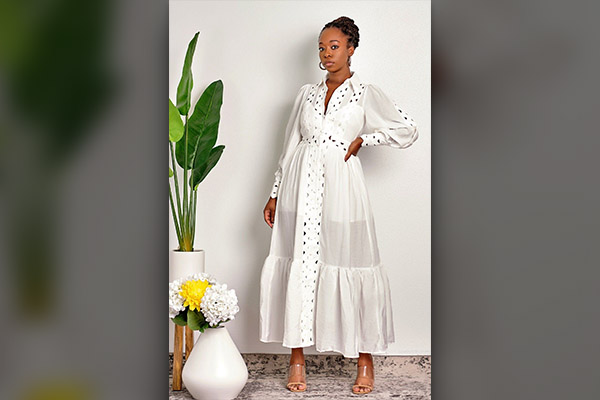 Clear heels are the true representation for nudes, that is, no-color shoes. If you are wearing a bold statement dress, then choosing clear heels will let the dress remain as the star of the ensemble.
When the modern era calls for trendy shoes, don't forget to wear clear heels. For the lovers of minimalism, keep these as your go-to heels.
White Dress With White Shoes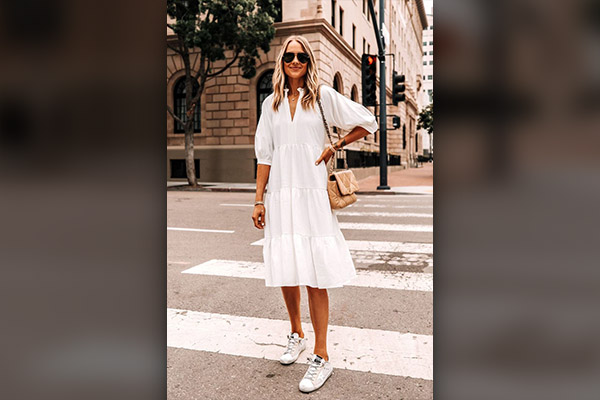 White shoes are the best footwear for the spring and summer. Some women don't take white-on-white as a good combination, but don't worry, the fashion police won't come after you if you're not one of them.
However, if you select white sneakers to wear with dresses, you can count on a relaxed and comfortable day ahead. For a stylish summer look, you can wear white sandals with a white outfit.
Colorful Shoes to Wear With White Dress
White is the most pure, ethereal and peaceful color for a dress. A fashion-forward woman would love to experiment wearing colorful shoes with a white dress. We also believe that wearing vibrant shoes can add spark to our white outfit.
Shoes in statement colors will make your simple white outfit standout among the others. There is hardly any color that would not go with a white dress. Below is our recommended selection when wearing white dress with color shoes.
White Dress With Pink Shoes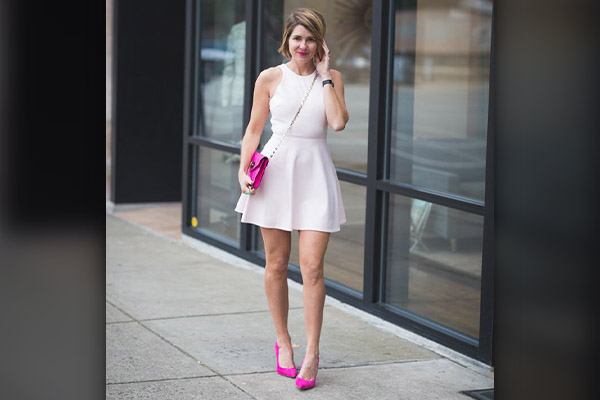 With pink shoes, you get a sweet girly vibe especially if the white is bright. You can choose a shade that best matches your personality. For a bold vibe go for heels in hot pink, for a funky vibe choose metallic pink sandals and for a sophisticated vibe, blush pumps will do the trick.
White Dress With Yellow Shoes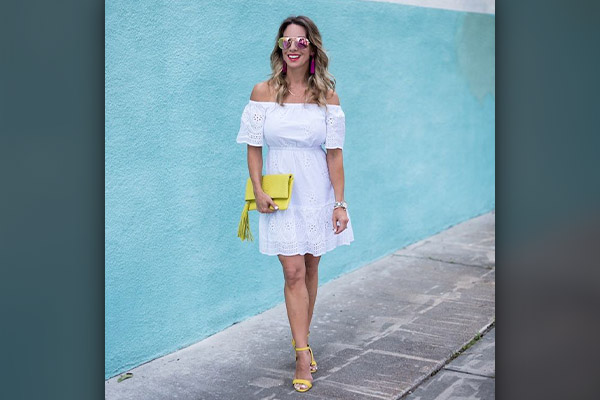 Yellow symbolizes the warmth of the sun and the happiness associated with the arrival of summers. If you are wondering what shoes to wear with dresses beside heels in the summers, then befriend a pair of yellow sneakers.
Who would want to miss an evening cocktail party? No one, right? So, slip into smart yellow heels or even yellow sliders for a casual look. However, go bold with neon yellow if you love to make statements.
White Dress With Green Shoes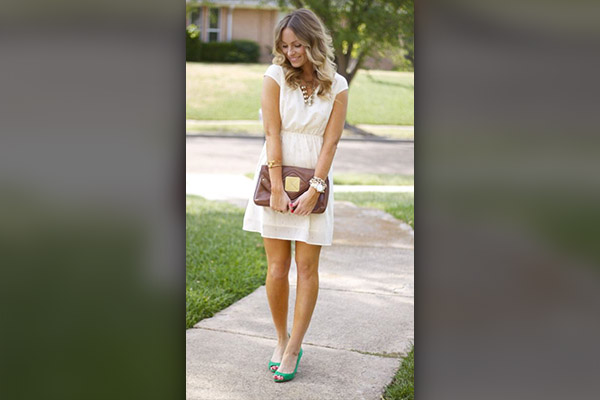 Green shoes can add a refreshing vibe to your white outfit. For a fun night-out with friends, you can up your game with green stilettos.
Sandals or clogs in green are the best footwear for a summer getaway. Therefore, your dilemma on what shoes to wear with white lace dress you saved for the holidays ends here.
Green is also versatile when we talk about various shades. You can try dark green sneakers and make a statement while at the park. Or you can also wear lime green pumps for cocktails.
White Dress With Blue Shoes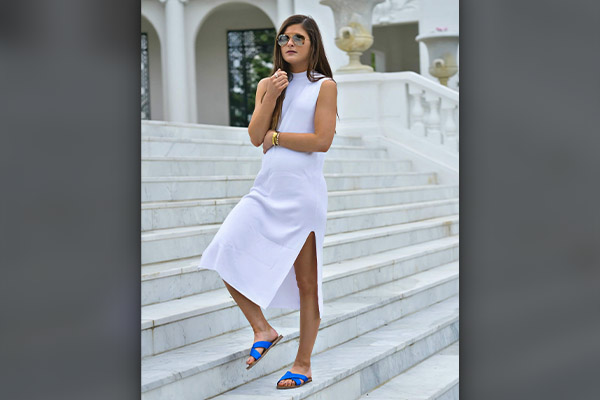 The true essence of blue can be found in denim. To craft the most laid-back look, wear your white long dress with denim shoes.
Each shade of blue such as cobalt blue, electric blue, navy blue or baby blue, depicts a different story and different vibe. Wear navy shoes to solve the 'what color shoes to wear with navy and white dress' query. Try electric blue satin pumps with jewels in front and flaunt them at any dinner party.
White Dress With Orange Shoes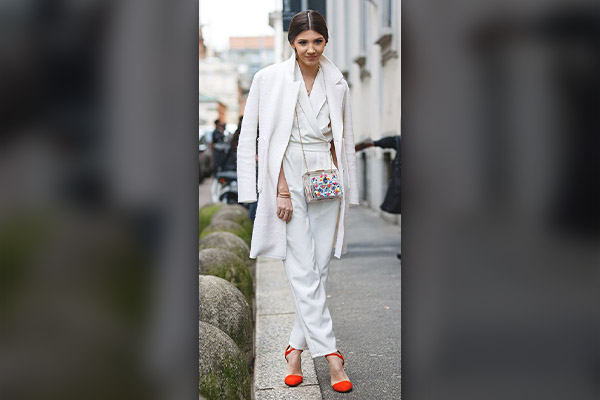 Another trendy color for the summers is orange. To brighten up your day, try wearing orange pumps to any lunch gathering with friends.
When worn with a white dress which is pure and bright, orange helps add a bit of exciting contrast to your outfit. White outfits with heels and sandals are also a winning combo for a casual summer look.
White Dress With Red Shoes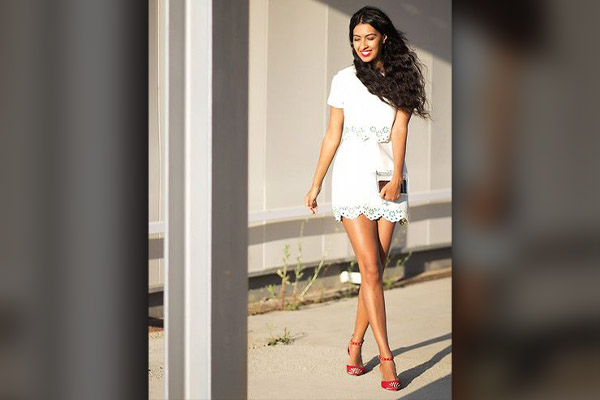 Red shoes call for all the bold women! If you love to be the star of the event, then red heels are just for you. For almost any season, pumps in red look fantastic and divine. Your friends will admire you for your fashion-sense.
White Dress With Purple Shoes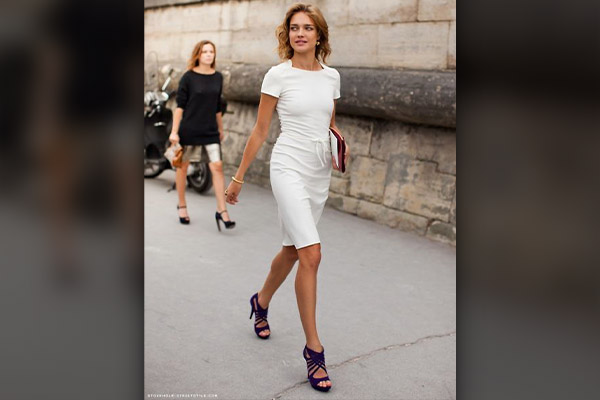 Purple is often associated with royalty. And believe it or not, when you wear purple stilettos with a white dress, you are sure to turn heads.
Purple sneakers will surely give you the 'wow' factor with your off-white track suit when on the go. However, purple pumps and ballet flats are also fun and trendy choices of the modern era.
FAQs –
How Can I Look Good in a White Dress?
To look good with a minimalistic look, wear sneakers with your white dress and top it with a leather jacket.
What Color Jewelry Goes Best with White Dress?
Gold and silver jewelry looks elegant when paired with a white dress. It enhances the ensemble giving it a touch of purity.
How Do You Wear a White Dress to a Wedding?
If you are wearing a white dress to a wedding you should make sure it doesn't overpower the bride's gown. You can try a cocktail length white dress with some contrasting footwear and clutch.
Conclusion
The purity and calmness of white allows it to complement with all other colors. It depends on how you want your outfit to be; casual, refined, smart or fun. After reading the guide above, we hope now you can easily choose the most appropriate shoes to wear with a white dress. The key defining factors depend on your style, the occasion and season.