Fashion is all about figuring out what works with what. Which patterns complement each other, what hues grasp attention, the different types of styles, and most importantly, what colors harmonize well together.
Blue and Orange are both dominating colors, and so the question arises, "Does blue and orange go together?" There are many colors that go with orange clothes. According to color theory, orange and blue are complementary colors. When paired together, they create a notable contrast. The color blue has more of a cool tone, while orange exudes warmth.
The two colors are commonly used to give a summer feel. The vibrant orange creates a playful summer look, relating to the sun and heat. On the other hand, the cool-toned blue depicts a more chilled-out, refreshing sort of look. Kind of like the sea.
Orange and Blue Outfit Ideas
If you're itching to try out this unique color combo, here are a few different items that you can include in your wardrobe.
Shirts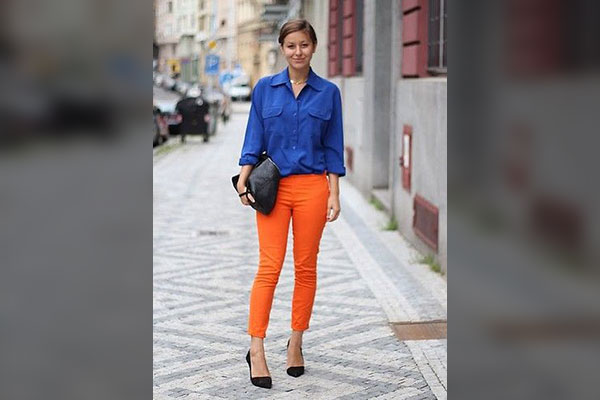 Outfits with navy blue shirts are what most business looks are all about. How about adding a modern twist to this office-friendly look? Orange and navy blue outfits are a game-changer. Pick a toned-down, light orange pencil skirt and pair it with a navy blue blouse to create an eye-catching, business-chic look.
Trousers and Jeans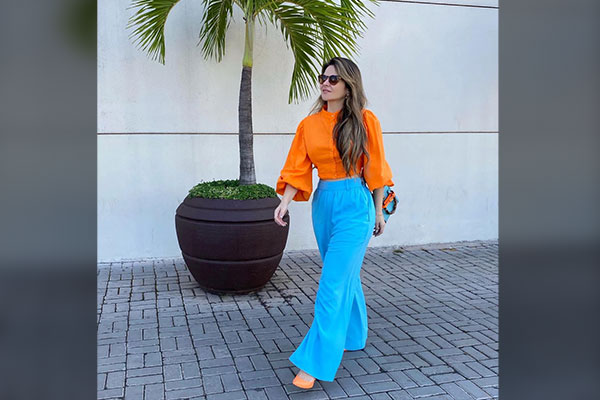 The color blue immediately pops up when you think of denim. Denim blue jeans and a burnt orange blouse make for an easy-going day look. This look screams summer if paired with the right accessories.
If navy blue and burnt orange are more your speed, then try pairing wide-legged blue trousers with an orange, sleeveless top. The fitted top creates a beautiful contrast with the flared trouser. Adding on a statement necklace will give it a modern vibe.
Orange bottoms are a bold decision. Enhance the look with a striped blue and white sweater or shirt. Seal the deal with brown shoes and a pair of classy shades.
Skirts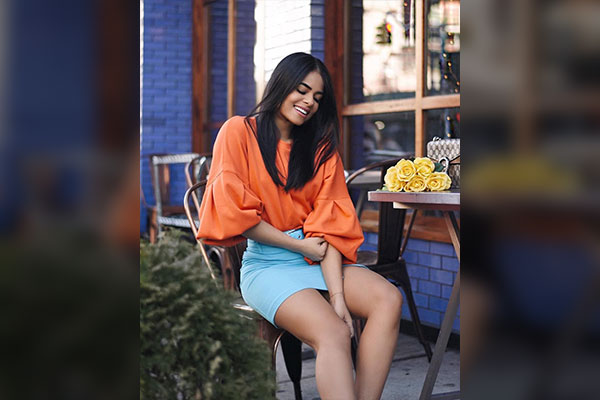 Explore the world of experimentation by uniting blue and orange. Skirts are a staple piece in any wardrobe. There are many designs and silhouettes to choose from.
Try pairing an orange pencil skirt with a collared, royal blue, buttoned shirt, and a pair of nude pumps for modern corporate look. The whole outfit radiates confidence and will get you noticed in no time.
Does color blocking intimidate you? It's okay. We want fashion to be fun, not scary. How about you go for a black skirt with orange and blue detailing. This way you can try something new and it won't be overwhelming.
Mini skirts are flirty and adorable. An orange leather mini skirt, a blue patterned women's leather bomber jacket, a plain white tee, and some strappy heels make for a head-turning outfit.
Jackets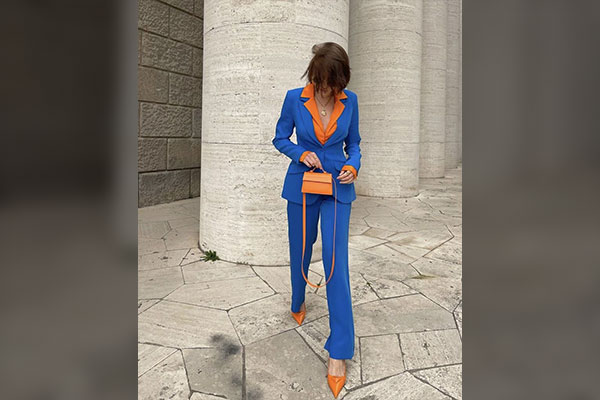 The easiest way to elevate an outfit is by throwing on a trendy jacket. Your outfit decides the kind of material your jacket should be made of. For example, a structured orange blazer, paired with ripped denim and, a simple white tee border along work-casual.
Puffy orange jackets are the latest statement piece in fashion. Whether it be streetwear or urban wear, these jackets are bound to make an appearance.
Style an orange puffy jacket with rolled-up denim, and stylish black boots channeling your inner diva.
If you're up-to-the task, why not pair the jacket with orange sweatpants for an orange-on-orange look. Add a white tee and a navy blue beanie to master street style.
Dresses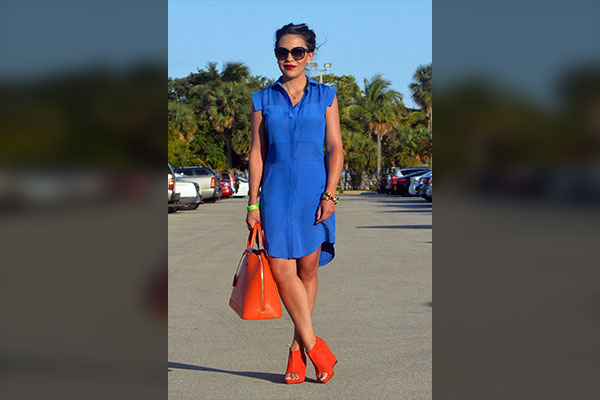 Blue and orange dresses are a great way to experiment with this unique color combo. Flaunt your body and pick a silhouette that complements all your curves.
A monotone blue bodycon with orange heels or an orange bodycon with blue heels creates a seductive look. It's flattering and always in style.
Slip dresses are top-tier in the dresses category. They aren't restricting and make for a comfortable-hot look. A blue slip dress with orange stilettos is the perfect outfit for a night out.
If tight clothes are a no-no, then try pairing a flowy light blue maxi dress with a toned-down orange jacket. Alternatively, you can pair something tried and tested, like a navy blue colored dress. Look for something that has orange floral prints on it and add on a pair of sandals. It's a super easy outfit anyone can put together!
Shorts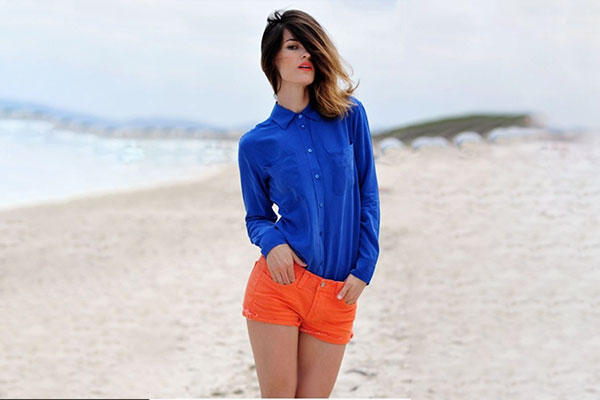 The scorching heat tends to limit the types of wearable styles. Shorts, however, are a key piece in the summertime. Boyfriend denim shorts paired with a chiffon orange top and a printed kimono are a great way to wear an orange and blue outfit.
Monotone Looks with Contrasting Accessories
Once you've mastered the looks above, how about you try something a bit more challenging, like a monochromatic outfit. A blue-on-blue look with orange accessories can look incredible if done right. A blue sweater with well-tailored matching pants and an orange clutch is both elegant and fashionable.
Go for something a bit edgier, by combining an orange jacket, crop-top and a skater skirt with navy blue boots to produce an enviable ensemble. A look that chic that belongs on the streets of New York!
FAQ's
What colors go with burnt orange? 
Burnt orange pairs well with dark blues and grays. For a more subtle look, pair it with mint green or light orange. 
What to wear with an orange top? 
An orange top pairs well with many items like denim jeans, shorts, patterned shorts, skirts, trousers, and even pants.  Add on contrasting accessories and stylish shoes to complete the look. 
Try it Out Yourself!
Fashion is all about channeling new styles and experimenting with new colors. Blue and orange are powerful color combination that radiates style. Pairing the two together is a bold move.
With that being said, it is always scary to try things out of one's comfort zone and I hope this guide gives you the courage to explore new trends
What color goes with a light blue dress?
Light blue pairs well with orange, yellow black, white, and even nude. It's a color that gives an angelic sort of vibe. The dress style will denote the type of accessories and layers that will further complement the look. 
What to wear with a royal blue dress? 
A royal blue dress is a statement on its own. Pair it with dainty or lavish jewelry and a jewel-encrusted clutch. Alternatively, you can throw on orange heels for a hint of color. 
What color shoes to wear with an orange dress? 
There are many colors that go well with orange dresses.  Colors like blue, purple, green, olive, beige, pastel shades such as ivory and peach, and versatile black and white are some of the best options out there.