There must have been a reason why the ultimate formal ensemble for men was named a suit. Imagine the fit, fabric, style, and most importantly, color of the suit as puzzle pieces. Each of these should be placed accurately to form a complete, well-suited look. In this article, we will be discussing all men's suit colors, which are undoubtedly a prime factor in making an impression. 
Whether you buy a suit off the rack or get it custom-made, the color of the suit is the first thing that you need to finalize. Gone are the days when only black, navy, or gray were reigned as formal menswear. Today, apart from these classic favorites, a vast variety of colors is available to choose from. This tells us that different suit colors are trending high in contemporary fashion. 
What To Expect In This Article?
Nail the Formal Look: Men's Suit Color Guide
The color of your outfit essentially portrays your personal style and your fashion sense. The fact that suits are pretty expensive is reason enough not to get the color wrong. You definitely don't want to regret spending a hefty amount on the wrong suit.
There can be multiple factors to keep in mind when you decide on the suit color. You may look for versatility, skin tone suitability, the type of event or occasion, and even the time of the day when you are supposed to wear your suit. For variation, we suggest keeping more than one suit in different colors in your wardrobe. 
Some colors are more formal than others so you can choose according to the level of formality required. If the occasion calls for it, swap the suit jacket with a vest for a classy but relaxed look.
What Color Suits Should a Man Own?
If you pay a little attention to choosing a suit color according to your skin tone, it will benefit you in the longer run. If you have a darker skin tone, there are several options in suit colors for you. You can try navy, purple, indigo, darker shades of green, and dark grey suit colors. For daytime during summer, you can go in cream, pale pink, or eggshell-colored suits. 
The color palette for men with medium skin tones is also quite diverse. We suggest choosing brown, burgundy, orange, and red suits for a dashing look. Avoid wearing a black or white suit if your skin tone is medium.
Men with light or pale skin tones often find it hard to pick a color that suits them. Fair-skinned men can wear rich and bold shades like royal blue, turquoise, or even pink. When going for a classic suit, choose a deep gray hue for a refined look. 
Classic Suit Colors
If you are on a budget sticking to one or two suits in classic colors may be the right option for you. These traditional colors will provide versatility for several occasions. A dark, formal suit will be good enough for evening events, while a light-colored suit won't let you feel out of place at daytime parties and casual instances. 
The traditional suit colors will go well with most of your shirt and ties, and your basic black or brown shoes, making them a mainstay for a capsule wardrobe. These can either be in a solid color or with a pattern like pinstripes or small checks.
Here are the primary suit colors that any man can wear.
Black Suit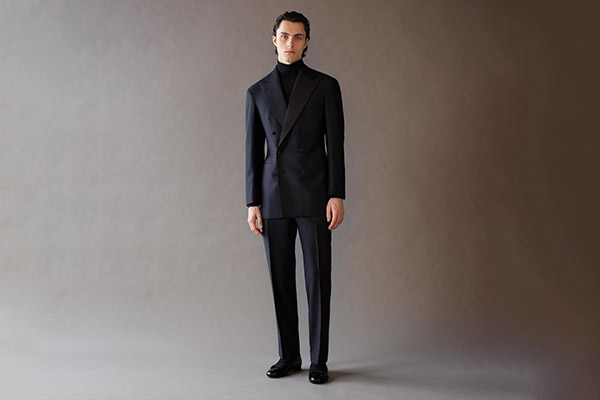 Black lends itself to occasions where a higher level of formality is required. It portrays authority, self-confidence, and a sophisticated demeanor. The black tuxedo, for instance, is the ultimate black tie ensemble. Casual iterations of the black suit with a black blazer and matching pants are highly popular.
Besides the obvious black shoes, brown shoes also go well with a black suit. However, your preference for suit and shoe color combos is solely the choice of the wearer.
Charcoal Grey Suit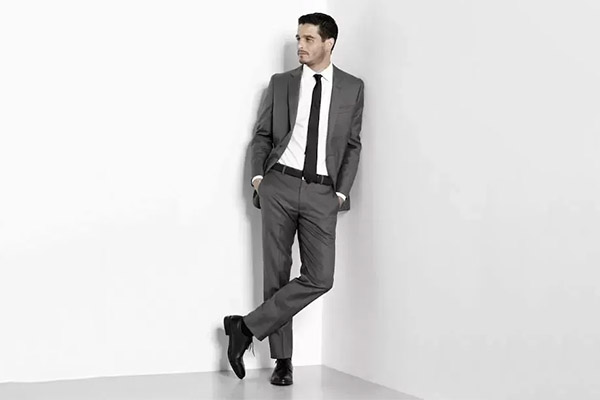 With its quality of being immensely versatile, charcoal grey has garnered the top spot for classic suit colors. While it draws attention to youth, a mature man can look equally good in a charcoal grey suit. When it comes to pairing shirts and ties with a suit in this color, you have a lot of options as it blends well with almost any color.
Navy Suit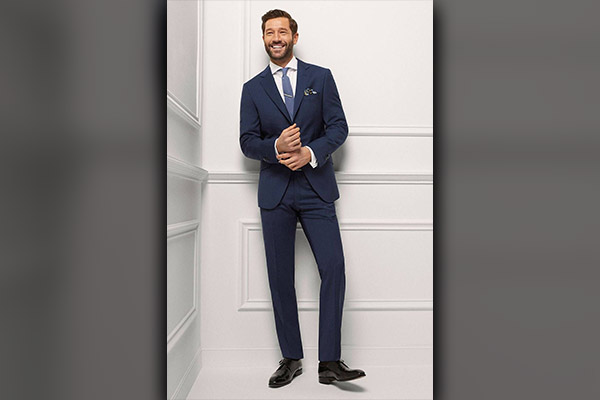 Navy suits may be very common simply due to their immense popularity and versatility. The reason is, mainly that navy makes a man look refined and stylish. You can combine the navy suit with a white, sky blue, light grey, or even a cream shirt and manage to win the formal dressing game effortlessly. 
Besides these three foundational colors, brown is also gaining recognition as the go-to choice for suits. Dark and light shades of brown suit almost all skin tones, and are versatile enough to be paired with several shirts and ties.
Navy Vs. Charcoal Suit
Whether your one-suit-for-every-occasion choice should be a navy or charcoal suit is a debate that has still not found a clear winner. Your de facto suit color could be charcoal grey due to its suitability with several colored shirts and accessories. Or, it could be navy blue due to its quality of making a man look younger than his age.
Whatever you choose, both colors are suitable for weddings, formal dinners, high-profile meetings, interviews, and even funerals.  
Offbeat Suit Colors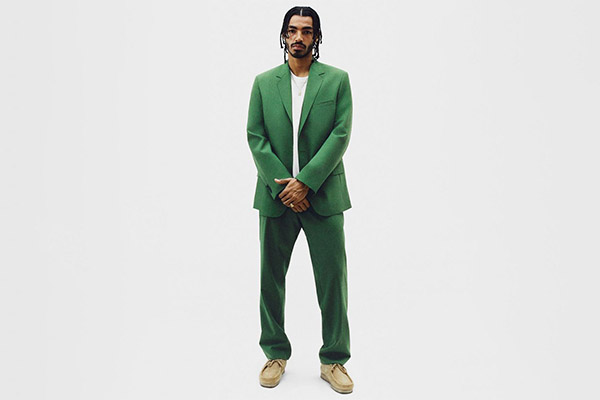 Sticking to the classic suit colors does not put a tag of a conservative in fashion choices for you. Yet, going for unconventional hues definitely shows your daring and quirky side. The offbeat colors for suits may be your choice beyond the first suit, which must be a classic color. Doing so will give you a break from the routine, traditional colors and make sure that your look is anything but boring.
Eye-pleasing hues like red, royal blue, rosewood, or purple can be a bit less formal, and perfect for occasions like summer garden parties, outdoor weddings, or daytime social events. 
Let's explore a few different color suits that can get a well-deserved place in your wardrobe. 
Dark Colored Suits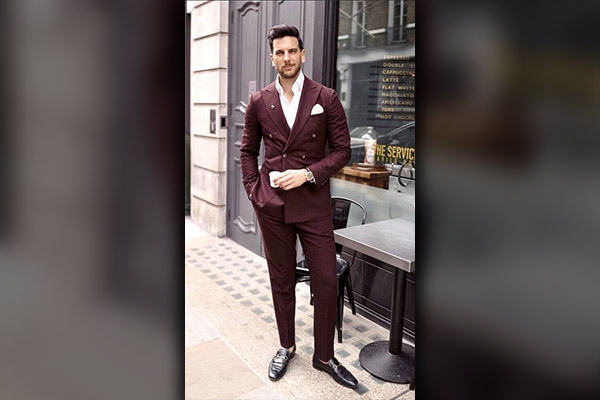 Men with medium to dark skin tones can opt for suits in deep hues. There are many options that give a classy look, such as dark purple, burgundy, indigo, or dark earthy tones like brown and tan. You can wear light-colored shirts and small patterned ties with these suits. 
When choosing shades of brown, consider coffee brown, chocolate brown, or a cedar-colored suit and pair it with a blue shirt. Like brown shoes go very well with a brown leather jacket, you can use a pair of stylish dark brown oxfords with your brown suit. You can also choose a trendy red suit and carry it with flamboyance. 
Light Colored Suits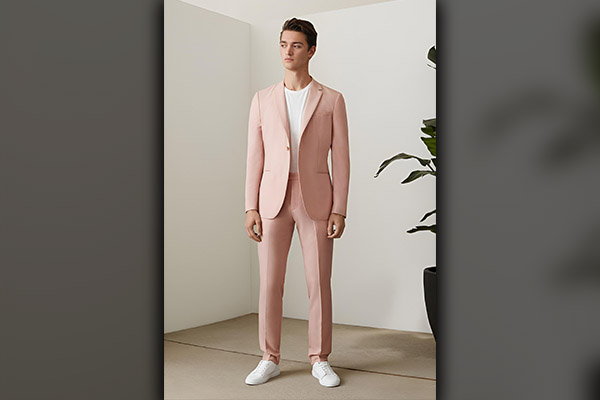 For a laid-back look, opt for colorful summer suits. Colors like olive green, mustard, light gray, light blue, and light pink are great choices for warmer days when you need to come off as dressy. 
Light neutrals like beige, champagne, and khaki are also an option for men with a dark or medium skin tone.
Go for a white suit for an attention-grabbing style statement. To pull off a white suit, pair a white blazer and chinos with a tan belt, navy blue suede shoes, brown aviators, and a classy silver watch. 
Men's Suit Color Combos
The color combos for men's suits can be decided after determining the style you want to portray. For a unique casual style, you have the liberty to try floral printed shirts, bold-colored ties, and even jewelry like a neck chain or bracelets with your suit. Diversify your footwear choices by trying stylish boat shoes, Chelsea boots, and suede loafers that complement the color of your suit. 
When you need to elevate the dressiness and maintain a polished demeanor, it is highly recommended to go the classic route with your navy or charcoal gray suit. Go subtle on the shirt colors like a black shirt under a gray suit. Choose solid-colored ties or anything with small, intricate patterns.  A plain silk pocket square matching the tie will add more grace to your look. Formal footwear like Oxfords, Derby shoes or double monk straps in black or brown is the appropriate choice for your suit. 
FAQs
What color suit should I get?
Pick the color of your suit after assessing your skin tone and the occasion on which you will wear it. If you need a suit for multiple events, get one in a foundation color like navy blue, charcoal gray, or black. Otherwise, go with a classic suit and one or additional suits in colors that suit you well. 
What do suit colors mean?
Suit colors play a huge role in defining your personal style. Every color denotes a specific feel, like black for authority or red for power and energy. Whatever suit color you choose will be a decisive factor for your impression. 
Another thing that suits colors portrays is the formality of the occasion. Dark, muted hues are considered formal, while bright or trendy pastels are deemed fit for casual appearances. 
What color suits are professional?
Everyone takes a man who wears a tailored black suit seriously. Therefore, black outshines all the other suit colors in appearing professional. However, you can safely wear navy blue, dark grey, and even a dark burgundy suit to look neat. 
What is the most popular suit color?
The Navy blue suit is undoubtedly the most popular choice for men of all ages, skin tones, and backgrounds. The fact that navy blue makes you look slimmer and younger is the reason why this suit color is the most sought-after. Also, you0 can easily match it with different shirts, ties, and shoes.
What does a gray suit mean?
Gray is a neutral color that dominates menswear due to its immense versatility and gentlemanly feel. A gray suit is not only popular in solid color but it is equally sought after in different textures and patterns. It is a highly accepted notion that influential men in power mostly wear gray suits. More than fashion and grace, grey suits denote power and dominance.
What does a brown suit mean?
Brown is definitely a masculine color. Whether it's a light shade of brown or a deep one, it gives off an earthy feel. A man wearing a brown suit appears likable, dedicated, and passionate about nature. Men who need to wear formal clothes to work can go for suits in different shades of brown. 
Takeaway
For a powerful first impression, getting the right colored suit is very important. Your suit's color will portray your personality, your sartorial excellence, and even your morals. You have a vast variety of colors to choose from, so take your time before finally deciding on a suit. Buying a suit is an investment in your wardrobe, so it is better to make an informed decision rather than regret your decision.