The most anticipated time of the year for shopaholics is round the corner. With Black Friday and Cyber Monday coming up, most of us are ready with our shopping lists to get the best deals and huge discounts from our favorite brands. Let's compare Cyber Monday vs Black Friday to help you decide which shopping event offers better deals and more discounts.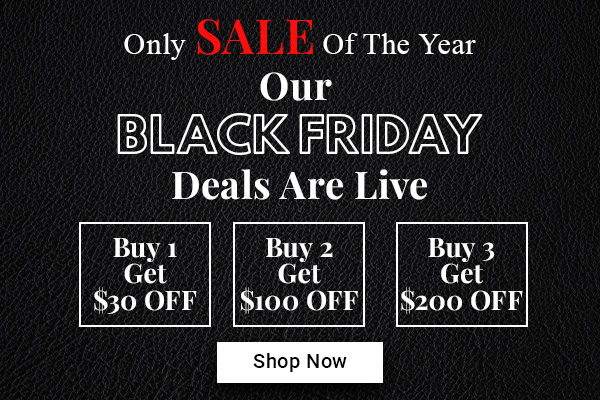 Both Black Friday and Cyber Monday refer to shopping extravaganzas that both sellers and consumers look forward to. Sellers strive to clear out stocks before Christmas by slashing out prices on high demand items. On the other hand, buyers wait all year round to get their favorite items at the lowest prices.
While there are historical accounts behind these two sales, this phenomena has only recently been augmented into a massive shopping frenzy. People anxiously wait for the Thanksgiving weekend and shop to their heart's content. The heavily discounted deals allow them to shop for themselves. They also grab this opportunity to buy amazing gifts for men and women in their families and among friends.
The Story Behind the Consumer Craze on Black Friday and Cyber Monday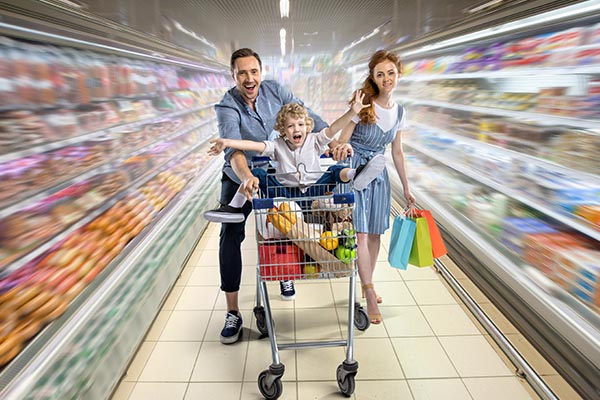 The Friday after Thanksgiving Thursday is known as Black Friday, which means it will fall on November 26th this year. Cyber Monday is the term given to the Monday that arrives just after the Thanksgiving weekend. This year, Cyber Monday falls on 29th November.
As these shopping galas come when November is ending, people look forward to doing Christmas shopping using these holiday deals. It's the best time of year to add the much loved staples to your wardrobe. In case you want to buy the best shearling jacket for men for the festive season, you can get the advantage of the massive Black Friday deals.
Black Friday
The term Black Friday has a history behind it. Initially it had nothing to do with the holiday sale season we now know it as. It was used for the day the US gold market crashed in 1869, with a number of investors going bankrupt.
Later, in the 1950s, the term was used when people flocked the stores the day after Thanksgiving in Philadelphia. The excess crowd and traffic were the reason why that day was referred to as Black Friday by the police.
This was the start of the global event where the Friday after Thanksgiving is considered the biggest shopping day. Black Friday sales are popular in the US, UK, Germany, Australia, and many countries across the world.
Are Black Friday Deals Available Online?
Earlier, Black Friday was mainly associated with in-store shopping, which was the major difference from Cyber Monday, purely an online sales event. However, with the growing popularity of online shopping, companies started offering online Black Friday deals for the customer's ease.
The online Black Friday shopping surged even more as people mostly stayed home last year due to the Covid-19 restrictions. They shopped from the comfort of their homes via the Black Friday bargain deals.
The discounted deals are on all categories such as electronics, furniture and décor. But more than anything else, customers seek out fashion brands and online stores' sales to buy clothes for themselves and as presents for others. Since it's the winter season, high quality leather jackets for men and women are frequently bought.
Cyber Monday
When The National Retail Federation saw that the shopping craze did not settle down even after the Thanksgiving weekend, it gave a new name to the Monday that comes after it. The term Cyber Monday was thus coined in 2005, which differentiated the day from Black Friday.
Since its beginning, Cyber Monday has always been associated with online sales, making it a huge online shopping extravaganza.
Thanksgiving Thursday marks the beginning of the holiday season. The festivities of Christmas and New Year's eve that come shortly after it require a lot of preps, especially clothes. If you miss anything during Black Friday, appealing Cyber Monday sales will cater to your style needs. You may have been beholding one of the best trench coats for women for long which is now available at affordable rates on Cyber Monday.
Sometimes Cyber Monday sales are different than the Black Friday sales. Retailers slash prices even more to clear stocks on Cyber Monday. Or, the same brand may offer Black Friday discounts on some products, and Cyber Monday discounts on others.
Thanksgiving Deals
Many brands offer different discounts and deals on Black Friday and Cyber Monday. Some announce discounted Thanksgiving deals way ahead of time and extend them to Black Friday and Cyber Monday. This facilitates buyers who might have missed shopping earlier. Like a classy Full Grain Leather Jacket which they still have a chance to buy at a discounted rate till Cyber Monday.
Christmas Deals and New Year Deals
Black Friday and Cyber Monday sales are intended to clear the stocks so that they can be replenished for the Christmas and the New year deals. Like the best trench coats for men may be up for sale with a reduced price during Christmas and New year, but isn't it just better to grab the deal while it's available? Most of us don't like to make guesses for the future. So there is no harm in not waiting until Christmas to buy that best bomber jacket for men.
Black Friday or Cyber Monday? When is the Right Time to Shop?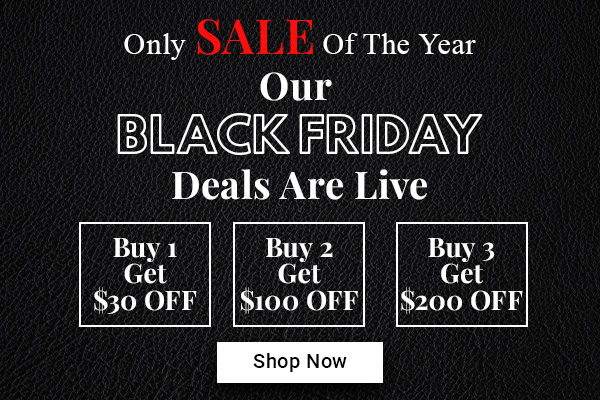 If you are planning to shop for deals offered on Cyber Monday Vs Black Friday, there are many things to keep in mind. Whether you want to buy a men's suede jacket to gift someone on Christmas, or a Parka jacket for yourself, start looking for it beforehand to secure the deal clear headedly. Usually, the discounts offered on Black Friday are better, plus the variety is huge. When shopping on Black Friday, there is less chance that the item you desire will run out of stock.
Black Friday Deals
Black Friday deals are mostly the in-person and online shopping of big ticket items such as big appliances, smartphones or luxury fashion pieces. Since these holiday sales occur in winter, it is the best time to get some fall and winter fashion must haves, like the fall jackets for women or that windbreaker jacket you always wanted.
We have got some jaw-dropping deals for Black Friday 2023. Avail any of these limited-time deals to add classy real leather jackets to your wardrobe. 
Cyber Monday Deals
Cyber Monday mostly revolves around online shopping of small tech stuff or gift items. You would find plenty of fantastic deals on men's and women's leather jackets along with various other fashion pieces which you can buy for yourself or your loved ones.
The good thing about Cyber Monday deals is that you can return an item bought on Black Friday if you don't like it and go for a better deal on Cyber Monday instead. Although terms and conditions apply according to the item and brand.
Most sellers realize that keeping the sale on for just 24 hours of Black Friday may not fulfill the customers' needs. They may miss out on the much awaited reduction in prices due to shortage of time. Therefore, the sale on items now begins even before Thanksgiving and lasts till Cyber Monday, making it a four day shopping affair.
As the concession in prices begins earlier and remains live until Cyber Monday ends, buyers and sellers get ample time to sell and shop. It becomes easy for brands to handle the influx of orders/customers while buyers take advantage of their time to decide what to buy.
Cyber Monday vs Black Friday: What are the Differences?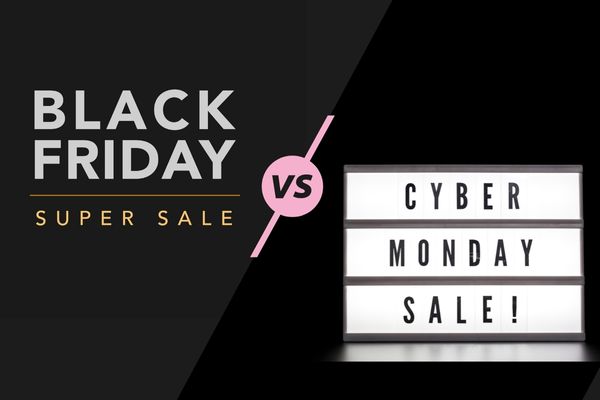 The major difference between the two days is that the Black Friday sale is for in-store shopping while Cyber Monday is an online sale. However, the increasing preference of people to buy online has blurred that line between the two events. Almost all brands come up with site wide discounts or slash prices of selected items on their websites for Black Friday.
One more difference is that Black Friday originated way earlier than Cyber Monday. Which is why, the frenzy around it is much higher. An unwritten rule correlates Black Friday with high value stuff and Cyber Monday with small gifts.
Brands start promoting their deals and discounts way ahead of time. This feuls the retail excitement we witness during the four day long flurry of sales.
How Black Friday and Cyber Deals by The Jacket Maker Can Upgrade Your Style All Year Round?
Let's lay down some interesting stats regarding fashion sales during Black Friday and Cyber Monday. A survey by Rakuten reveals that among the most popular reason to buy online is the ease of variety. In another statistic, SaleCycle reveals that in 2020, the highest number of sales in the fashion category was recorded in November. This shows that people bought clothes during Thanksgiving, Black Friday and Cyber Monday more than any time of the year.
The Jacket Maker leaves no stone unturned to delight its valued customers by offering amazing Black Friday deals for men. If you have an eye on any of the best fall jackets for men, now is the time to order them at the best price.
We also know how women love to shop. Our Black Friday deals for women will make sure your style game is on point for the whole year. You can shop for the best leather jackets for women with amazing discounts. You will see the best variety of motorcycle jackets and bomber jackets at reduced prices. We take your shopping experience up a notch by providing great variety and options for your jackets as well.
If you have been waiting for the exclusive Black Friday and Cyber Monday deals, your wait is over. With our special discounts that start before Thanksgiving and last till Cyber Monday, you can stock up on your favorite jackets. With The Jacket Maker's massive discount deals, everyone will have a high quality jacket for themselves while saving big.
Takeaway
When comparing the deals on Black Friday vs Cyber Monday, we would definitely favor Black Friday. It is comparatively a better time to buy the items you want. Almost everyone waits anxiously for these sales to begin. Therefore, it is quite possible that the thing you need will not be available till Cyber Monday.
Leave Cyber Monday shopping for small items and tech deals that may have a better discount then. Do your major online shopping on Black Friday. You can also return anything bought on Black Friday if you see a better Cyber Monday deal.