Jeans are one of the biggest dominating forces in men's fashion, no matter how you look at it. Yes, there are other pants and legwear choices out there, but the sheer number of top-tier outfit options with jeans is mind-blowing. Unfortunately, this extreme popularity can also backfire and leave your jeans outfits looking repetitive.
The only practical way of getting around this problem is by integrating the best casual shoes for men with jeans. Wearing the same outfit with different footwear can completely alter its vibe and theme – giving you plenty of variety for day-to-day casual fashion.
What To Expect In This Article?
What Shoes can You Wear with Jeans?
To put it simply, almost all of them. Yes, you read that correctly; the near-universal compatibility of jeans extends to shoes as well – allowing you to wear any type of boots for men as a starting point. This freedom of choice isn't limited to design either and includes attributes like color and materials as well.
For example, brown shoes with black pants look just as good as with white sneakers under a pair of blue jeans. However, just because they're all compatible doesn't mean that all of them are also the best casual shoes for men with jeans.
Ask the Right Questions
You won't get anywhere looking for shoes that go with jeans for men as that list is as long as you can imagine. Also, all cool shoes are compatible, but the outfits with most of them look slightly above average at best. Instead, learn about the shoes you should wear. Integrating these into your existing arsenal will lead to the best-looking classy casual outfits for guys.
Now let's shift our focus towards the best men's shoes with jeans and the outfits you can craft with them.
Must-Have Footwear
Let's start our list of ideal shoes for jeans with the ones that everyone should have in their arsenal. These take minimal effort to style, yet the results are almost always positive.
Sneakers with Jeans
Sneakers are a prime example of what casual shoes to wear with jeans for men. They look incredible together, and you get so much variety to choose from.
Low-top sneakers in solid colors are great at completing outfits that are a bit more experimental with their colors or silhouettes. High-tops, on the other hand, are the optimal choice for adding some flair to otherwise mundane ensembles. For example, an all-black outfit or basic plain t-shirts and blue jeans combo.
Jeans Outfit with Sneakers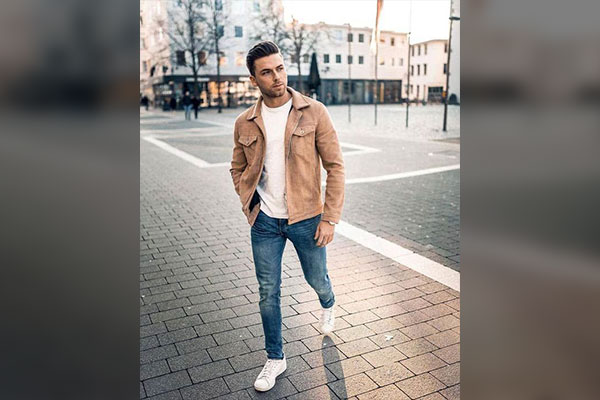 Looking for a casual jeans outfit that you can rock in almost any situation? Give the classic blue, white, and brown combo a try. It consists of a pair of blue jeans, a white V-neck t-shirt, and a brown leather jacket to complete the look. A pair of clean white high-top sneakers would look the best, but you can also go with black or navy.
You can also continue rocking this iconic look throughout the year by changing one item at a time. For example, swapping out the t-shirt for a warm hooded sweatshirt would get you through winter, while going with a lightweight jean jacket is the way to go for summer. Just make sure that the jacket has either the same or a darker shade than the jeans below.
Trainers with Jeans
Many see trainers as nothing more than exercise shoes. But, thanks to the recent popularity of the athleisure style, they've become one of the best men's shoes to wear with jeans. The multi-colored designs of most trainers bring a liveliness to casual everyday outfits that's difficult to replicate with anything else.
The best part about choosing trainers is the large variety to select from. Just a little bit of searching around, and you'll be able to find trainers that fit your existing outfit arsenal flawlessly. Plus, trainers are also quite comfortable – making them the ideal choice with vacation outfits for men.
Jeans Outfit with Trainers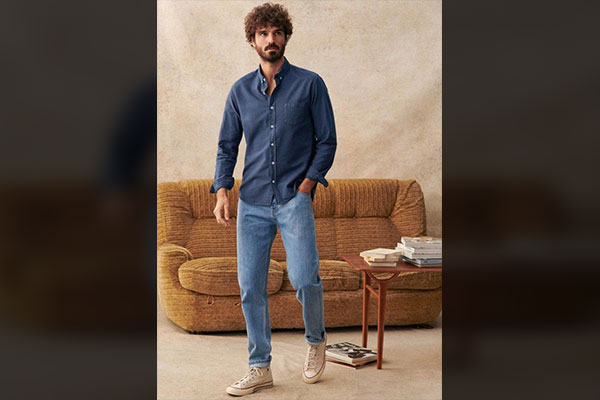 The safest option would be to go with a pair of all-white trainers as they work with almost anything and don't require much work to be effective. But an all-white pair is not on the list of best casual shoes for men with jeans. It's a bit too basic.
Instead, try trainers with an unusual color scheme, like green, cyan, or magenta. Rocking these colorful trainers under even basic blue jeans and a blue button-up outfit will offer some much-needed panache. Top this look with an even more colorful blazer, and you're ready to star in a men's fashion magazine.
High Effort High Reward
Sneakers and trainers are the "easy mode" of casual jeans fashion. Following are the footwear choices you should consider to step your game up to the next level. Styling these will require a bit more thought and effort, but the results would also be greater.
Boots with Jeans
The term boots here refers to large combat boots. They are primarily designed to be rugged and comfortable on a variety of terrain. But, the fashion potential of these shoes cannot be denied, and their best matchup turns out to be with jeans.
Black leather boots offer an iconic tough guy look that's attractive, so going with them would be the safest choice. But you can also set yourself apart with different shades of brown, tan, and even blue in some designs.
Jeans Outfits with Boots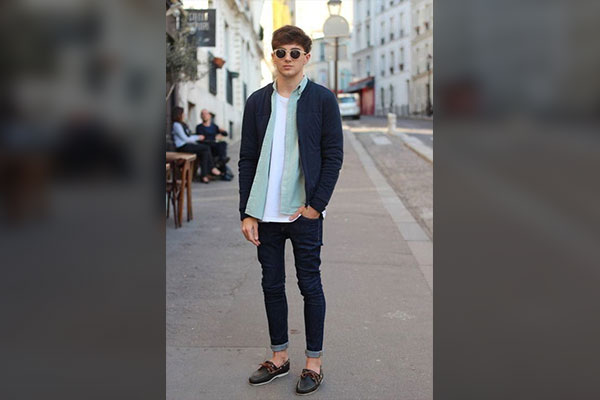 You can take two distinct approaches to unlock the potential of boots as the best casual shoes for men with jeans.
The more macho method would be to embrace the bulkiness of these shoes and style an outfit accordingly. Think in layers and integrate stuff like sweaters as the middle layer between your leather jacket and button-up shirts. If you're willing to take this theme to its max, go for distressed jeans, and dark-colored boots.
On the other hand, if you're after a more sleek look, contrast the leather boots against a lightweight outfit. T-shirts, turtlenecks, and fitted sweatshirts alongside a pair of blue jeans are all you need for this approach. Also opting for khaki boots will make this style feel cohesive.
Loafers with Jeans
Loafers are one of, if not the most versatile, slip-on shoes for men. They work just as well as part of shorts summer outfits as they do in preppy business casual attire. That said, their matchup with jeans is especially wonderful.
Loafers have a way of enhancing the theme of an outfit. So, a professional outfit will look sharper, while an outfit with jeans will start emanating a very relaxing and casual vibe. If you're wondering what shoes to wear with jeans on an adventurous summer day, loafers are your answer.
Jeans Outfits with Loafers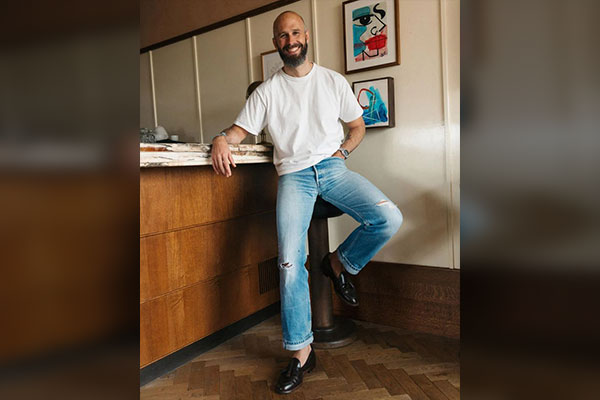 Get in the summer spirit with a colorful Hawaiian shirt, a pair of light blue jean shorts, and off-white loafers. Including a summer straw hat in this look will further associate this look with the summer heat. Alternatively, you can take the more minimalist route with a white button-up, blue jeans, and brown leather loafers.
Loafers aren't exclusive to summer, however, as a few of their best-looking outfits feature leather trench coats and pea coats with jeans in between. Just remember that loafers with a darker color are the best casual shoes for men with jeans during winter, while lighter colors are better suited for summer.
Boat Shoes with Jeans
Speaking of the best casual shoes for men with jeans during summer, we have boat shoes. You can think of them as a lighter and more open version of loafers. You can rock these on a daily basis in summer, but their true potential is unleashed when visiting the beach or docks.
One of the best attributes of boat shoes is their material variety. You can find these shoes in denim, leather, suede, velvet and a whole bunch of other interesting materials. This gives you further control over your final look with different color and material combinations.
Jeans Outfits with Boat Shoes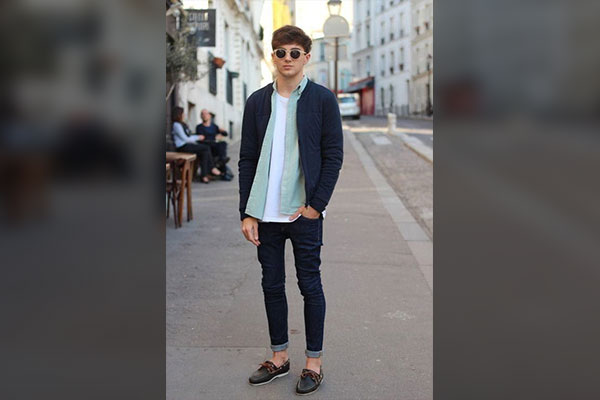 Craft the ultimate outfit for your next beach visit with a pair of brown suede boat shoes worn under a pair of white jeans. While any lively button-up would work fine on top, the perfect combo here is with a short-sleeved button-up with white, red, and blue vertical stripes.
On the other hand, if you'd like to rock these on a casual everyday basis, try an outfit like this. Wear a white button-up with black patterns on a pair of light gray or off-white straight-cut jeans. Top it all off with a brown suede vest and charcoal leather boat shoes for a refreshing preppy look.
Balance Between Casual & Formal
Most casual jeans outfits are just that, casual. The same is true for most footwear options at your disposal. That said, you can emulate the sophistication and suave of formal/semi-formal attire in your casual jeans outfits and the following shoes are all you need.
Oxford Shoes with Jeans
Yes, oxfords are generally styled with formal professional attire, but they're pretty well suited as the ultimate men's black casual shoes as well. The only point of caution here is their compatibility. Unlike a pair of sneakers, you cannot just wear oxfords under any casual outfit and call it a day.
Instead, you will have to plan out your outfits in advance with specific items and colors. However, the end result of rocking oxford shoes under jeans in a casual setting is worth it every single time. Plus, once you understand what works and what doesn't, crafting your own oxford shoes and casual outfits will be a breeze.
Jeans Outfits with Oxford Shoes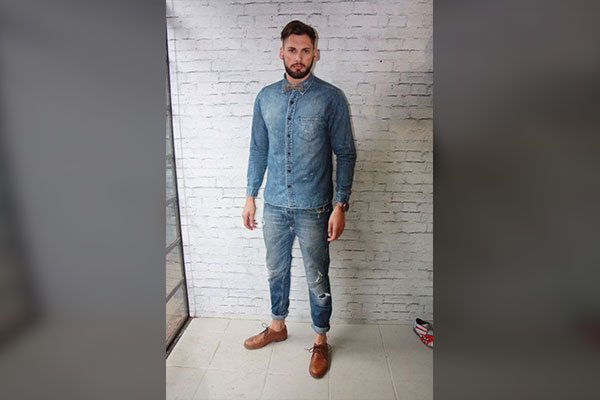 The main theme behind styling oxfords is a balance between the freedom of casual and the sophistication of formal. Items like the trench and pea coat are your strongest tool against them. You also have to understand that jeans with darker colors like charcoal and navy blue have a better chance of succeeding.
Keeping all this in mind, a wonderful outfit with oxford shoes starts with a pair of dark blue slim-fit jeans. Wear a white button-up with black suspenders and a dark gray blazer as the outermost layer and top it all off with a pair of shiny black oxford shoes.
Derby Shoes with Jeans
Derby shoes are one of the most popular men's shoes for semi-formal and professional attire. Surprisingly enough, they are even easier to style in casual ensembles than the oxfords. But, unlike oxfords that pretty much blend in with the outfit, derby shoes retain their sophisticated vibe and merge it with the rest of the outfit.
This vibe is also the biggest reason to consider derby shoes for your casual jeans outfits. Not to mention their position as the ultimate footwear choice for a business casual outfit and other semi-professional occasions.
Jeans Outfits with Derby Shoes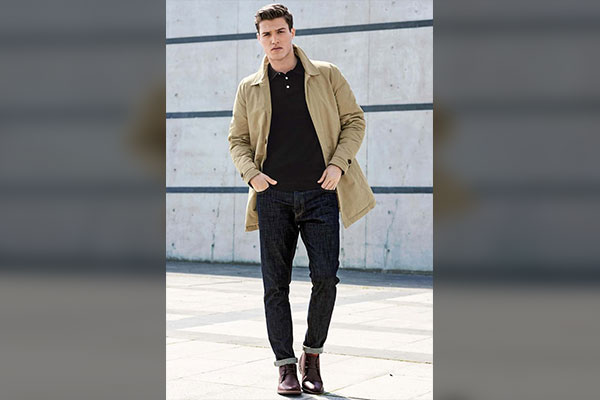 The only way to make derby shoes the best casual shoes for men with jeans is to pair them with professional-adjacent items (something that is close to formal but not fully). For example, a black button-up with a black tie is pretty sharp. But, replace the clean button-up with a black short-sleeved button-up with a white floral pattern, and you've got a brilliant casual outfit.
Similarly, blazers can be quite formal if paired with derby shoes, dress pants, and a solid button-up. You can take advantage of that and rock your black derby shoes and blue jeans with a vibrant multi-colored V-neck and a gray blazer.
What Kind of Shoes Look Good with Skinny Jeans?
Skinny jeans have the inherent compatibility of jeans and will look at least decent over pretty much everything.
What to Wear
The top choice for skinny jeans are either loafers or boat shoes due to their lightweight look and low-top designs.
Next are the low-top leather sneakers with the same benefits as loafers but a totally different vibe.
What Not to Wear
Larger shoes like combat boots and Chelsea boots are not recommended for skinny jeans. They will make your legs look a lot thinner than they are, and the outfit's balance will be completely out of proportion.
Can You Wear Black Shoes with Blue Jeans?
Yes, you can. In fact, black shoes are one of, if not the best, choice for blue jeans. They make the jeans' color pop and feel livelier. That said, their best performance is against darker shades of blue like navy, where the shoes blend in with the jeans and make the whole outfit feel complete.
Final Words
Jeans are the undisputed kings of men's fashion and a must-have for everyone, no matter their age or fashion preferences. They're also one of the easiest items to style as they work with pretty much everything. But all you have to do is put in some effort and pick the most fitting pair of men's casual shoes for your jeans.
The resulting outfits from this minor effort are always worth it, with almost zero exceptions. If you're willing to work a little harder and style jeans outfits around those shoes, you'll find yourself equipped with a whole arsenal of exceptional casual outfits, each worthy of being on a fashion magazine cover.