Many of us have embraced the whole concept of blue jackets. Some for its history, evolution and diversity while others for its aesthetics and complementary qualities that seem to effortlessly transform every wardrobe, body shape and personal style.
What stands out most among the many great elements blue jackets have to offer, is its world-wide acceptance based on a range of colors that are now available in a multitude of different styles and sizes for men who dare to be different.
In a gist of it, pull out your dark blue jacket and pair it with a slim fit t-shirt and your favorite denim jeans, put on your chunky sneakers and you are good to go. Yes people, you can wear a blue jacket at almost any event, this was just for the starters. And so, in this blog you will find out what to wear with a blue jacket and how!
What To Expect In This Article?
What Does Blue Say About You?
Before going any further and knowing what goes with a blue jacket at different events, it's best to briefly go through a bit of color psychology to determine what the color blue means. The way we discussed the green jackets and how you can wear them, this blog would help in getting a feel of the look and mood to go for, should you already have a men's blue leather jacket or if you are about to purchase one. We are sure that dark blue jackets are mens favorite and definitely a wardrobe staple, but let us first know what it actually says about you and your personality. 
It's everyone's guess that blue is not only a favorite color among people in general, it is also most popular among men. This is due to the fact that this color is perceived as traditional and is linked closely to a deep sense of serenity and calm. This is no wonder that this color also symbolizes sky and water.
To take a step deeper into this area, blue has many tints and shades that give you a totally different look and feel. For example, navy blue or dark blue says a lot about depth and security. Royal blue on the other hand, says fidelity and confidence. Cobalt blue signifies intelligence and powder blue or light blue is most associated with reliance, faith and sincerity.
Blue Jacket: Three Pointer Impact for Stylish Results
Now that we've covered the different color variations and their meaning, it will help us further understand how to style a men's blue jacket more effectively. Before we get started, here are a few key points to make note of before you purchase your blue leather jacket or make sure these exist if you already have one.
Cut and Fit of The Blue Jacket: The cut and fit of your blue jacket should be more on the classic timeless side and less on the trendy, current side. This way, you will get more outfit options from this one blue style staple. Also, the classic styles offer more room for layering apparel as opposed to the trendier versions.
Comfort of The Blue Jacket: This point doesn't need any explanation but still, a comfortable blue leather jacket will always look way better than one that looks uncomfortable, no matter where the jacket is made from.
Details of The Blue Jacket: When it comes to detail and men's leather jackets, it's best to have a simplistic approach to detailing using a subtleness that will enhance but not scream out for attention. It is important to note, men can also strategically use detail to draw attention to a certain area, so as to lead the eye away from any other area that is best left unnoticed.
A rounded midsection for instance can be overlooked if there is some appealing detail around the shoulder region. Epaulettes, studs, buckles etc. may be good options to distract the eye away from the stomach. The same can be achieved if the shoulder or chest region is to be concealed with the help of waist belts, side panels etc. that will tastefully draw the eye away from the above-mentioned area.
What to Wear With A Blue Jacket?
One of the most popular choices for menswear is unsurprisingly blue jackets. Whether it is a blue leather moto jacket or a men's blue plead jacket. There is an impressive range of blue in different hues, intensity and suited to a variety of men seeking to up their game with their clothing choices.
Let's now hop on to some really cool examples of men's blue jackets and how you can style them. Whether it's a blue suede leather jacket or a light blue sports jacket, you will find some great and affordable tips on how you can take your blue leather jacket outfits up a notch.
By going through our points on how to style a blue jacket we are sure that you all will be well aware about how effortless styling it actually is. Guys it is time to get rid of the question of what to wear with a blue jacket as this style guide is going to answer all of your questions that link to styling this fresh jacket.
Effortlessly Stylish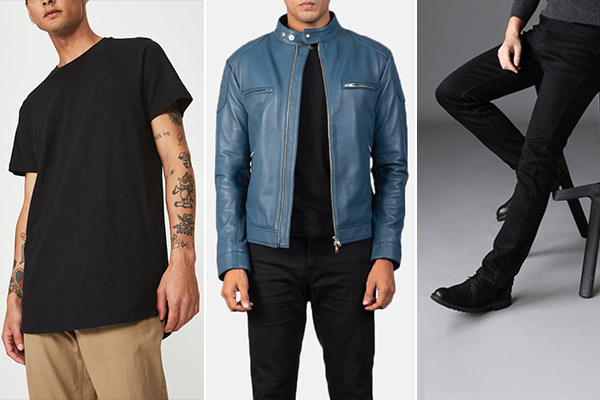 Gatsby blue leather biker jacket is simplistic and stylish. You can easily incorporate it in your blue jacket outfit and look like a stud for the entire day. A great option for men, particularly those with a bit of a taller height.
How so? Note the length of the jacket is not too short and falls at a nice place that creates a balance between height and width. This would also be a good example of not having much to conceal and a lot to flatter. Pair this jacket with an all-black outfit and you're ready to roll.
Classic Style With A Modern Twist
Speaking of classic style with a modern twist, this Ionic Blue Leather Biker Jacket is just the piece to look for. From the length of the blue jacket that will not be the best for tall men to the high collar style that will only look good on men with a bit of an elongated neck.
So while tall men or men with short necks may not be the ideal candidates to pull off this particular style, any other man can go for it without any worry. Wear a classic white t-shirt underneath this jacket and complete the look with black jeans. It's the perfect look for smart casual meetings.
A Timeless Vibe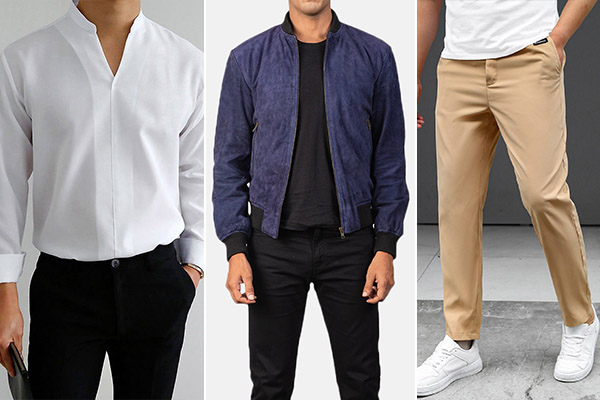 Mimicking the timelessness and luxuriousness of the past, this piece is one of those style staples that prefer to be the star of the show independently. What this means is, you are best suited to this style if you don't have a very bulky midsection, shoulders or chest and you avoid contrasting colors that would draw the eye away from this Shane Blue Suede Bomber Jacket. 
The best color options would be black, dark grey or a combination of both. While this may seem boring or limited for style-conscious men, the upside would be the variety of clothing options that will go well with this piece.
Think about what color pants go with blue jacket, and as you are going timeless denim jeans or even khaki pants would make up for this fact, put on a basic button down shirt and your look is complete. If you want to look fashionable in every era of fashion, make sure you own your basic clothing pieces.
Bold and Basic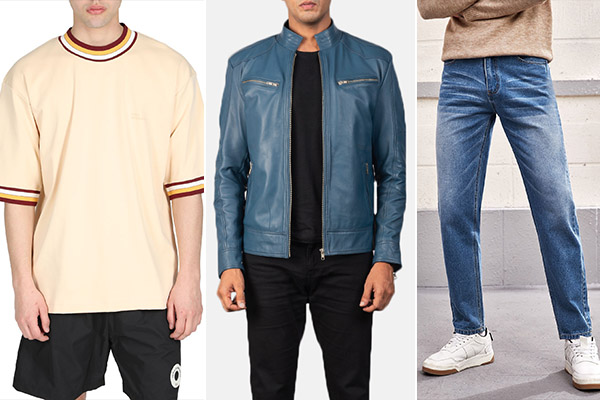 This piece is a good example of pushing the envelope without being loud. A subtle yet impactful Moon Blue Leather Biker Jacket that is stylish and affordable leather jacket and offers great options for styling. A piece that you can wear with a regular t-shirt and jeans on the street, as well as over textured woolen shirts for colder climates.
With an interesting silhouette that allows for great layering, you can even go for a t-shirt undershirt, plaid or checkered button-down shirt as well as a muffler for added warmth. Paired with well-worn boots and gloves and you're ready for snowy mountains or camping in the woods.
Versatile and Iconic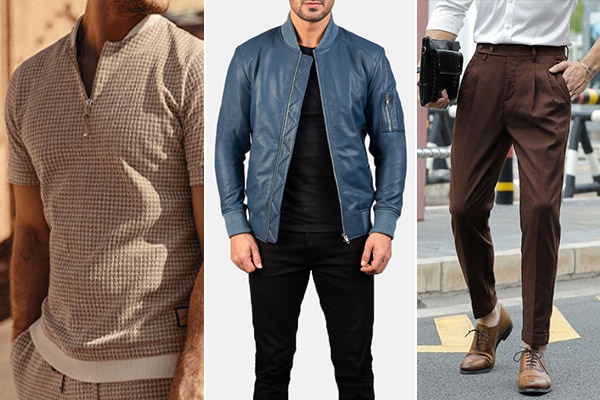 If dressing leather up or down is what you're looking for then this Lavendard Blue Leather Biker Jacket is your 'it' item to have. This piece offers great versatility and goes well with deep brown, black, mustard, red or green.
While it's best to go with one color at a time for visual interest, going for a red shirt, black pants and a tie that carries any of these three colors in varying tones would look absolutely great for a dressed up informal look. Whereas going for a leafy green t-shirt, dark blue jeans and this piece on top will give you a totally refreshing look.
A Contemporary Staple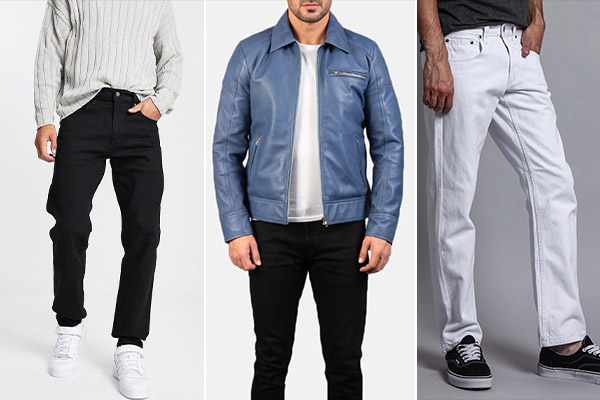 While most bomber jackets are versatile and are known to go with most garments and colors, this particular piece that offers an interesting take on cobalt is in itself an eye-catching, awesome color to own. Aside from its classic qualities mixed with a contemporary color variant, this Bomia Blue Bomber Jacket is a must-have if you're one who isn't looking for much fuss with what to wear with it. 
From your reliable neutrals to darker shades of blue, subdued yellow or pink, peach or even mustard, this piece will complement any of the style of apparel you wear provided the length of your shirt isn't competing with the length of your jacket.
An Eccentric Look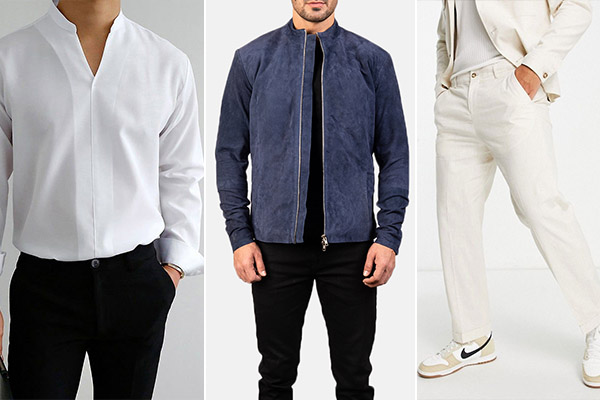 This Charcoal Navy Blue Suede Biker Jacket is a great option for the fun-loving, fashion friendly men out there. Being a classic style of biker jacket alone, enables you to have more options in styling than perhaps the Navy Blue Bomber Jacket we came across earlier. You can wear it with a neutral color palette or one that calls for deeply rich contrasting of colors. Whether you go for rich jewel tones, coral tones or muted tints, you will look awesome on all counts.
For the Fashion Beasts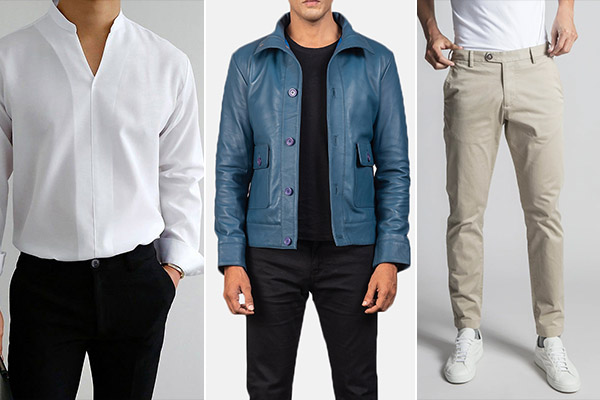 A classic piece that nods to contemporary style is what makes this Columbus Blue Leather Bomber Jacket so unique. With an awesome jacket length that will suit all men to the subtle elements such as the use of button closure and hints of cuffed sleeves. This piece will look great, paired with neutrals, monochromatic combos or complementing colors.
Add some texture in the form of scarf, woven shirt or pants with subtle plaid. While layering for winter style may work with some men, using this particular piece, muscular or bulky men best be strategic with their layering, keeping it simple in color and free of print or texture.
FAQs – What To Wear With Blue Jacket
What to Wear with a Navy Blue Military Jacket With Gold Buttons?
Go for an ultra-classic look by pairing industrial shades like black, blue and grey apparel with a navy blue military jacket with gold buttons. You can add color to the overall muted look by adding bold shades like red and burgundy as well.
What Color Tie to Wear with a Dark Blue Corduroy Jacket?
Pair the dark blue corduroy jacket with neutral colors like beige, light green, muted pink or even white. If you want to step out of your comfort zone and do something unexpected with your look, go for white cotton pants and look dapper with a yellow top and a blue jacket.
What Color Tie to Wear with Blue Jacket?
You can wear a blue color tie but with a different tone to add dimension to your overall look. Apart from that, go for a completely bold look by pairing red, dark brown, golden or even grey color tie.
What Color Pants to Wear with Dark Blue Jacket?
You can pair brown or tan chinos with a dark blue jacket, light blue, dark grey or even black denim jeans, and white cotton pants with a dark blue jacket. Most of the time the dark blue jackets a re the center piece so always try not to divert attention from the jacket by pairing muted and neutral shades with the apparel.
What color goes with blue jacket?
Shades of blue are definitely on the list, apart from that you can easily pull off black, grey and even light colors like tan. What ticks all the boxes is surely white. If you are confident enough you can surely wear every type of color with the blue jacket.
Is A Navy blazer with Khakis a Good Idea?
Yes, a navy blazer would complement khakis really well.
What goes with blue jacket?
Blue jackets for men can be worn with almost anything. If you want to keep it casual, pair it up with some basics, denim jeans and a slim fit t-shirt, put on some classic white leather sneakers and slide on your blue jacket. While if you are planning to dress up formally then take out formal pants that match your blue jacket, tuck in a crisp white shirt, secure it with a belt and wear your Derby shoes to complete your look. 
At the End of it All
So in closing of this men's style guide, we've covered a host of different points, style tips, outfit examples and various color palettes to suit different men. At the end of the day, what matters most is your confidence in yourself, your lifestyle and most importantly what you choose to wear.
These factors are the bonework of what makes a stylish man… stylish. You can achieve the best looks at the most affordable rates and still look and feel good. After all it's not so much as what you wear it's how you wear it. We are sure that you all think that how to style blue jacket might not be as difficult or complicated as it seems; just be confident about what you pair up with this versatile jacket and you are good to go!