Sling bags are a trending men's fashion these days. However, not many of us know how to wear sling bag correctly without ruining the vibe. So, if you are one of them you are at the right place!
Without a doubt, sling bags are a revolution in men's streetwear fashion, as they are ideal for daily commutes and other outdoor activities. So, you don't have to fill your pockets with your essential stuff like cell phone, charger, and wallet.
With this fashion-forward bag style comes the misery of styling them the correct way. Here are a few trendy options of how to wear sling bag in a trendy way with your fashion game in check.
So, let's dig in!
What To Expect In This Article?
What Is A Sling Bag?
A sling bag is a small but compact bag generally used for travel and sports activities but is suitable for everyday use to carry all your essential items with convenience.
Sling bag fashion has now become a practical accessory, which is now available in different styles and size variations to cater to everyone's needs. So, you always have a sling bag style available that will fit your requirements.
Why Sling Bags?
Are you thinking about why should you opt for a sling bag instead of those traditional backpacks? Here are all the reasons why a sling bag is a better choice for you than all other bag styles.
Ease of Access
The sling bags for men give convenient and easy access to all your items. You do not have to put off your bag to take out anything.
Lightweight And Trendy
Most sling bags are made from lightweight materials like textured leather, nylon, or polyester making them a comfortable and trendy bag style that can give you a fashion-forward look without straining your shoulder with loads of weight.
Keep All The Essentials
For the people who like to keep all the essential stuff with them without stuffing their pockets, a sling bag is the one for them. From your wallet, cellphone, and keys to your bank card, a sling bag will keep them safe and come in handy whenever you need them.
Perfect Outdoor Bag
Fashion sling bags are a comfortable bag style for all your outdoor activities. You can wear sling shoulder bag outfits for travel, gym, and work with maximum comfort and style.
Different Types Of Sling Bags
Before moving to the actual topic you must have the basic knowledge about sling bags to effectively style them according to your taste and needs. Here are a few popular types of bags that are a must-have for every men's closet.
1. Travel Sling Bag
These bags are like normal sling men's backpacks with a few extra small compartments and partitions to keep wallets, keys, chargers, and cards. This type of bag is usually made of nylon, designed for travel purposes for men especially to be carried along on bike rides.
2. Shoulder Sling Bag
As the name suggests shoulder sling bags are designed to be worn on the shoulder, generally used to carry everyday gadgets like a laptop, tablet, or camera. These bag styles are generally stitched out of lightweight and tough material to withstand heavy weight without overburdening your shoulder.
3. Sling Pack Purse (Wallet)
If you are tired of overstuffing your pockets with essential items, then these small sling bags are the perfect purse option for you. While these bags are said to be the best sling bag for women, men also use them as a functional man purse style to carry their essentials.
5. Sports Sling Bag
Sports sling bags, without a doubt, are the best sling bags for men. These bags have an identical sling bag design but with a few extra features and compartments to keep clothes, workout gloves, water bottles, food, etc.
6. Sling Messenger Bags
These bags have a similar design to a messenger bag but in a much smaller size. These versatile sling bags for men usually made from nylon are mostly suited to keep smaller items like wallets, keys, cards, and phones.
How To Wear A Sling Backpack?
1. Over The Back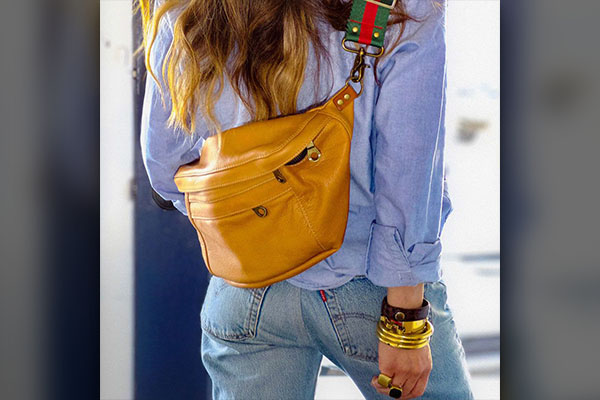 Wearing a sling bag over the back is probably the classic and the most comfortable style of carrying a sling bag. 
There is a reason why most men prefer to wear the bag that way. Wearing your sling bag over your back makes you focus on more important scenes distracting your attention from the bag.
Additionally, if you commute on a bike or bicycle, then wearing your sling bag that way is a safe choice. However, if you prefer to walk your way to work or college, wear them in the front.
2. Across The Front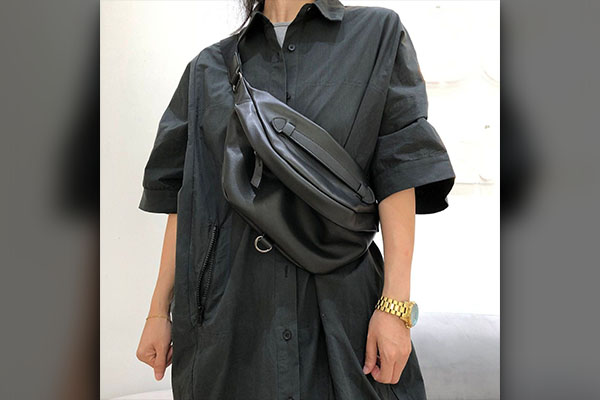 Sling bags worn in a way with the bag tightly held to the chest, on the front is another trendy way to wear a sling bag.
The one benefit of wearing your sling bags is easy access to your devices and other essential items without putting them off your shoulder. Additionally, you can carry your purse, cell phone, and edibles carefree to avoid theft with this bag style.
However, make sure the strap of your sling bags is not so long and the bag remains close to your chest to steer clear of any inconvenience.
3. On One Shoulder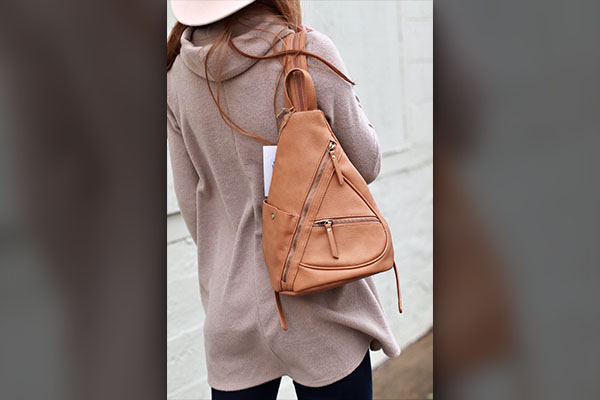 This way of wearing sling bags is likely the most convenient and fastest way to carry a bag, with no need to buckle or clip the strap across your body. If you're a student who needs to constantly juggle between picking up and dropping your bag, this could be your favorite sling bag style.
Try to wear your sling in a loose way over your shoulder to balance out the weight evenly. Another tip to ensure the safety of your bag while dropping off your shoulder is to tie the strap around a heavy object for extra protection.
However, you can also add a good quality padlock on your bag for more security while you commute on the subways or having a cup of coffee on a crowded street.
4. Around Waist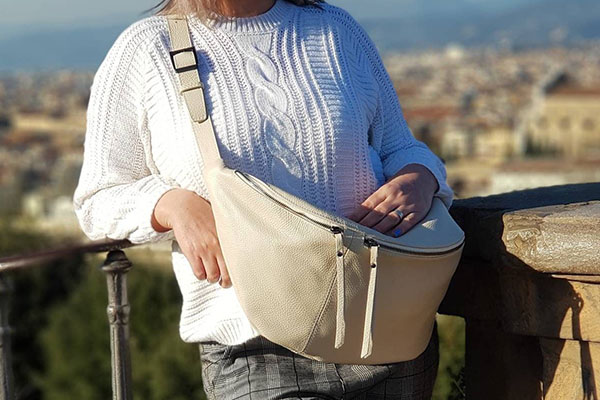 The sling bag worn around the waist like a belt is referred to as a waist pack. However, there are a few convertible sling bag designs that can be used in both styles. These waist sling bags are more compact and smaller in size to make them fit around your waist hassle-free.
The waist bag is among the pioneer sling bags because of its functional design and ease of styling. Additionally, you can pick out all the necessary items without putting off the bag, in a more comfortable manner than the bag sitting up high on the chest.
5. Carrying It Casual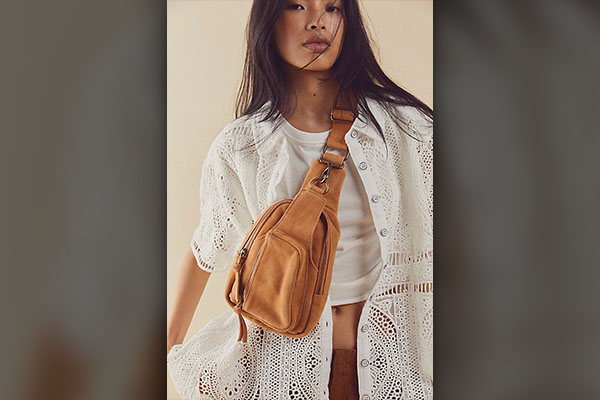 For days, you don't feel like carrying your sling bag over your shoulder; you can carry them in your hand like a casual handbag. The single stripe design of sling bags makes them a perfect and comfortable pick to carry around casually in hand without compromising on your style.
6. The Crossbody Way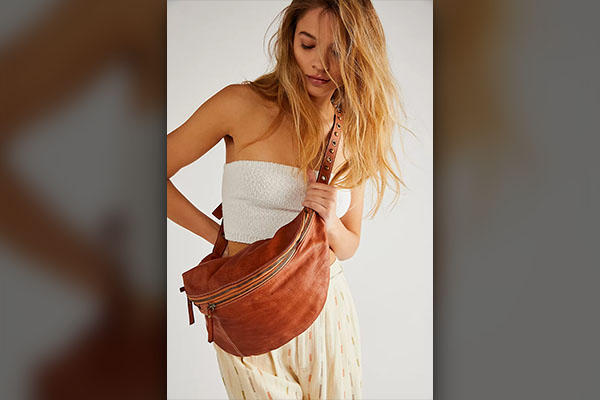 Crossbody bags are the most popular men's bag style these days. This style of wearing sling bags is almost the same as wearing them in the front but with the bag hanging in a loose manner slightly over the hip area, similar to a typical crossbody arrangement.
Conclusion
A sling bag is the most effortless and chic bag style for men to carry their essentials conveniently. However, understanding the proper ways of how to wear sling bag is crucial for proper styling.
Travel sling bags and shoulder sling bags are the most popular sling pack styles. You can carry them in front, on your back, on one shoulder, or like a waist pack with maximum style and convenience.