A man purse is an all-purpose bag used by men to carry their necessary belongings with them. It is slightly bigger than a women's bag and has a single large strap, so you can hang it on your shoulder. It has enough space to carry your laptop, essential documents, and other mandatory stuff to help you throughout your day. There are many different kinds of man purses, we will go through each of them in this blog.
What To Expect In This Article?
Why Are Man Purses introduced?
Initially, man bags were not very common for a lot of men, but European men would carry a bag called a "European carry-all" to keep all their belongings intact in one place. With time man bags have gained popularity not only in masses but with celebrities, sportspeople, influencers, etc. It is something to help you keep your stuff in one place without even worrying about pockets and the safety of your things.
Types of Purse Styles:
Man purses were also called Murses (Man + Purses). A lot of men who considered carrying a purse as a woman thing would hurt their ego to keep or own a man's purse. This has changed drastically over the years because men have now seen big influencers and celebrities carrying a man bag to complete their looks. There are many types of handbags for men, a few of which we will discuss here:
Messenger Bag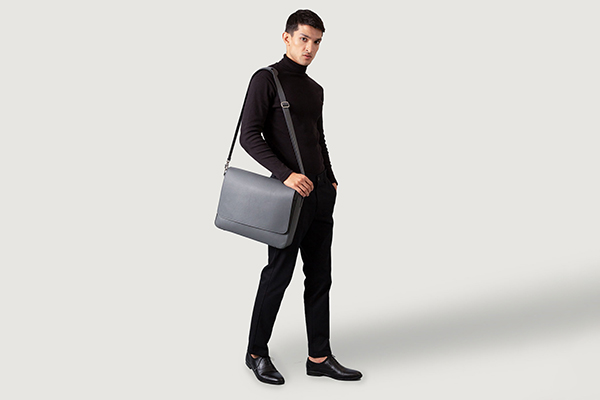 Messenger bags were used more commonly by newspaper distributors, postmen, or people who were on the go every part of every day. This is easy to handle as it has a pocket that you can use when in a hurry. Designers have worked a lot on it and made it according to the personalities of people who would hesitate to carry a man's bag.
Cross Body Man Purse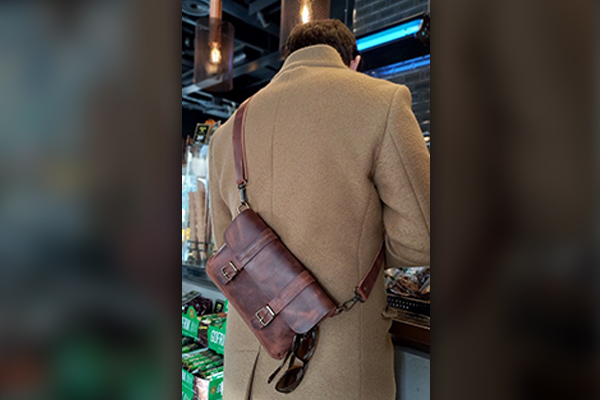 The men's crossover bag is an everyday bag that will help you throughout your day. It is worn in a way that it crosses your chest and hangs downward from one side. Before buying this bag keep in mind the size of the bag, you could get a big messenger bag that can carry your laptop, documents, files, etc. Or you could buy a small cross-body bag that will help you keep your phone, wallet, and keys.
Travel Man Purse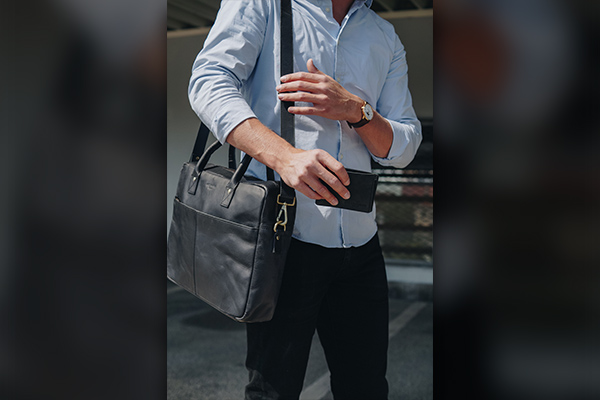 This bag has enough space to carry all your traveling essentials along with a pair of clothes. It features pockets that can hold your undergarments, separate sections to put your kits, etc, and then still have space for your clothes. This bag is a must-have for anyone who loves traveling and is on the go most of his days.
Duffle Bag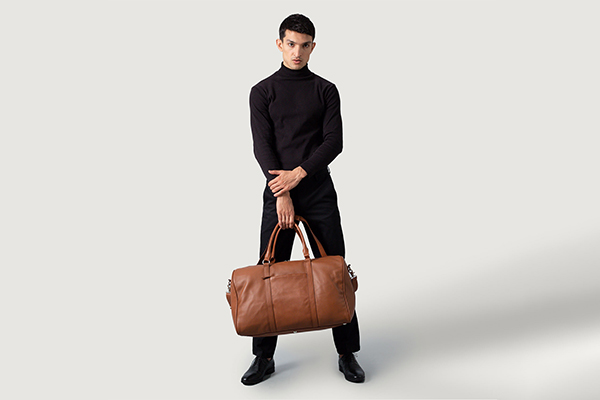 This is a rectangular-shaped large bag, which holds your stuff most effectively. Everything that you put in the duffle bag is easy to look at and find. It carries your clothes, toiletries, and all that can be needed for a casual gateway. It has two zippers and a side pocket to keep your stuff sorted.
Briefcases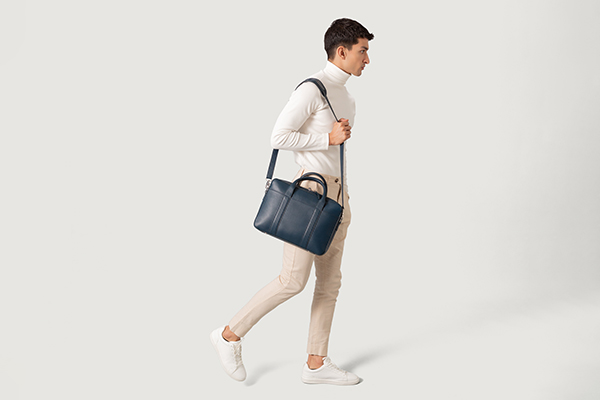 Briefcases are made keeping in mind the work-oriented people. Men who would want to transfer documents carry this bag, so they keep their essential documents along with their tablet or laptop. This bag is a true depiction of practicality and will be attracting a lot of attention.
Tote Bag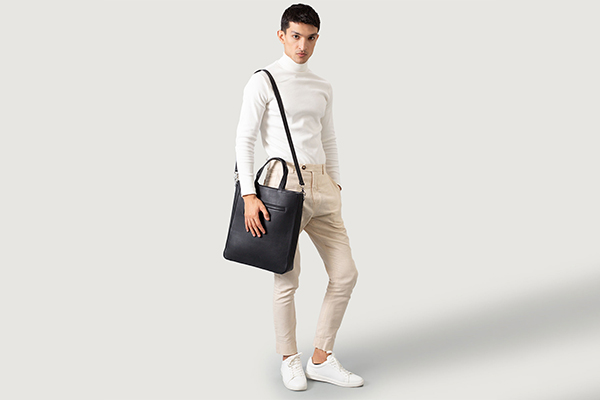 A tote bag is one bag but with a lot of functionality, this bag can work as a briefcase and can also turn into a backpack. This can be your work bag, shopping bag, or even a bag you can carry to your gym.
Backpack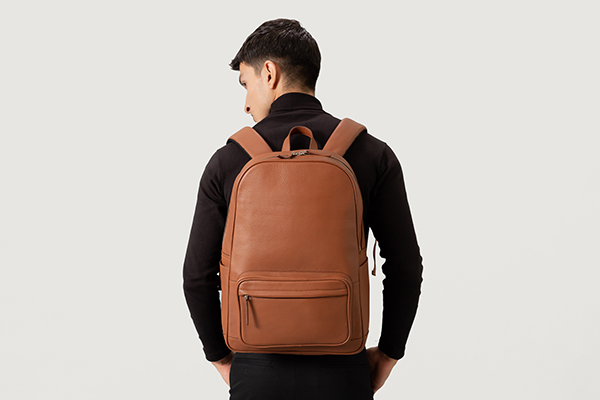 This is the most popular bag amongst the youth and can be used very smartly. This is the most opted style men want to carry because of the ease it offers. It features many compartments that can hold all of your important stuff and can still make you look hip.
Chest Bag
Chest bags are a must-have for your everyday lifestyle. Something that can fit your everyday essentials like keys, cell phone, sunglasses, and wallet. The best thing about chest bags is they are attached to your chest and keep your hands free. They keep your things safe as they will be in front of you all the time.
How to Carry Man Purse
After the popularity of man bags, a lot of men have started owning a bag for every occasion. Work bag, travel bag, laptop bag, and whatnot. Having a man's purse is not a big deal, carrying it well is. If you own a very expensive, classic bag but don't know the right way to style it can bring your fashion sense crumbling down in a blink of an eye.
Always carry the right bag for the right type of event. You can never carry a briefcase to the gym and similarly, you can not carry a travel bag to your office meetings.
Choose the right type of color for your bag, something that is complimenting your dress and your shoes. Perfect is to match the bag with your accessories e.g shoes and belts.
Choose a good quality leather bag for yourself, something that will last a lifetime. Getting a low-quality leather bag will only make you suffer in terms of quality and style.
Before you get a bag for yourself, make sure you have decided on your needs. What should be the size of the bag? How many compartments should it have? Etc.
You should always fill up the bag according to its capacity, anything too less for the size of the bag will give a saggy feel, and anything too much will make it look too packed.
Care Guide for Man Purses:
There are a few guidelines to keep in mind to keep your bag safe, if followed properly your bag will last you a very long time.
Clean your leatherman purse with a damp cloth now and then to keep it safe from dust.
Make sure you keep the bag away from heat and fire.
Spray your bag with water and dust repellent to provide a protective layer on the bag to avoid any water or dust stains.
To keep your bag in shape, keep it stuffed with the right amount of things.
Conclusion:
At the end of this blog post, we have concluded that bags are not a thing for women only but have gained a huge amount of appreciation in men as well. Keeping a bag for all your occasions and carrying it with the right techniques can change the whole styling game for you. So unless you are good with things falling off your jeans or pants pocket you should not get this man bag. In my opinion, every man should at least own one of these bags to complete their wardrobe.