Leather jackets are the most popular type of leather product all over the world. You wear it when you want to be seen and stand out. This wardrobe staple is practical, stylish, and versatile enough to be worn in any season. While this type of outerwear is undoubtedly durable, these fine pieces of outerwear require a little more upkeep than your bog-standard cotton shirt.
Leather jackets, if cared for properly, can age beautifully — You will love the patina it develops. However, if it isn't stored correctly and used intensively, leather can easily become wrinkled and creased. Proper care is vital to protect and preserve the physical integrity of this quality material.
But what if you already have a leather jacket that's wrinkled? We've all been there when we forgot to hang it up after last night's party and oh dear, it's wrinkled. Luckily you can remove these horrid wrinkles from your leather jacket
In this article, we will give you some great tips on how to get wrinkles out of leather jackets.
What To Expect In This Article?
Wrinkling Of Leather- The Causes!
Quality Of Leather
There is a multitude of grades and kinds of leather used to make leather items. Here it is important to know that each makes a big difference in how your leather products crease, wrinkle, and ultimately age.
Some leather types have more stretch than others, some are thicker and heavier according to the leather thickness chart, and some are softer. Generally, leather obtained from the sides of the animal is thicker as compared to the one sourced from the belly or shoulders. Essentially, the thicker the leather, the less wrinkled it will appear after use.
Also, if you are easily bothered by unwanted wrinkles, opt for full-grain or top-grain leather over bonded, or "genuine", any day. Full-grain leather is the strongest and most long-lasting and is less likely to distort and develop irremovable creases over time.
Improper Storing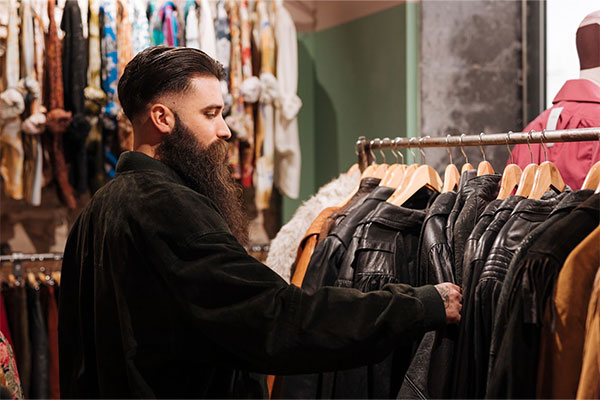 Everyone appreciates the smooth feel of the leather against the skin. Also how flexible it is. These two properties of this material allow it to take any shape easily thus making it prone to wrinkles.
One of the core reasons behind the wrinkling of leather is how you store your products when not in use. Leaving your leather clothing items on the floor for extended periods, sleeping while wearing them, and piling them in your closet will lead to a wrinkled surface.
Do not fold and store them. Always hang them in a proper section in your closet according to the length of your leather items. Items like leather trench coats should be placed at hanging rods dedicated to longer clothes to avoid wrinkling at the base.
Wearing The Wrong Fit
The size of the leather clothes matters the most when you want a crisp clean look. The right fit will unlock a new level of sophistication and grace that can't be achieved with a baggy fit. However, when it comes to leather jackets, the importance of the right fit goes beyond being stylish.
Wearing a size bigger than yours in leather jackets not only looks unattractive but also can cause wrinkles and creases. There will be a lot of slack in your leather jacket if you get it too big. The extra fabric will fold in as you sit and create permanent wrinkles.
The trick to getting out of this situation is to know how to correctly measure the size of your leather jacket. This will allow you to move around easily, stay stylish and maintain its appearance even after years of use.
Rigorous Over-Use
There's something about the rich, refined and sophisticated look of leather that is a timeless classic. The unparalleled appeal of leather urges people to wear leather items repeatedly without gaps. But continuous rough use of a leather product makes it highly susceptible to wrinkles and creases.
Proper use and care of your leather items can prevent them from getting weird noticeable cracks and wrinkles. After all, taking measures to stop wrinkles from appearing is far more manageable than removing wrinkles from leather
It's also worth noting that there is no such thing as wrinkle-free leather. Natural lines, creases, and some wrinkles are essential characteristics of real leather. Some leather manufacturers might use fillers or sand them to give the leather a smooth texture. However, the natural ones embedded in the hide will appear over time.
Top Five Ways To Unwrinkle A Leather Jacket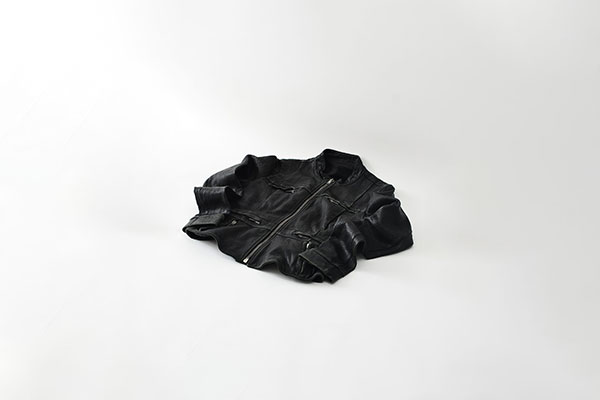 Place Heavy Objects
When in doubt, always turn to the basics! One of the safest methods of fixing wrinkled leather jackets of any type is to simply put some heavy object over it. Lay the jacket over a flat hard surface and carefully locate the wrinkles. Take out a heavy object like a dictionary or a pile of books and place it over the wrinkled surface. Leave it overnight to see if it works.
The above method is suitable for removing wrinkles from a small area and when you have ample time. If your jacket has been sitting at the bottom of your closet for a little too long and it's covered from head to toe in wrinkles try placing it under your mattress.
You can sleep on the mattress during the night, knowing that it will put pressure in all of the right places, allowing you to wake up to a crisp-looking, wrinkle-free jacket. For extra protection, cover the jacket with a newspaper or a pillow cover.
Try The Pulling Method
If you're curious about how to unwrinkle a leather jacket, let us tell you there's a good chance that simply sliding it onto a clothes hanger and letting it hang in the closet will eliminate much of the creasing and wrinkling. Furthermore, you can also try the simple act of pulling to flatten the creases and wrinkles faster.
Simply hang the jacket on a hanger and gently pull downward from under the creased or wrinkled areas. Continue pulling for about five seconds to smooth out the fabric. Pulling too hard and for too long in one go can cause overstretching of the fabric, so be careful.
Repeat this step multiple times for the best results. Please be informed that this method is also appropriate for small wrinkles only.
Iron The Leather Jacket
Leather is one of the best winter fabrics that are durable and not very difficult to clean. However, if it gets wrinkled it is generally not recommended to iron it. On the other hand, many consider it an effective solution to get a smooth result. The results are instant so if you are looking for a quick solution to how to fix wrinkled leather jackets—ironing is the way to go.
Ironing a leather jacket is an intricate process, and a single mistake can ruin an entire piece. You will need an ironing board, a good regular iron, and extreme attentiveness. Here's how to get it right every time.
Use a towel or to protect your jacket from direct heat, and run the iron over the towel for one to two minutes. Don't press it too hard. Also never leave the iron on its highest temperature setting – instead, work at a lower temperature.
Just remember to test an inconspicuous area first, in case it damages the material.
Use A Garment Steamer
While ironing your leather jacket is a quick way to remove wrinkles, you don't want to mar its fabric by doing it the wrong way. Instead, consider removing wrinkles with a garment steamer. This handy fabric tool blasts out wrinkles from fabrics like no other. It's ideal for tackling small areas.
Get a fabric steamer from a decent brand and make use of the medium-low setting. Applying an even coat of steam from a distance will relax the wrinkles. If you observe that the wrinkles are not settling on their own, softly pull them to relax them further. Just don't hold the steamer too close to the jacket and gently blot any extra moisture settled on the surface.
If you don't have a garment steamer at hand there is an alternative you can do. Steam it in the washroom. Simply let the hot water run and fill the entire space with hot steam. Now hang the leather jacket close to the steam source but away from the water. Let it stay there for a while and then use your hands to flatten the creases and wrinkles.
Spray Alcohol To Cure Wrinkles
Another best way to fix wrinkled leather jackets is to use alcohol. Alcohol will soften up the material and allow it to stretch. However, when trying this method for the first time, do a small patch test to check if the color is fading or not.
All you need to do is take an equal quantity of water and alcohol and fill it in a spray bottle.
Now lightly spray the alcohol-water solution from a distance directly on wrinkled or crimped areas of the leather jacket. Let it sit for a few minutes and then with your hands smooth out the wrinkles.
Even though many people swear by this method to cure a wrinkled leather jacket it's important to keep in mind that alcohol does have an additional effect on leather — it dries out leather. Therefore always follow up by conditioning your leather jacket with a commercial or DIY leather conditioner or you risk leaving it dry and rough.
While the above tips are what many people recommend online, we at The Jacket Maker still encourage user discretion. As not all leather jackets or products are made the same, hence not all results will be 100% satisfactory. Simply, as mentioned above; due to the difference in leather type and make.
FAQs:
Can you iron leather jackets?
Ironing leather is not the go-to solution for anyone who can not handle it carefully. But this is a way to remove the creases and wrinkles in just a matter of minutes. Just make sure that the iron and leather never come in contact with each other directly. Place a clean towel or cotton cloth over it and then iron the leather jacket on the lowest setting. 
Can you steam leather jackets?
Yes, you can surely steam a leather jacket. Steaming is a far safer option than ironing. The heat and moisture in the steam will relax the wrinkles on your leather jacket.
How to shrink a leather jacket?
A good quality leather jacket is an expensive piece of clothing so it needs to be treated with care. Soaking it in warm water and tumble drying it later is a doable option to shrink it but definitely, it is not the safest. To ensure that the jacket fits you properly and doesn't lose its charm reach out to a professional to alter it. Again, user discretion is advised.
How do you dry a leather jacket?
The best way to dry a leather jacket is by letting it air dry naturally, as direct heat or exposure to the sun can damage leather goods and cause dyes to run. Place your leather jacket on a hanger and hang it in a cool, dry place until it is completely dry.  Also, avoid placing the jacket in the washing machine or dryer. 
Ending Note:
Like it or not, leather is a material that can wrinkle. And while you might be able to mitigate the occurrence by taking necessary measures, there's only so much you can do. The best bet? Just accept it and use one of the fixes discussed in this article to minimize the appearance of wrinkles when they do appear. Let us know in the comments which method worked best for you.