The texture and look of a corduroy jacket hit you with an unexpected dose of nostalgia – we've all had one of our best childhood winter jackets made of corduroy. But it wasn't until we grew up and started to build our own capsule wardrobe and realized how gorgeous and versatile this fabric truly is. 
Although a corduroy jacket outfit is specific to the winter season, it can be used alternatively with denim jackets in summer; for layering purposes and adding functionality to your outfit. But one can't deny that October is pretty much the time when one starts getting excited about wearing a corduroy jacket outfit knowing that it will protect them and keep them cozy throughout the colder months.  
As a corduroy jacket outfit enthusiast, it can be easy to get swayed by its velvety texture, but it really comes down to the functional attributes that make it stand the test of time. Not many winter fabrics have outlasted season after season, but this one truly has. Whether you want to step out for a quick coffee or attend a cozy dinner with friends, a corduroy jacket outfit is à la mode.
What Is Corduroy?
Known for its distinctive texture, corduroy is essentially made of tufted cords and is a fusion fabric. It is extremely durable and quite popular with the working class since it's affordable without compromising on its posh looks. The core texture of corduroy is thick with ribbed velvet. It is one of the best materials to wear in winter and ranks highly in the list that has leather, silk, cotton, and denim. 
How To Put Together A Women's Corduroy Jacket Outfit With Old Clothes?
There has been enough discussion on how gorgeous a piece of silhouette corduroy makes but the lesser conversation on how to style it. In this article, we shall uncover the different models and ideas to style a corduroy jacket. Thus, if you came here to find out how to style a corduroy jacket, you're in luck as we have established eight looks that are absolutely divine. Not only are they versatile but also high in terms of function and sense of aesthetics. 
It's fairly easy to put together outfits with a corduroy jacket using old clothes – or rather, clothing items that are already in your wardrobe. For example, you could simply have a ribbed sweater in white and black denim jeans ready to be paired with a brown corduroy jacket; an outfit that shows your chic style and elegant personality. Of course, you can wear regular brown suede sneakers or turn up the heat with leopard print stilettoes. 
From denim jeans to leather flared pants, there are so many different types of pants that are already present in your closet. This emphasizes our point that there's no need to purchase new outfits to pair with your corduroy jacket as there are so many ways to style a corduroy jacket outfit. 
A corduroy jacket is resourceful because you can you a variety of tops and dresses to wear with it. You could opt for a plain tee or a denim shirt or even a warm high neck. It all comes down to your inventiveness and level of creativity because on corduroy jacket can be used to create numerous different outfits, each distinct from one others in terms of purpose and versatility. 
Outfits With Corduroy Jacket – Vision, Personality & Resourcefulness
When you are creating outfits with a corduroy jacket, you must never let go of your vision. Always have an idea of what you wish to create because you can never let go of your imagination. And you know how the saying goes: creativity is the mother of inventiveness. This brings us to the next rule of thumb, always use the clothes that you already have in your closet. You don't have to buy new items and become a hoarder. Learn how to use them in different ways. 
And lastly, never forget what you are and what your style is. You might, at times, wear outfits that seem good in theory but in practicality, you may completely falter to make it work. You need to be comfortable with what you are wearing otherwise fashion becomes a burden and that's not what we want, especially when a corduroy jacket outfit is at the helm of taking the blame.
Before we go further, we have to keep in mind that these are simply some of the ways you can wear a corduroy jacket. Corduroy, in general, is trendy and if you want to elevate your style, you must invest in timeless corduroy blazers and jackets. They look elegant and modern when paired with wide-leg pants, turtle necks, and even denim skirts. So without further ado, let's get started with our list of outfits with corduroy jackets. 
Tan Corduroy Blazer Jacket with Black and White Striped Shirt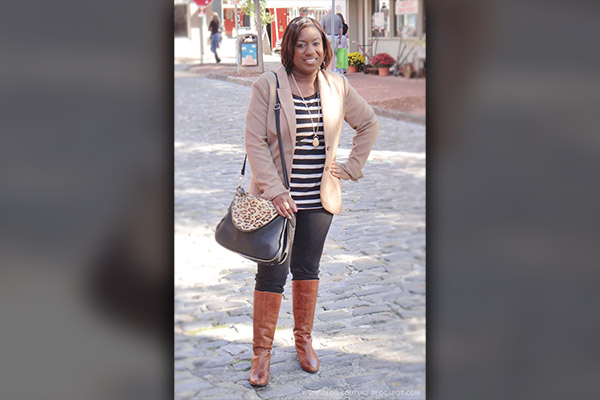 You can create an everyday, casual look with a tan corduroy jacket outfit. Simply wear a white striped shirt and charcoal black jeans with brown ankle boots or white sneakers. Finish the look with a watch and a hippie headband.  
Brown Corduroy Jacket with Heather Grey Sweater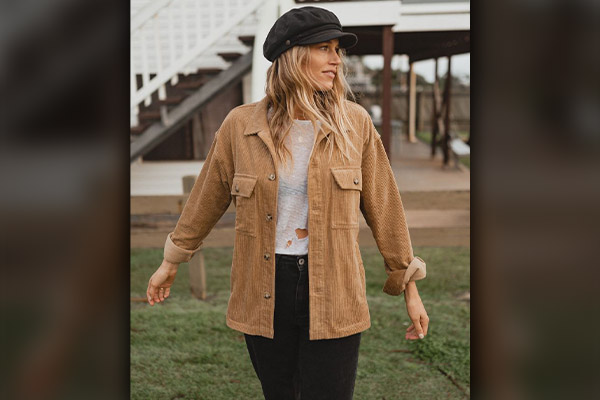 Women always wonder what to wear with a brown corduroy jacket when they can literally create ten outfits with this outerwear without taking a breath. From the color to the texture and functional attributes, a women's brown corduroy jacket is a gold mine in your closet. You can wear it with a heather grey sweater and dark pair of jeans. Of course, you may switch the jeans with leather pants, any day.
Brown Fur Collar Jacket with Cropped Pink Knit Tee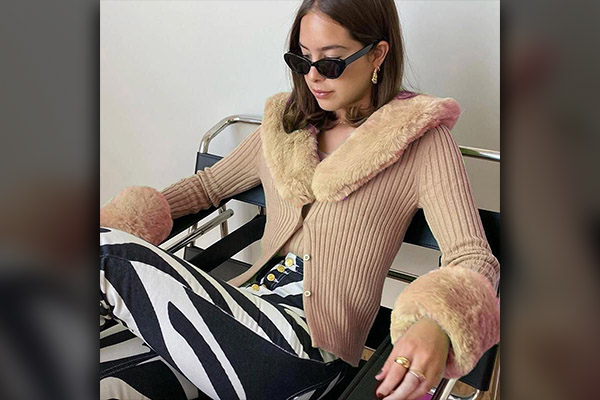 If you want to dress up a little, you can never go wrong with a brown and pink combination. It's effortlessly stylish, modern, and chic. Go for a brown corduroy jacket outfit – pair it with a cropped pink knit tee, baby blue jeans, and a fresh pair of sneakers.  
Black Corduroy Jacket with White Knit Sweater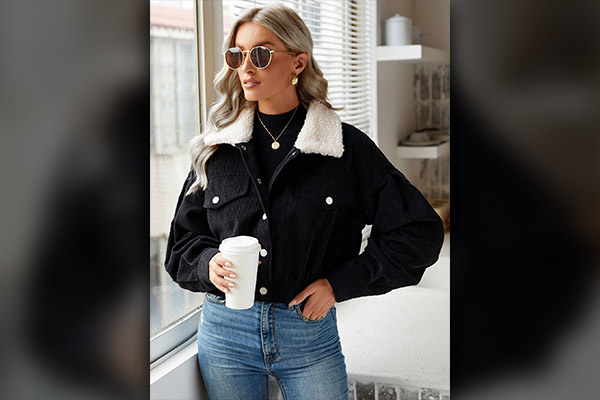 Create an alluring aura using a black corduroy jacket outfit. There's nothing more sophisticated and warm that a black corduroy jacket with a white knit sweater and a pair of black crisp jeans. Add white boots and you're are ready to roll.
Black Corduroy Jacket with Turtleneck Sweater & Flat Cap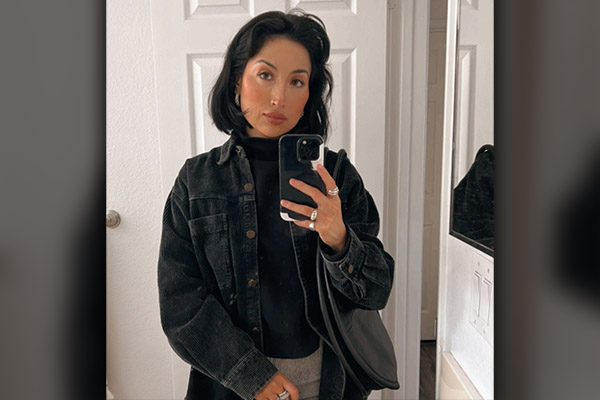 Don't think that we are done with black corduroy jacket outfit ideas because we are just getting started. A black corduroy jacket would look divine with a grey turtleneck sweater and a black flat cap. You can wear black jogger pants and a pair of sneakers to keep the look laid-back and classy.
Black Corduroy Jacket with Black Denim Shirt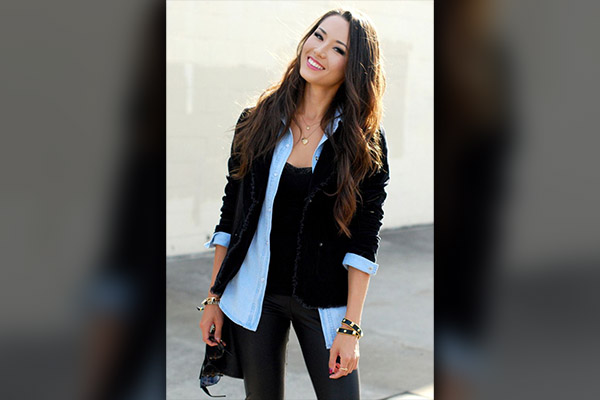 The final black corduroy jacket outfit using a matching denim shirt and matching pants to give you an all-black outfit that is charming to the dot. You can wear a corduroy shirt outfit and ditch the good old denim shirt as well if you want to feel extra cozy.
Green Corduroy Jacket With White Crop Top & Sky Blue Jeans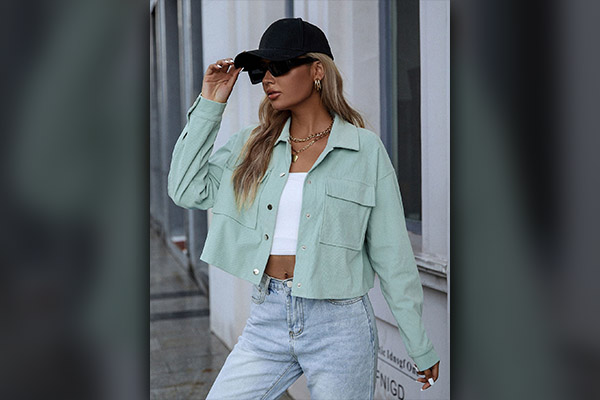 Green corduroy jackets are quite trendy these days. Hence, choose a green corduroy jacket outfit by pairing it with a cute white crop top and sky-blue jeans. You can add glamour to the outfit with a pair of heels in a bright neon shade. 
Pink Corduroy Jacket with Charcoal T-shirt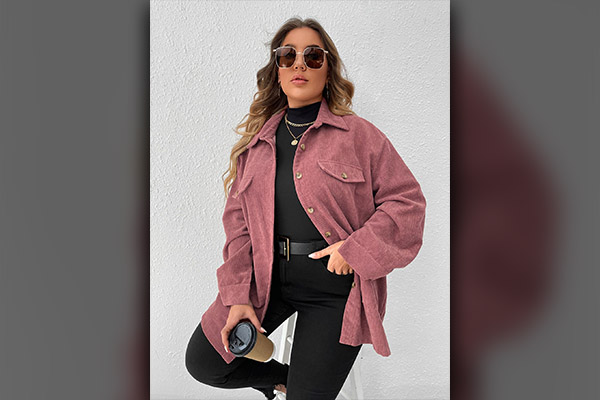 The final look of the list is feminine and snazzy at the same time. Wear a pink corduroy jacket with a charcoal T-shirt and white pants. You can aim for a clean look by wearing a bun and bathing yourself in a highlighter. 
Are Corduroy Jackets Warm?
Yes, corduroy is extremely warm and considered to be one of the best winter fabrics. 
What Do You Wear With A Corduroy Jacket?
You can wear anything and everything with a corduroy jacket – from denim jeans to leather vests and cotton tees.
Can You Wear A Corduroy Jacket In Summer?
Although it's preferable to wear a corduroy jacket in winter, you can carry a corduroy jacket with you or use it as a layer on strapless tops and crop tees. 
Is Corduroy Jacket In Style?
Yes, corduroy jackets are always in style!
Is Corduroy Long Lasting?
Due to its rich material and durability, corduroy is deemed one of the best fabrics that live in your closet for ages!
Wrap Up
Corduroy jacket outfits are honestly fun to create and stylish to wear. You should invest in a brown corduroy jacket outfit as it's versatile, functional, and effortlessly cool. Due to its durability, this outerwear will stay in your closet for years to come and can be paired with a variety of clothes – a smart way to elevate your wardrobe!