While not as popular as its social media counterparts, Pinterest is another great platform to use for The Jacket Maker's affiliate products. Many know Pinterest to the extent that it's a good image-based channel and that's about it. Did you know that a recent case study showed that 20% (or more) traffic can easily be driven via Pinterest? You don't even need to have a website of your own to achieve your affiliate marketing goals for The Jacket Maker. You can simply start with a Pinterest account.
How to Promote The Jacket Maker on Pinterest
Below you will find out not just how you can use Pinterest to further your affiliate marketing for The Jacket Maker, you will also discover interesting uses of this underrated people-centric platform that's big on images and more.
1 – Cool Pins that are Clickable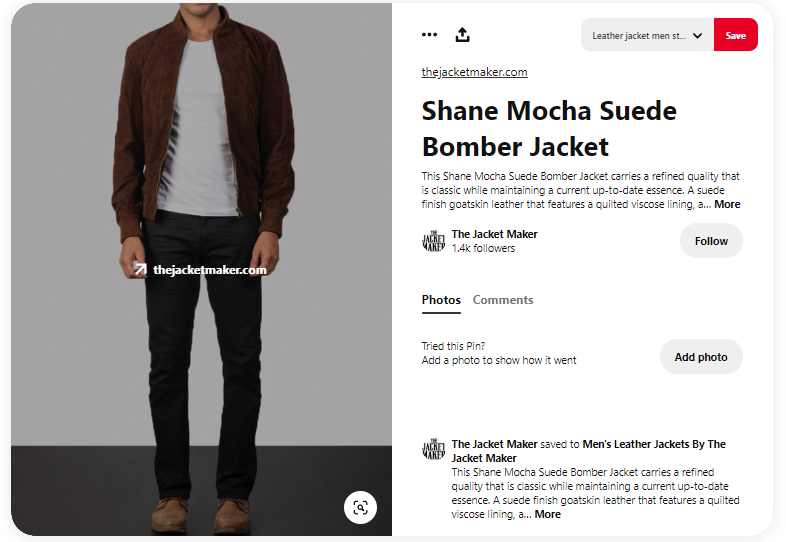 Sharing cool pins that are clickable and that redirect users to the source or product page, is a great way to start. People on Pinterest love details such as the where and why behind different products and that includes awesome leather jackets from The Jacket Maker.
2 –
Creative Listings and More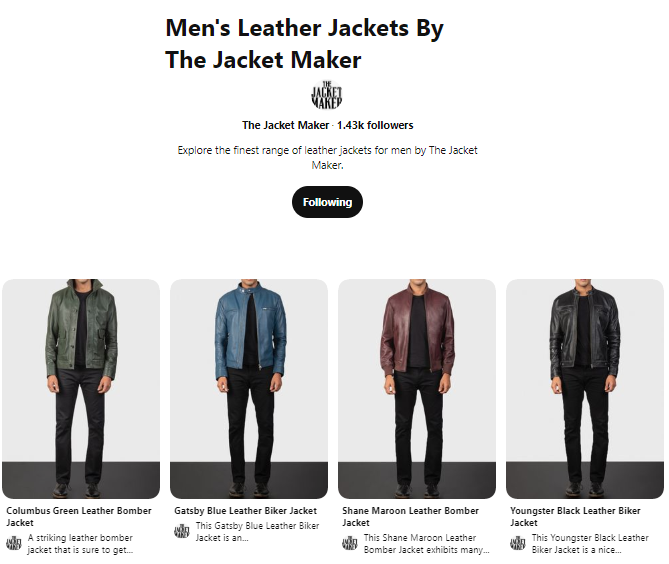 Channel a bucket-list or better yet a wishlist by creating a list of top 5 products and include useful information and product links in the description. A great example would be 5 black bomber jackets for men. This way you can actually create variety that will catch the attention of way more people.
3 –
Keywords make Great Post Titles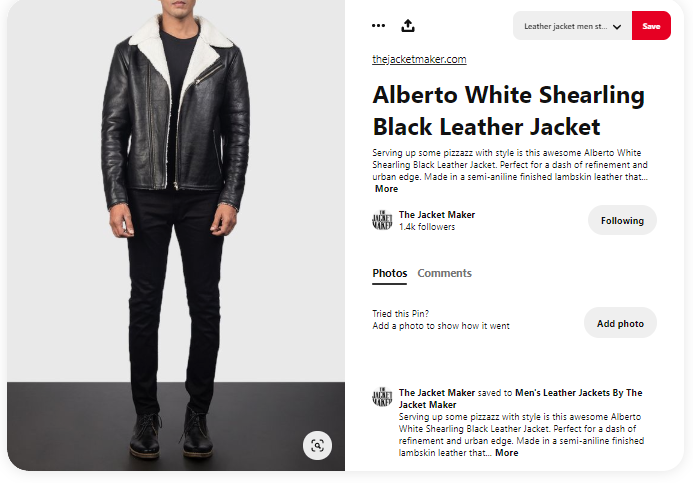 That's true and many affiliate marketing professionals would agree that using keywords in your post title is a sure-shot way to 'up' your reach and visibility. This would strike a unique balance between creative writing for the description and usage of keywords sprinkled in.
4 –
Variations work Best Everytime:
Moving in line with the point above, it's also best to use keyword variations for your post description. These would be creative alternatives that match your main set of keywords that you can easily find beforehand. This will also help keep the interest level of people who may be following you and may find a repetition of words that could be a buzz-kill.
5 –
Optimize your Pins and Boards
This is best practiced in the early stages, so you are organized and look professional once your pins reach a large number. Organizing your pins by niche and allotting specific boards for each niche is a great idea that you will enjoy forever. Not to mention the positive impression it will have on people who may click to your Pinterest account.
6 –
An Extension for Wider Reach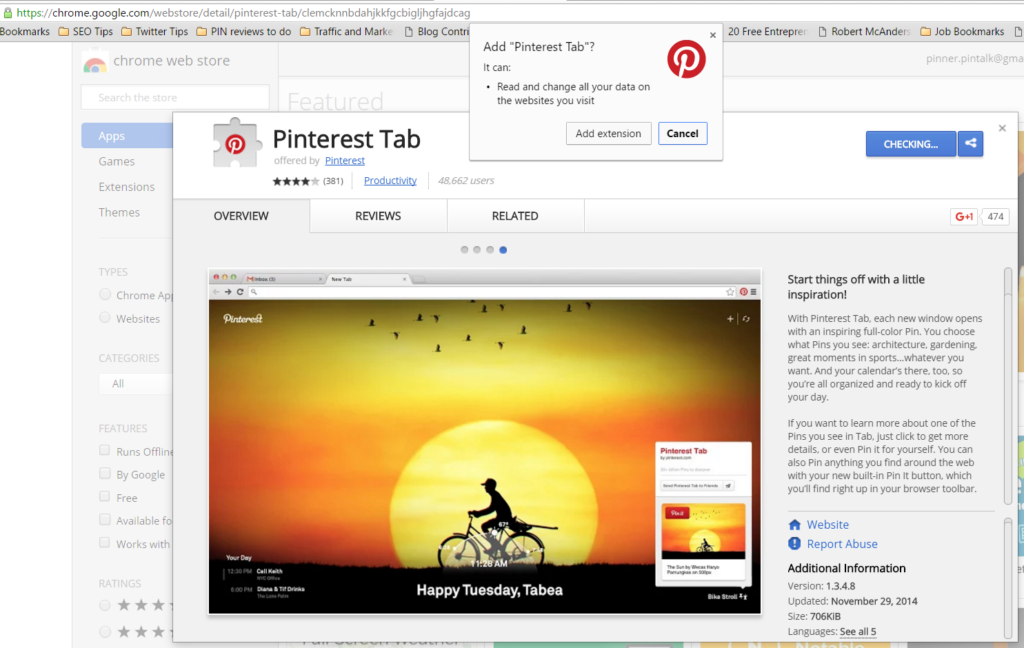 Who doesn't appreciate any kind of reach, visibility and more. Especially being a brand ambassador for The Jacket Maker. Using the pinterest extension for not only quick posting but also an increase in reach and following is another great way to successful affiliate marketing goals. This feature doesn't allow posting of actual links but the rewards are still on a high.
7 –
Promoted Pins Please
That's right! As with all the other social media platforms, Pinterest also enables you to promote your pins which again, shouldn't be done for every pin you share. Promoting pins on Pinterest is a great way to have your pins placed in front of many more people that initiates more following too.
Pinterest Conclusion:
Now you will not only appreciate Pinterest a lot more, you will be able to confidently go for the many ways you can get your pins and boards to drive The Jacket Maker's affiliate links to a wider audience and that too in a creative way. If you have any questions regarding the above, or any other question regarding this brand ambassador program, feel free to drop us an email here: affiliate@thejacketmaker.com Good luck!