Black Friday is an exciting opportunity for shopaholics to scoop up all the trends and styles they need for a super-functional and style-savvy winter wardrobe. At The Jacket Maker, we are constantly on the lookout for creative campaigns and offers that add value to our customers and their shopping sprees.
Our Black Friday campaign comes with scores of exciting fashion bargains with genuine leather jackets, and other outwear styles from our lovingly curated collections. Our men's leather jacket Black Friday sale will make your Thanksgiving celebrations all the more joyous and jubilant.
On this full-blown shopping occasion, we offer our customers to rejoice in the value of our men's leather jacket. At The Jacket Maker, we understand the significance of fine quality outerwear in curating a functional and dapper winter wardrobe.
A fine quality leather jacket is an investment that will last you a lifetime, and our Black Friday outwear sale offers the perfect opportunity to scoop up outwear staples that compliment your personal sense of style and aesthetic profile.
Black Friday Men's Outerwear Sale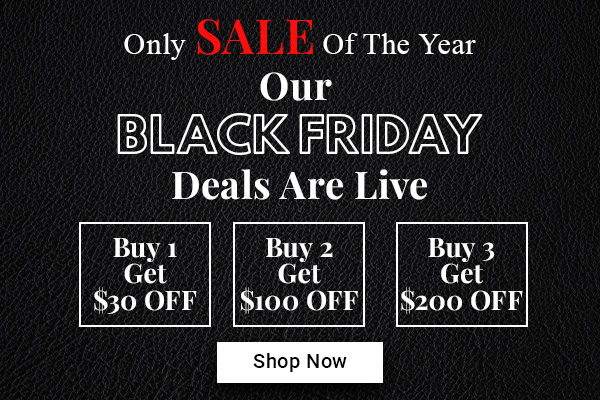 Black Friday is a unique opportunity for fashion lovers to put together a charming outerwear wardrobe with fine quality materials, rich textures, and dapper styles. Our jackets & coats Black Friday deals have been curated with diligent attention to offering our customers superior quality, versatility, and comfort.
The Jacket Maker has curated an exciting men's jacket black Friday sale to offer its customers an amazing variety of outwear staples that allow them to mark smooth style transitions from work to play. Whether you're looking to elevate your workwear wardrobe with exciting Black Friday men's jacket deals, or you seek shearling jackets and aviator jackets to play up your nightlife statements.
Our Black Friday leather jacket deals for men are an absolute riot, curated with an incredible abundance of variety to appeal to everyone's unique distinctive aesthetic personalities. It is usual for brands to offer cheap and poor-quality fabrics during Black Friday sales, but we never compromise quality.
The Jacket Maker has carved out a dynamic reputation for providing its customers timeless and ageless outwear staples with premium quality fabrics and materials sourced from reliable suppliers.
Making the most of Black Friday with us
Customers often wonder if the jackets for sale in Black Friday 2023 are truly worth their hard-earned money. While we cannot vouch for the quality controls of other brands, our Black Friday men's hooded jacket deals offer superior value for money to ensure your investment lasts a lifetime, offering a functional outwear piece you can rejoice season after season! 
While women are quick to jump at the slightest opportunity for discounts, men focus on quality over quantity. Measurements and sizes can be a challenge while shopping online, but our Black Friday men's leather jacket deals come with the option of customization.
Our budget-friendly Black Friday men's aviator jacket deals can be customized to suit your exact measurements and style preferences. We understand the disappointment of finding the perfect leather jacket, only to discover that it doesn't fit you from the shoulder seams. We wish to eliminate all disappoints and ensure that our products fit you like a second skin.
Which Jacket should you buy this year on Black Friday?
We offer a delightful variety of outerwear staples, and we specialize in crafting the best leather jackets for men. You can explore our products, listed below to help inspire your buying decisions.
Here, take a look:
Raiden Brown Leather Biker Jacket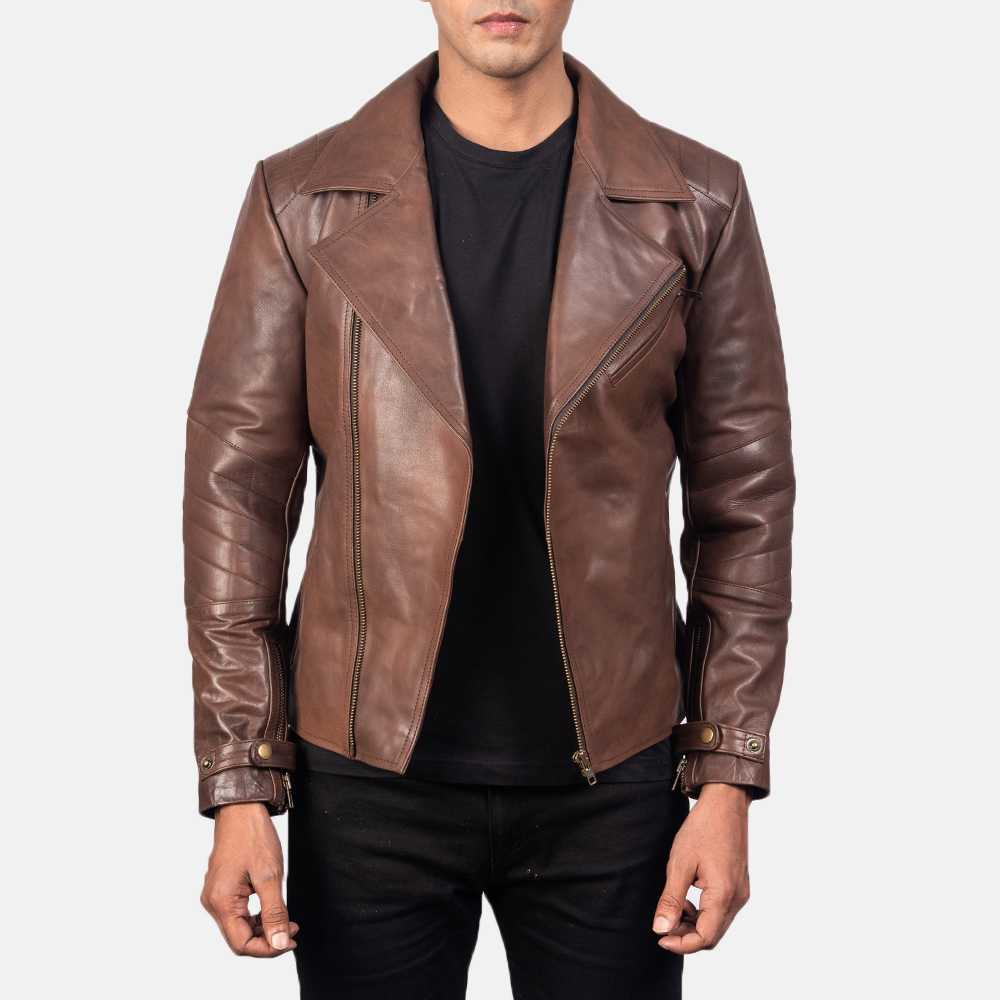 Leather biker jackets exude an intensely charming appeal with their bold aesthetic profile. The rugged and rich texture of leather manufactured by The Jacket Maker will elevate the debonair of al your casual and nightlife statements with a bold aplomb.
The biker boy style statement is timeless and ageless that will never go out of style. In fact, this trend continues to aggrandize as millennials seek to flaunt that retro vintage glam associated with the 70s and 80s fashion. Our Black Friday men's biker jacket deals allow you to scoop up valuable fashion investments that you will cherish for years to come.
Bomia Ma-1 Blue Leather Bomber Jacket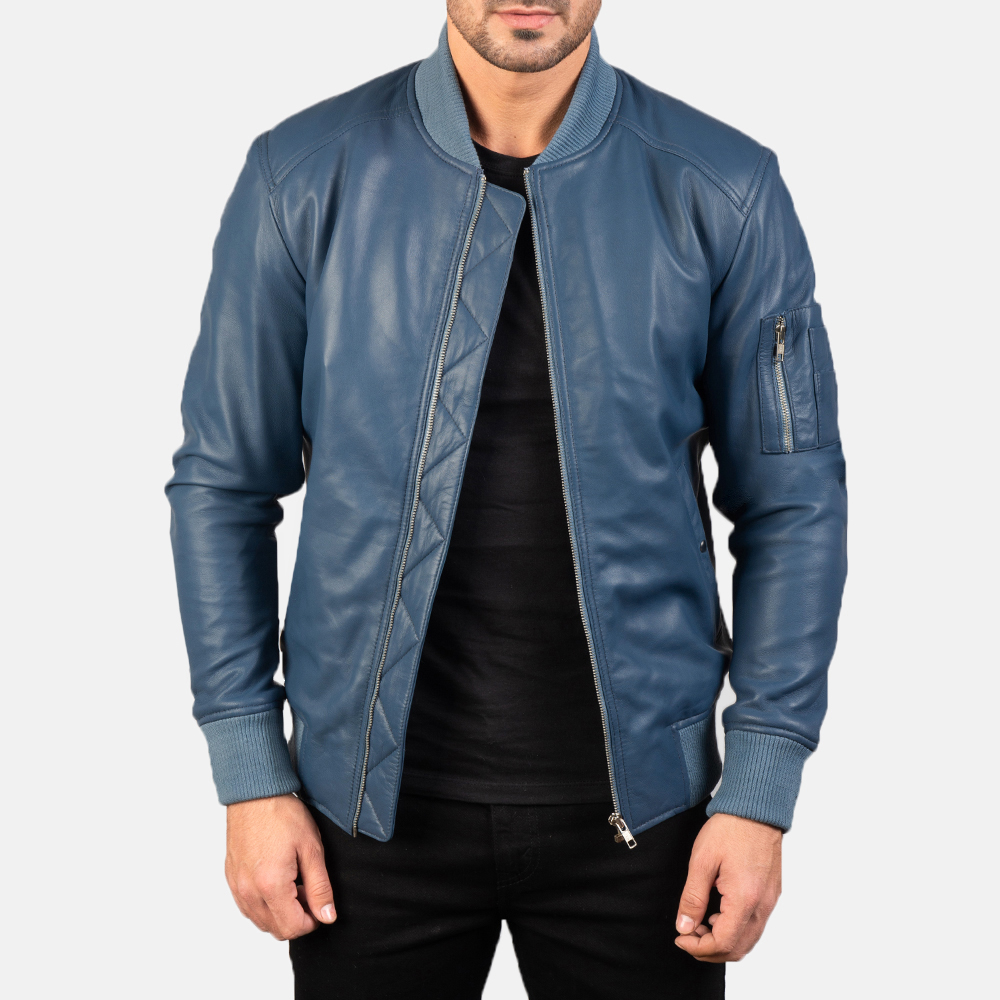 The 60s and 70s have enriched the fashion industry with numerous fashion trends that offer a timeless appeal, and bomber jackets are certainly the hottest picks from these retro fashion trends. In recent years, bomber jackets have emerged back on the forefront of fashion trends, allowing men to rejoice in the classic charm of these cozy and functional outerwear staples.
Bomber jackets designed by our creative designers offer superior value in terms of functionality, comfort, and warmth, a timelessly trendy appeal that you'll never tired of flaunting. Our Black Friday men's bomber jacket deals will help you scoop up amazing fashion bargains to play up your casual and streetwear wardrobe with sassy masculine energy!
Airin G-1 Black Leather Bomber Jacket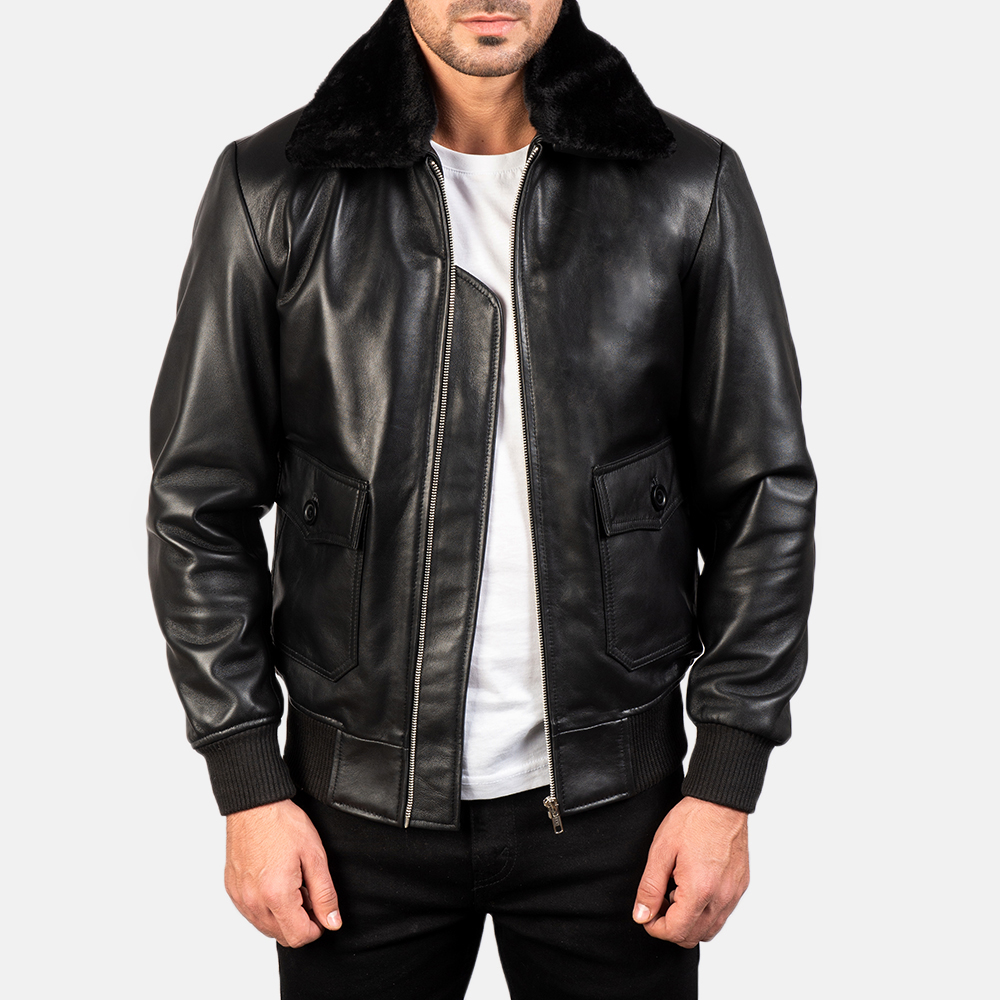 When Top Gun first came out, women couldn't stop themselves from falling head over heels in love with Tom Cruise, but men had their eyes fixated on the voguishly trendy aviator jackets. Come to think of it, these jackets offer the best of both worlds: the rugged leather texture and the snug comfort of fur-lined collars.
Our Black Friday men's aviator jacket deals offer an exciting variety of styles to infuse your winter wardrobe with the superior comfort of intensely cozy materials. If you are an outdoor junkie who enjoys trekking and hiking, these functional delights are a definite must-have to make your travel wardrobe super-functional.
Sheriff Brown Suede Jacket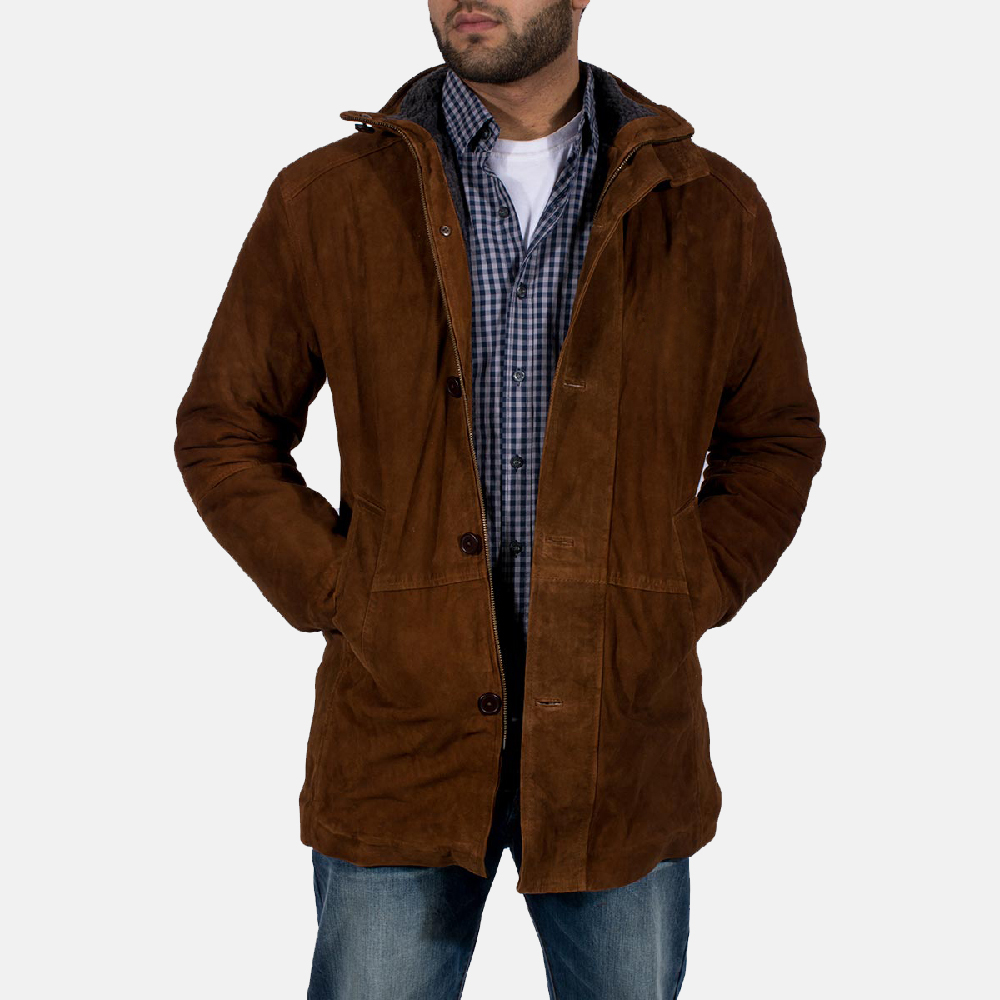 Suede is a rich-toned fabric that exudes an unparalleled charm, allowing men to stand out in the crowd and command attention. Our suede jackets are designed to offer men functionality while making smooth style transitions from work to play. These jackets are the perfect pick to enjoy versatility as you can rock their svelte with anything and everything.
They work wonders at elevating our workwear wardrobes, infusing bucketloads of charm in our nightlife statements, and making our casual streetwear looks appear straight out of a glossy magazine cover. Scoop up the best Black Friday men's suede jacket deals from our lovingly curated collections.
Alberto Shearling Black Leather Jacket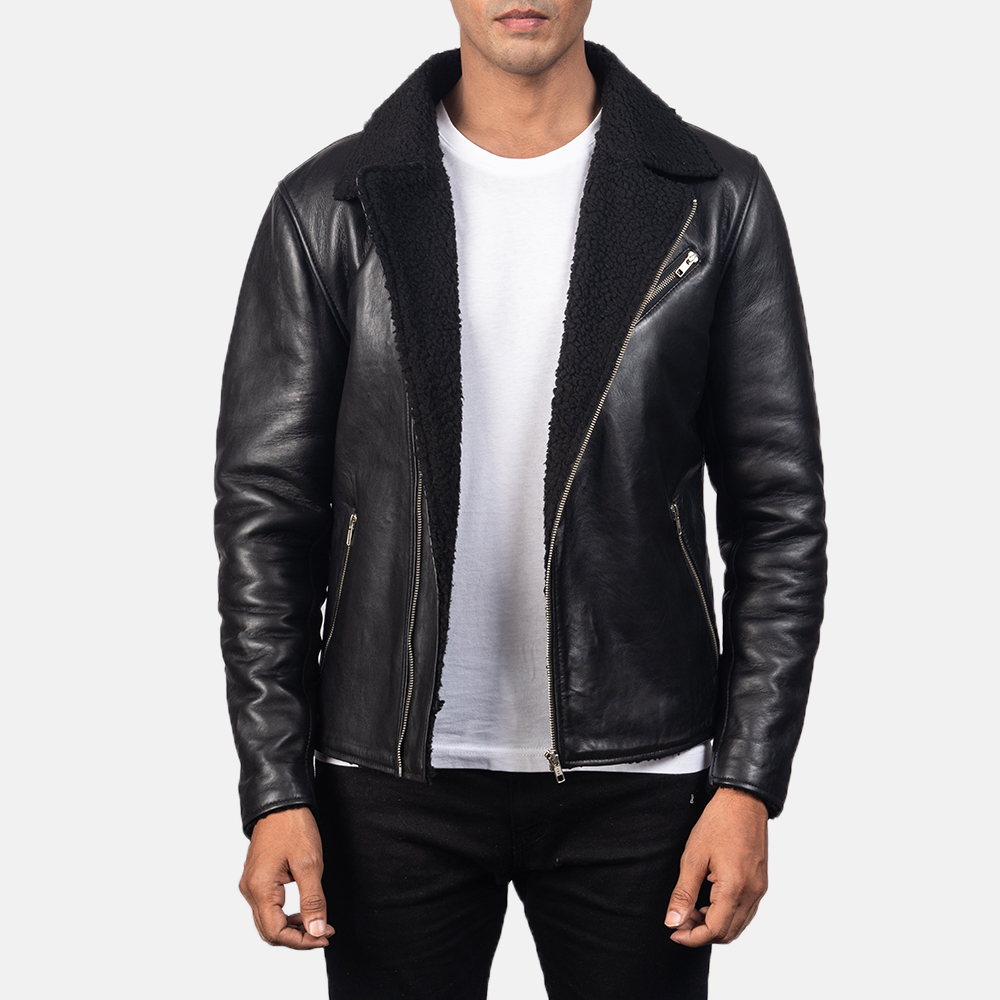 Another remarkable retro trend from the 80s and 90s, the glorious shearling jacket is a pristine investment that will offer you value for years to come. It's voguish retro charm is timeless and ageless, and it will keep you warm and cozy without cramping your debonair.
In recent years, shearling bombers and jackets have once again arrived at the forefront of fashion trends, and our collections offer you superior quality fabric with intensely dapper designs. Are you ready to explore the hottest Black Friday men's shearling jacket deals to rejoice a quality investment that flatters your body and aesthetic personality?
Hanklin Ma-1 Red Hooded Bomber Jacket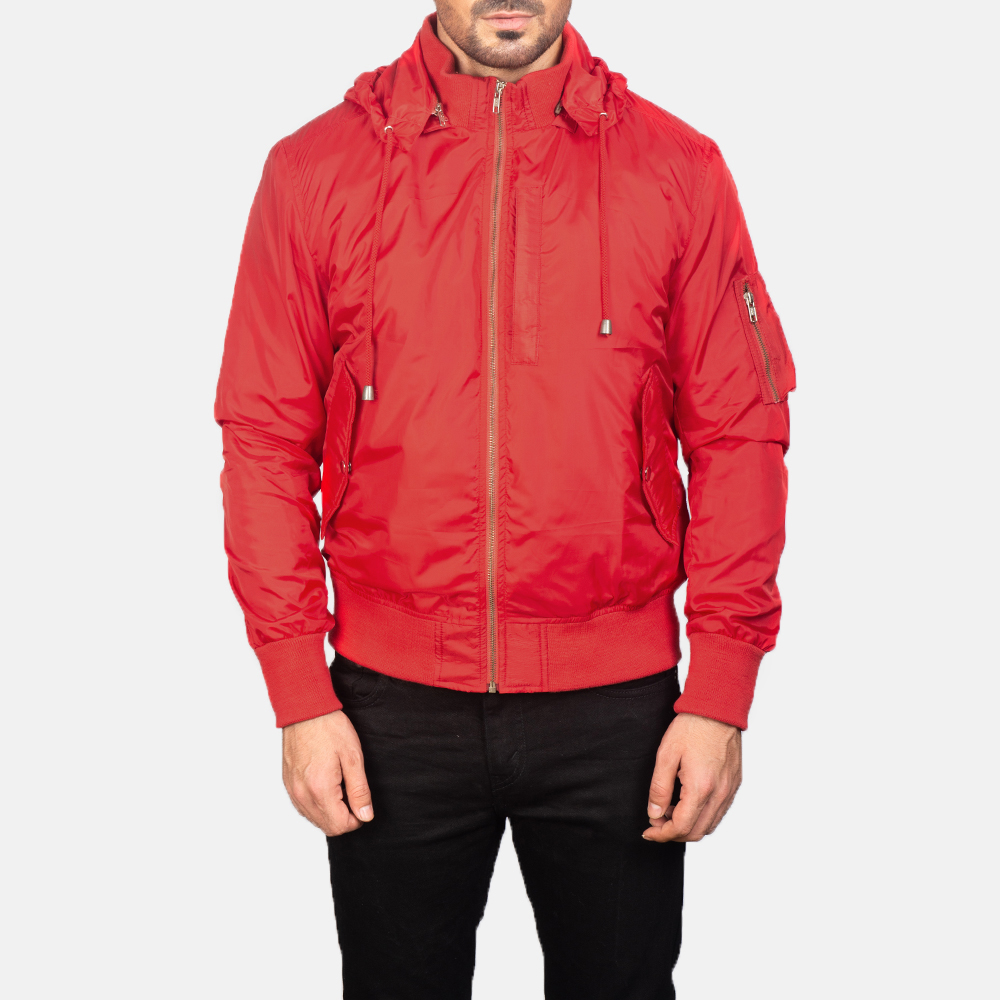 A masterful invention inspired by the Hip Hop culture, hooded jackets offer superior comfort and warmth with a sassy streetstyle charm. Hooded jackets are a great investment for the chilly season as they work wonders at keeping us warm and elevating our style.
These are a definite must-have for our contemporary streetwear wardrobes, and you can scoop up some incredible fashion bargains with our Black Friday men's hooded jacket deals. Crafted with fine quality leather, these super-functional delights will play up all your statements with an irresistible debonair.
Bravado Black Hooded Leather Bomber Jacket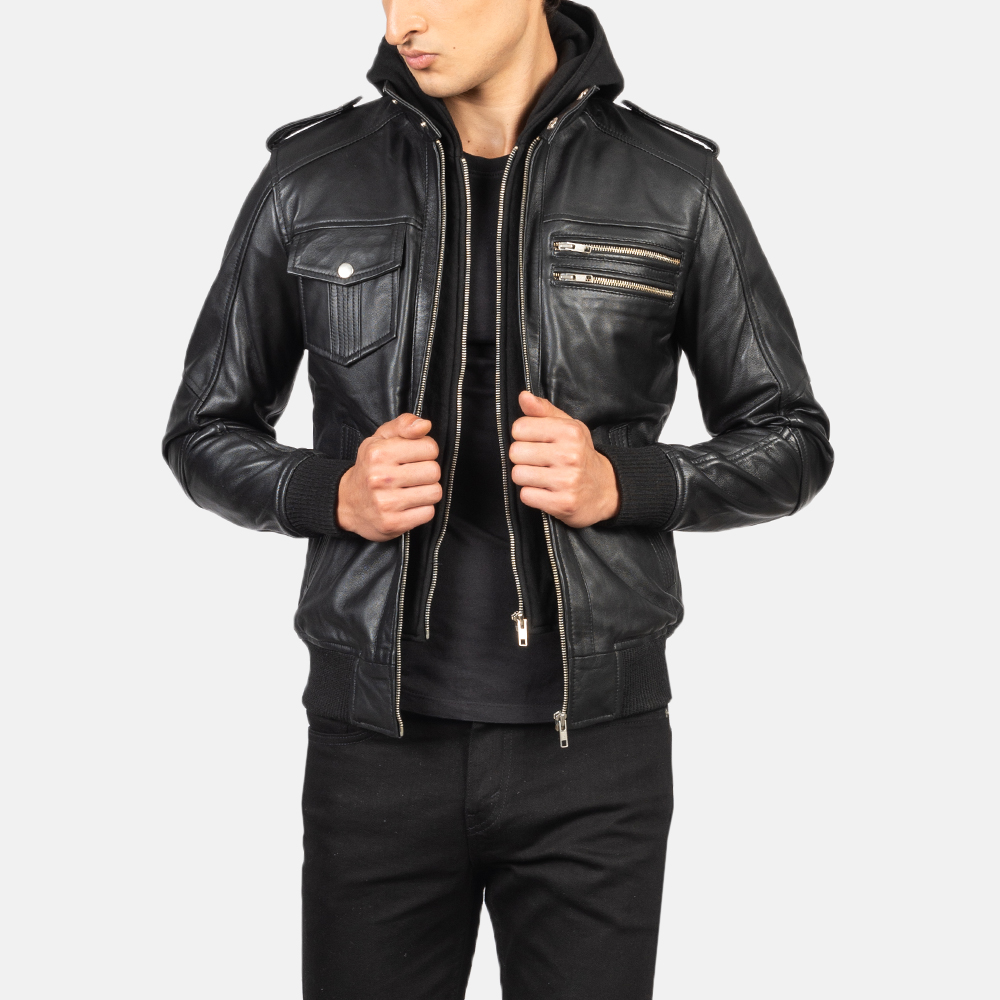 Made from real sheepskin leather, this black hooded bomber jacket is a masterpiece. The semi-aniline finish makes it absolutely sleek and the versatility of the outerwear is enhanced with the inclusion of the removable hood.
Create smart casual outfits with this black number. And before you miss your chance, include the Bravado black hooded leather bomber jacket to your Black Fridaay shopping list!
Kenton Hooded Brown Leather Pullover Jacket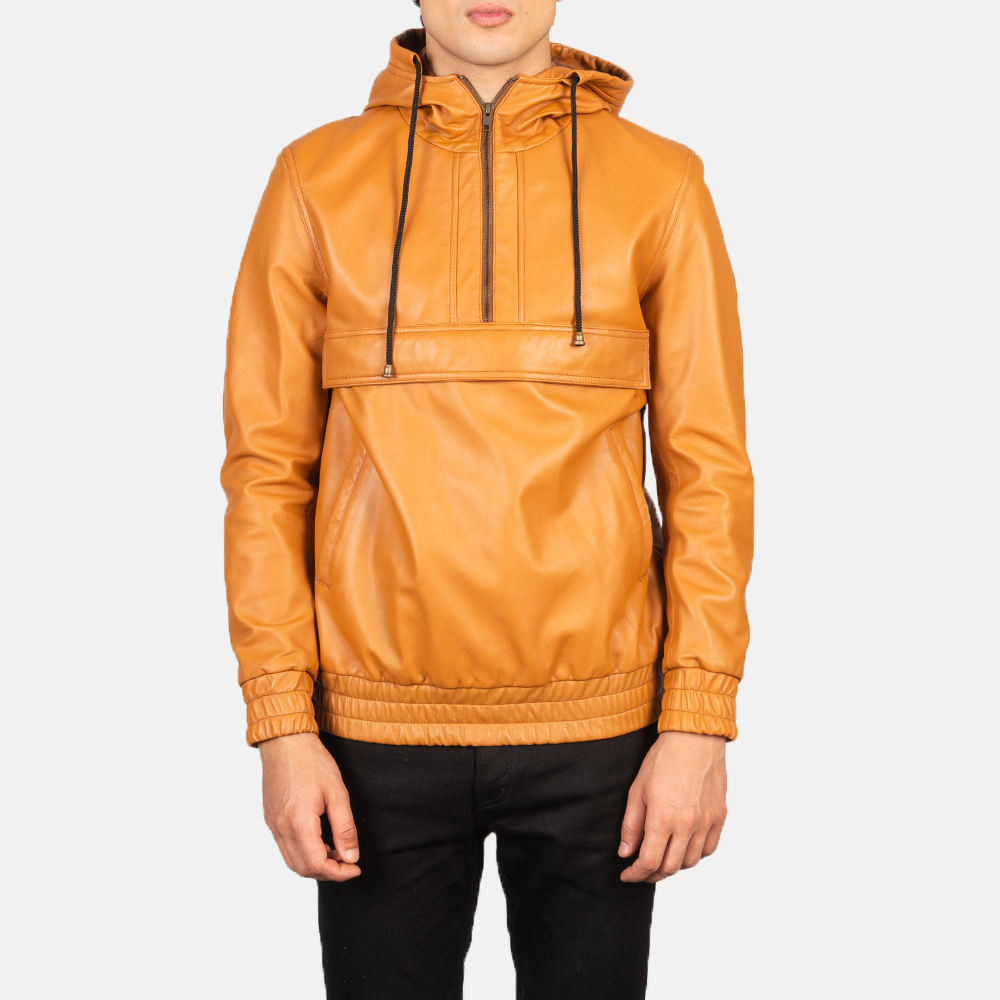 This full grain sheepskin leather jacket is available in a bright brown color as well as in blue and black. It captures the essence of boyhood while keeping the ultra-cool vibe of a man in his 20s. Its front is partially open with zips on both sides. There are elasticated cuffs and hem as well. Go for this hooded jacket that has two welted waist pockets for that extra storage.
Nintenzo Green Hooded Suede Bomber Jacket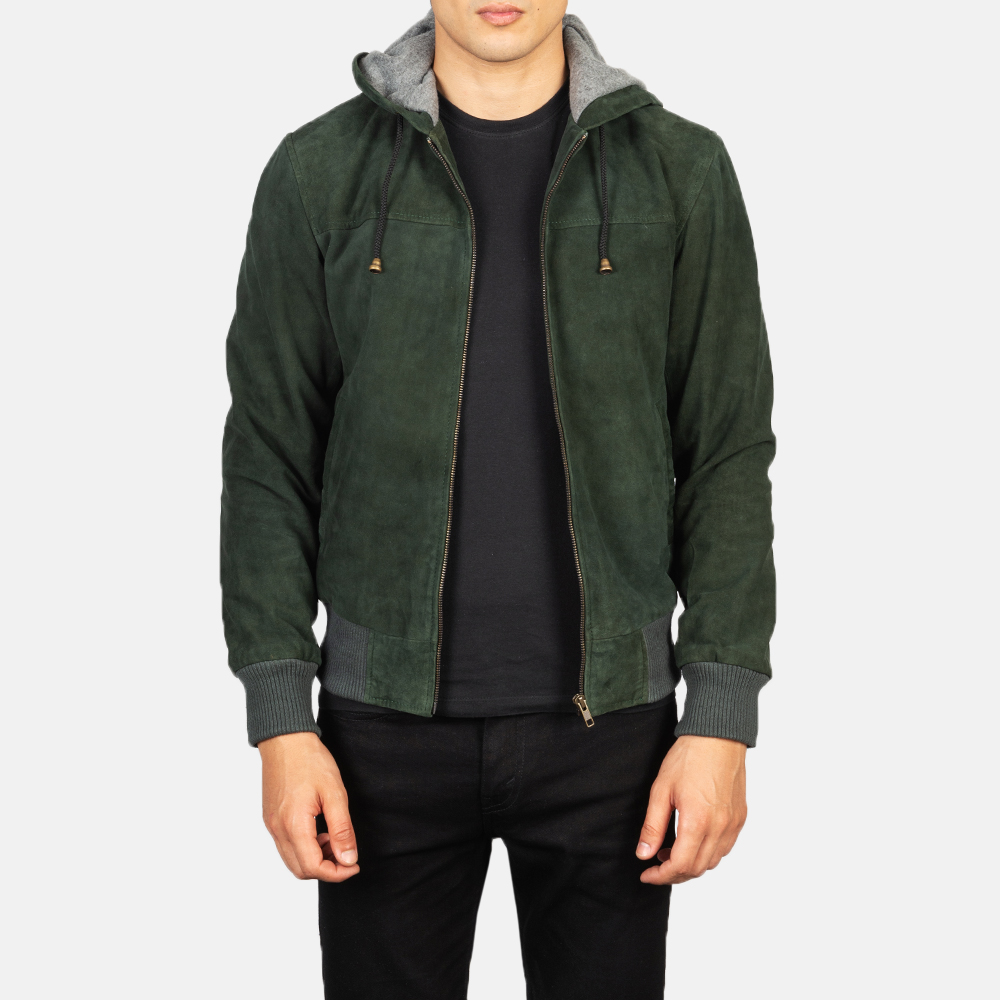 Goatskin leather and suede finishing are a match made in heaven. Now, add this diluted, warm green to the mix and you have an immaculate leather piece. Lined with fleece, this green hooded suede bomber jacket gives you the warmth of an embrace from that special someone. You can wear it with an all-black outfit. This is a hard miss for the black Friday sale.
Vaxton Black & White Hybrid Varsity Jacket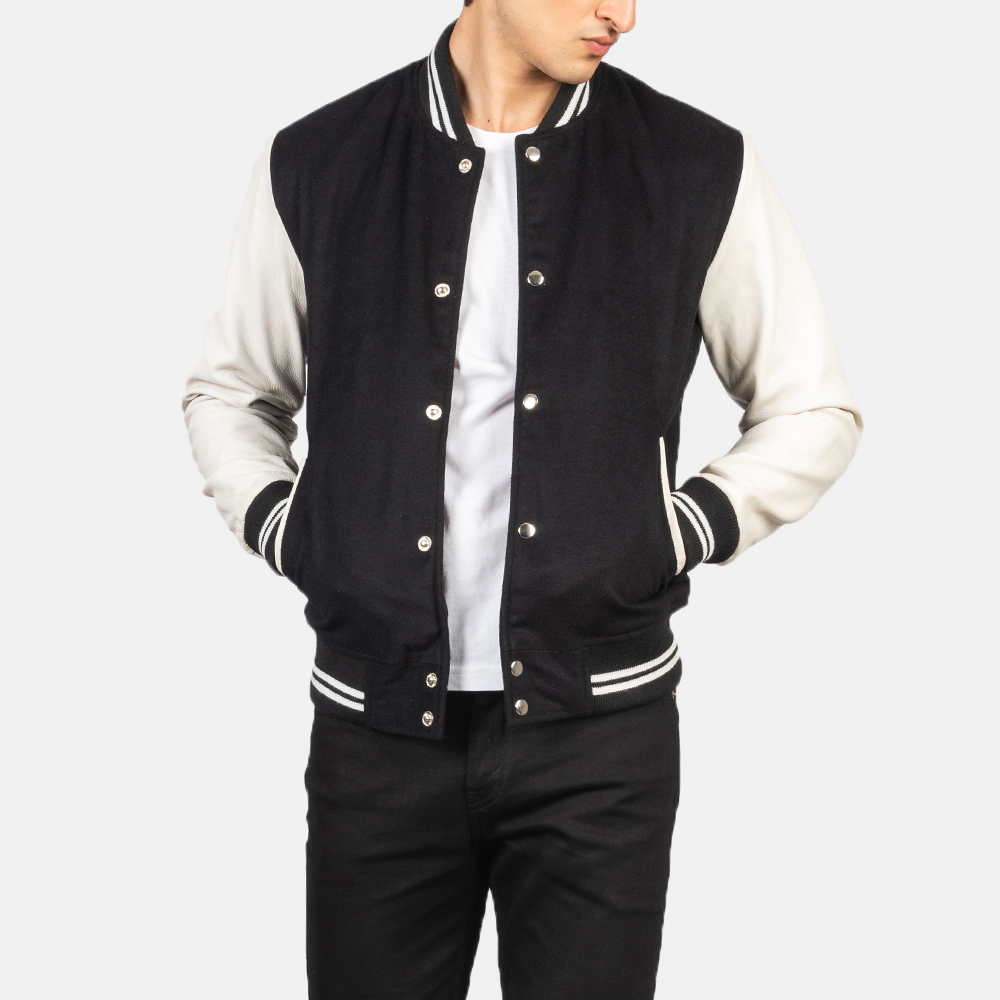 Made from sheepskin leather, the sleeves of the varsity jacket are constructed with synthetic wool. The quilted polyester lining adds a layer of warmth and comfort to the outerwear. Also available in three more colors, this is a perfect fall inclusion for your capsule wardrobe. Closed with snap buttons, there are striped rib knit cuffs and four pockets.
Is Black Friday Better Than Cyber Monday?
It most certainly is, especially if you're on the hunt for amazing fashion bargains. You see, Cyber Monday shopping is an ideal occasion to scoop up tech deals, but when it comes to men's outerwear, Black Friday is the ultimate shopping festival. 
Why is Black Friday an important day for sale?
Black Friday is an occasion that compels all brands and retailers to jump aboard the discount bandwagon and offer value-added deals. Savvy shopaholics wait for this retail extravaganza all year, saving and scraping every money to infuse their wardrobes with charm and style-savviness. 
Where to get the best jacket deals on Black Friday?
No brand can afford to compromise losing customers to its competitors on Black Friday, so you can scoop up jacket deals from numerous brands and retailers. However, not all deals and brands can be treated the same when it comes to quality. At The Jacket Maker, we specialize in producing fine quality & customize leather jackets with premium materials. You can scoop up the best suede jackets for men, leather coats, trench coats, and much more!
Does Black Friday last for a whole weekend?
Yes, this shopping extravaganza lasts for the entire weekend, offering you the maximum advantage to take your time while making well-informed buying decisions. It is likely to start a week earlier and last until the next Monday. You don't have to be glued to the screen on Friday, as you can gather your desired clothing items with diligent research and close attention to your style preferences. 
Conclusion
At The Jacket Maker, we deliver superior brand value to our customers in terms of fabric quality, tailoring, and style-savviness. While our fame stems from providing the best biker jackets for men, we specialize in a wide variety of outerwear styles and fabrics.
If you're on the hunt for the best Black Friday deals on jackets, look no further than The Jacket Maker. We have an expansive and endless collection of high-quality leather apparel designed to appeal to men's tastes with distinctive aesthetic preferences. Our affordable jackets men's deals will make sure you can select multiple styles without burning a hole in your pocket.
What makes us different from other brands? Our diligent attention and dedication to your style preferences. Despite the heavily discounted price tags, we offer our customers the option to fully customize their chosen jacket to suit their preferences and measurements. Moreover, our customers enjoy free shipping on all orders!