Welcome to the 1920s: A prosperous decade of a booming economy, and flourishing arts, and culture. Fine music and iconic fashion set the stage for an era of fun and indulgence, also known as the Roaring Twenties. 
The 1920s men's fashion was when fashion took a turn from conservativeness and embraced slim-fitted suits, statement fedoras, colorful shoes, and everything in between. Over the decades fashion gained immense popularity due to the massive success of tv shows like Peaky Blinders, Downtown Abbey, and The Great Gatsby, which led to the recreation of many of those outfits even today. 
Today, much of the men's fashion has been remodeled from the outfits worn in that decade. So if you're keen to amp up your fashion game, and revisit the golden age of men's fashion, then look no further because we're discussing everything from the top.
Here are some of the effortless yet classy roaring 20s fashion that is bound to upgrade your wardrobe:
Dress Shirts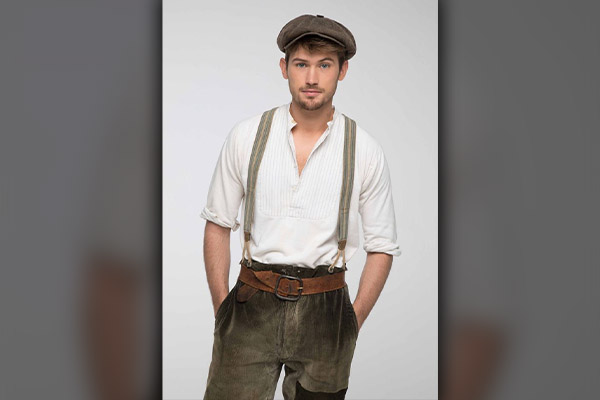 The dress shirt is a must-have staple for 1920s men's fashion, owing to its softness, ease, and comfort. Like the 1910s, tall, white detachable collars ruled the fashion world because of their ease of laundering and easy-going style.
However, in the mid-20s, attachable collars became the preferred standard, bringing a softer feel than detachable's rigid and uncomfortable nature. You could go for round-edge collars for a relaxed look, wear soft point collars with button-downs or choose wing-tip collars to allow for bow ties. 
Most men preferred French cuffs; some went for single barrel cuffs that were buttoned, while the rest opted for starched bib fronts attached to the shirts. Collar pins were also quite popular during the 20s, and you could also include them in your outfit to pay tribute to that roaring era. 
Jackets and Coats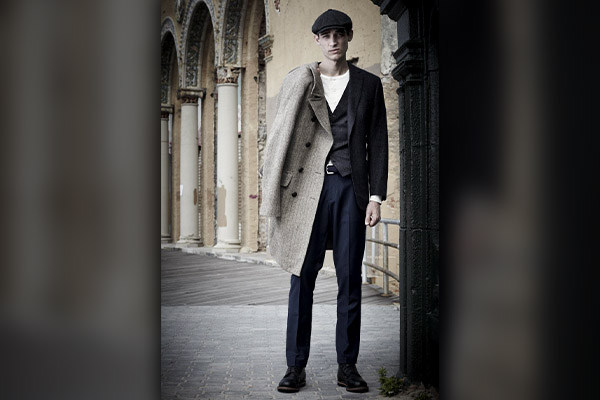 The cold weather meant pulling over a long coat over the entire suit, made of thick material in deep, classic colors like black or gray. These coats were mostly made of sheep wool or tweed and were thick enough to be worn without lining.
As for patterns, plain, smaller micro patterns, windowpanes, and stripes were all the rage due to their classic appeal and similarity to popular gangster movies.
Another fashion trend incorporated to date was the luxurious, dapper leather jackets. These were cut more closely to the body to accentuate the natural waist and featured collars, buttons, and stylish pockets.
If you could include only one 1920s trend in your 2020s wardrobe, let it be these robust overcoats and leather jackets that can be paired with any outfit and will be a statement wherever you go. 
Pants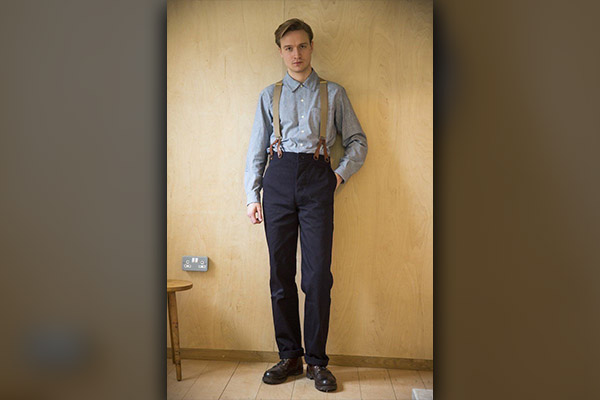 The twenties embraced variety and diversion, especially when it came to pants, which is why both straight and wide-legged pants made it to the fashionable streets of this decade. However, the pants inculcated a wide bottom cuff and were 'turned up from the bottom of the hem, while the waistband came far higher than usual. 
Another trendy trouser of the twenties was the knickerbockers, also called the 'plus-fours.' These were baggy trousers, worn with some bright socks in casual settings such as golf, parties, or other sports.
Since the 20s were all about vibrancy, richness, and colors, the pants became brighter and more colorful than the solid or muted colors dominating men's fashion. Moreover, patterns like stripes and checks became more popular as men added fun elements to their wardrobes and embraced a more easy-going, effortless fashion style.
Suits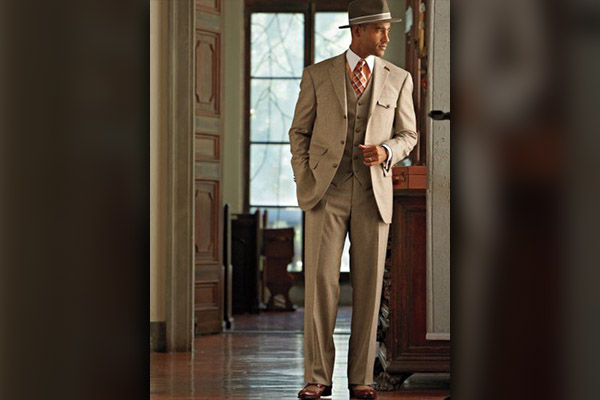 An essential secret to mastering the 1920s fashion style is to welcome the conventional, classic suits into your wardrobe and wear them in total style with a bit of modern, jazz-age flair. While formality still ruled men's fashion, it did allow some causality and fun to peek through and gave the timeless suits a bit of a modern twist, though it was pretty limited.
The formal suits still came in black. However, the long tails were replaced with tuxedos and paired with a crisp white shirt underneath to add a bit of contrast. Unlike the heavy, rigid fabric of the previous decades, the 20s welcomed far more comfortable textures such as tweed or wool. 
Suit jackets were single or double-breasted and transitioned from a slim-fitted style to a more boxy style as influenced by gangster pictures and often featured patterns or pocket squares to add more depth.
As opposed to the gangster jackets were the "jazz suits'' that showcased slim silhouettes and high waists with slanted pockets that were a novelty for young men. You could wear these in earthly colors like brown or green and even go for more fabulous shades like blues and grays.
The 20s suits are still popular even today, though now made from much more comfortable fabric and have more modern cuts. In addition, you can go for customizable jackets to retain some of your favorite elements from the 1920s and give them your personal, modern twist.
Vests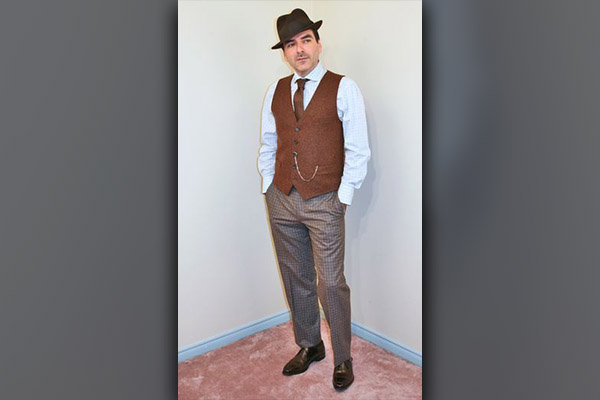 While vests aren't as popular today, they were a core element to 1920s fashion as they streamlined the center of the body and highlighted the in-vogue high lapel. A tall and well-fitted vest paired with a single-breasted jacket was embraced by many young men influenced by the modern art movement. 
You could always add leather vests to the mix if you want to pull off a leather jacket in a more traditional style. However, most men didn't incorporate these in their looks. While some mend did skip the vest and waistcoat fiasco or wore them cut lower, they were still a popular part of the roaring 20s.
Shoes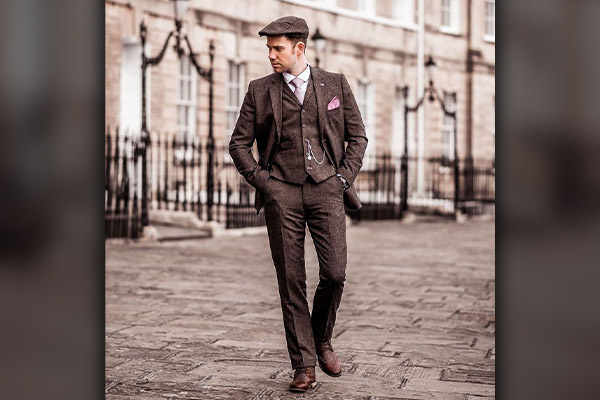 A significant revolution that the 20s brought was a splash of colors in the shoes that revolted the previous single-colored black or brown ones. Instead, the 20s shoes introduced a flair into men's fashion by incorporating two-tone colors and adding variety.
Moreover, Wingtapes made an entrance with a perforated flap over the laces, featuring an air of artsy design and truly welcoming the jazz age. For formals, however, traditional leather shoes were still the norm. 
Driving Dress Style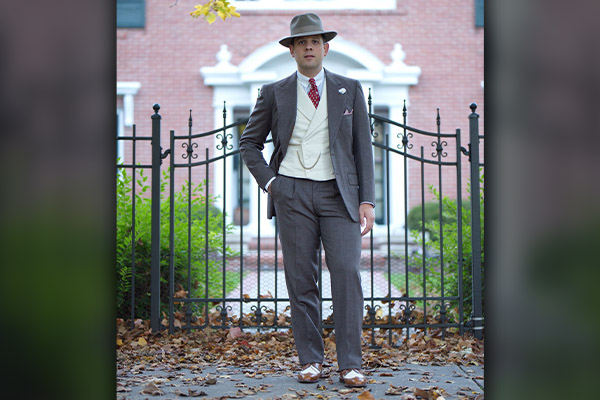 The booming economy and flamboyance of the 1920s meant cars were becoming more popular and affordable for many; it was only fitting that fashion would mirror a particular allure with the automobile.
Buying a car meant being part of modern times. The fashion industry was sure to take short notice. The driving dress style was introduced, including iconic flat tweed caps, posh gloves, dapper leather jackets, and a matching white scarf as an accessory.
Accessories 
You couldn't possibly complete a signature 20s outfit without adding complementing accessories to finish off the look and make a mark.
Here are some trendy accessories from the past that can still be relevant today if appropriately styled:
Fedoras
The 1920s fedoras had soft narrow brim crowns and were often used as a casual alternative by many men because you could adjust the creases, and they were much floppier and crushable. If you look at pictures from the 20s today, you are most likely to see most men wearing a fedora or hat.
Pocket Squares
The industrial revolution and mass manufacturing paved the way for silk pocket squares to a broader range of men. These came in various colors, sizes, and designs for men who wanted to stitch the plain old white squares and wear something diverse. 
Wristwatches
Ditching waistcoats meant there was no room for pocket watches, which ish why the wristwatch gained ground and became more and more popular. Of course, men still wore pocket watches with formal attire, but the wristwatches were not left behind.
Neckwear
Traditional black ties and bows remained popular in the 20s. However, compared to the previous decades, the bow tie had gotten slightly more prominent and was more accessible due to the introduction of soft collars.
FAQs
What did Gatsby's men wear?
Most of the men from the Gatsby era wore classic suits with pointe or round collars and paired them with a hat, a watch, and matching shoes. 
What should a guy wear to a 1920s party?
You could wear a classic tux or a double-breasted suit and pair it with a pinstriped waistcoat or a collared shit. Complete the look with a fedora, an eye-wear, and a crane to add more dramatic flair. 
Why did Gatsby wear a pink suit?
The pink suit symbolized Gatsby's newly acquired rich social status, which helped him flaunt his wealth at lavish parties. 
What inspired 1920s fashion?
The 1920s fashion was inspired by popular TV shows such as Peaky Blinders, Downtown Abby, and Gatsby. 
What were popular trends in the 1920s?
Some of the popular trends of the 20s include jazz suits, fedoras, driving dress style, soft attachable collars, and colorful shoes. 
The Bottom Line
The 1920s fashion was a decade of high-quality fashion, exuberant aesthetics, and modern art and was coined the golden age of fashion for all the right reasons. The decade altered the men's fashion industry, introducing their wardrobe to some vibrant, classic staples and revolutionizing what men wear today. 
It would be best to incorporate some of these trends into your day-to-day attire and flaunt some iconic 1920s looks that stand out. So, which of these trends are you most keen to follow?