Choosing the right kind of Hawaiian shirt can change your dressing game, either you have got it all or you are about to successfully ruin a perfectly planned day. Before we get into the debate on the right and wrong type of Hawaiian shirt and how one should style it, we better know its origin and why it is famous in today's modern era?
Origin of Hawaiian Shirts:
Although the Hawaiian shirts or Aloha shirts have lost their real origin, they became famous around the 1920s or 30s when the tourists in Hawaii would wear them to enjoy their vacations on the beach. (Click the link to check beach outfit ideas for men). It caught popularity when rich people started wearing it. They were publicized by a lot of popular celebrities, so men of that time did not feel uncomfortable wearing something feminine, that was worn by their favorite sportsperson, singer, or entertainer. The Hawaiian shirts have now recently been the talk of the town for their bold designs, bright colors, and overall vibe it has to offer. 
Are Hawaiian Shirts in Style? 
Once we are familiar with the origin of Hawaiian shirts, we should also know if are they really in style in modern times? The answers to this are many. Long ago it would have been a bad idea to wear an aloha shirt to a party, but now we are all well aware of its popularity among men and enjoy wearing it to casual parties happening around the town. But what to wear and how to wear a Hawaiian Shirt? is the main concern. 
Picking the right Shirt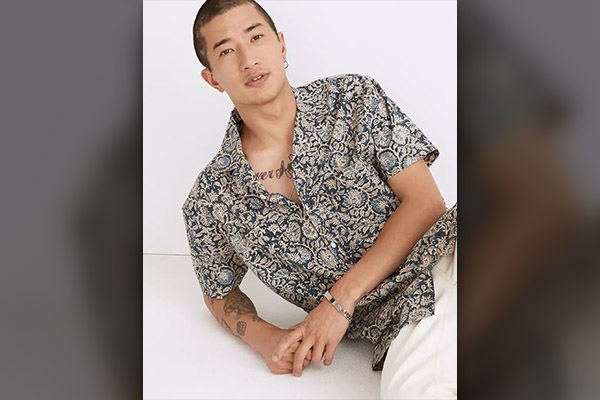 Once we have decided that Hawaiian or Aloha shirts are in fashion, there are a few important steps that you need to keep in mind before picking a shirt that is right for your personality. The design, color combinations, patterns, and fit everything matters, hence choose carefully.
Colors:
Choosing the right colors for the right type of event will make a lot of difference. Go with bright colors floral/Hawaiian shirts for a beach party on a sunny summer day. For a pool party at night choose something with a dark base but a colorful pattern on top, to enhance the look you are carrying. 
Patterns
Next comes the design or pattern of the shirt, it should not be something very loud. Choose patterns like flowers, leaves, palm trees, hibiscus, etc to stay on the safer side for a presentable personality.
Fit 
Once the prints are sorted, the next step for choosing the right type of shirt is the fit of the Hawaiian shirt. In the old era, Hawaiian shirts would be loose and relaxed, but now when the time has changed, and they are tailored to be slimmer and shorter.
Material
In the initial days when the shirts were first introduced in the market, they were mostly made from cotton and silk. With advancements and innovations in the fabric, now they come in different materials and fabrics according to the likes and dislikes of users. For summer you would feel the most comfortable wearing a cotton shirt. Cotton is comfortable to carry, easy to wash, and most importantly breathable in summer.
Styling a Hawaiian Shirt 
There are many ways you can style your Hawaiian shirt and look classic in all of them. We have jotted down a few of the ways you can carry the Hawaiian shirt.
Hawaiian Shirt with Jeans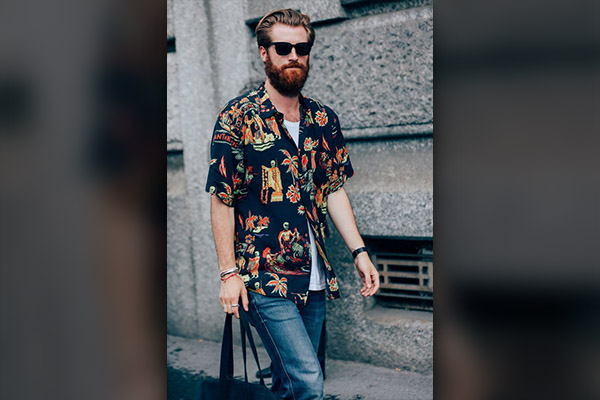 Floral or Hawaiian shirts also look the best when put together with jeans or trousers for a more casual look. First of all, choose the most comfortable base color for your Hawaiian shirt that you think will look good on your personality and will uplift the whole attire. Pair it with classy summer jeans, Aloha shirts go well with white jeans or any other basic color which is not too loud.
Hawaiian Shirt with Shorts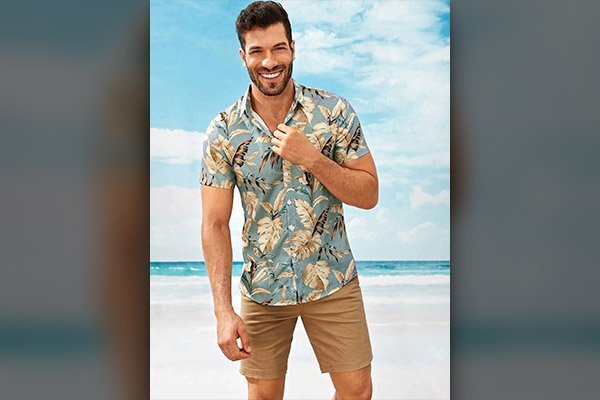 For a more casual or beachy vibe, pair the floral shirt with subtle color shorts and let the shirt do its thing. Choose a single color from your shirt print and get matching shorts for a more laid-back casual look. 
Hawaiian Shirt with an Undershirt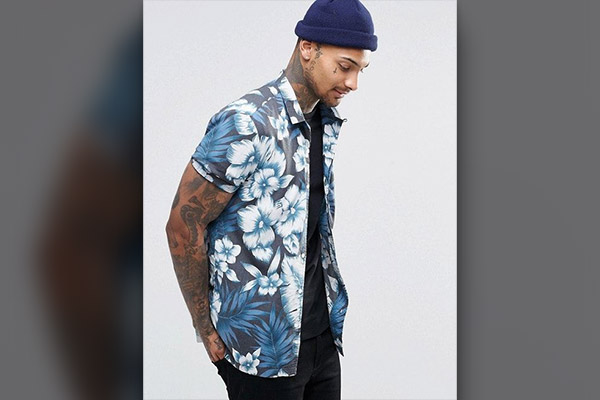 Wearing or not wearing a shirt underneath a Hawaiian shirt is a decision that can change your look entirely. Pair it with a solid color undershirt, so the florals and print get all the attention. If you want to spend a comfortable Saturday partying with your friends, this casual outfit will do all the work for you. Make sure the Hawaiian shirt is unbuttoned while carrying this look.
Camp-Collar Hawaiian Shirt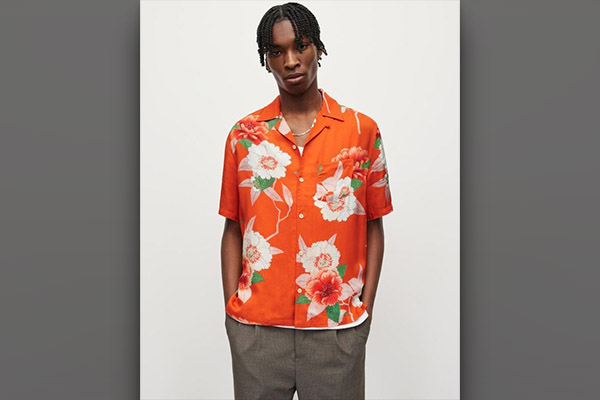 Summers are here and one thing that you must own this summer, as your wardrobe staple is the camp-collar Hawaiian shirt. These shirts are still rocking the trend like always and can never go wrong. They were almost forgotten but have now gained the importance of being the chicest piece in your wardrobe.
Hawaiian Shirt with a Suit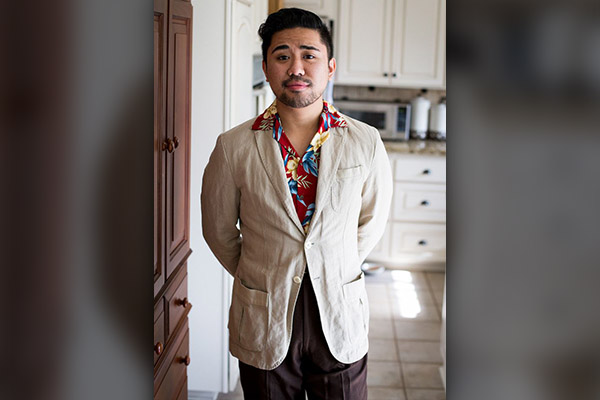 One must be wondering about the choice of wearing a Hawaiian shirt with a suit or blazer, it is a risky decision to make. You need to be very careful in taking this decision because it can go wrong in many ways. Once you know how to pull this look, you will be able to attract all attention to you. Pair your Aloha shirt with a contrasting blazer and pants to complete your look. If you have chosen bold prints for the shirt, go for basic and subtle colors for your suit to even down the tone. 
Accessories to Carry with Hawaiian Shirt:
Aloha or Hawaiian shirts should be a part of everybody's wardrobe but they require a little effort styling them. Pairing it with the right accessories can help you achieve a look, you will be adored even after the party. As Hawaiian shirts are a symbol of vacation in most parts of the world, they go best with straw hats or bucket hats for a complete holiday look. Put it together with the right color shorts, sunglasses, and a pair of flip-flops and you are good for a perfect beach party.
For a more retro look, style your Hawaiian shirt with jeans, retro-style sunglasses, and a pair of hip sneakers for a fun clubbing night. Try to avoid metal belts as they can add too much noise to your overall Aloha look.
Some Do's and Don'ts of Wearing a Hawaiian Shirt:
While you are all sorted with what Hawaiian shirt to get for your wardrobe and how to style it, the next step is to look into the Dos and Don'ts of wearing this shirt. Following these will make styling not only easy but will give you a chic look too. 
Do's:
➤ The Aloha shirts are supposed to be untucked because of the easy-going look they have to offer.
➤ Hawaiian shirts are half sleeves and look better that way, never go for something that is not half sleeves.
➤ Try to ease your look little, Slim fit shirts, basic color shorts, and a comfortable pair of shoes will keep you happy and content for the whole day. 
➤ Stick with the patterns that already have complimenting colors in your wardrobe. Go with basic colors like green, blue, black, etc.
Don'ts:
➤ Don't overcrowd your attire by wearing all printed, If the shirt is printed the shorts or bottoms should be plain.
➤ Don't choose too loud colors that the person sitting with you starts to feel uncomfortable with. Go with bright but soft colors.
➤ Don't over-accessorize. Sunglasses, hats, and plain bottoms are enough to complete the look. Anything more will only add awkwardness to the look.
➤ Last but not least Don't be low on confidence when wearing florals, this shirt is all about fun and embracing yourself the way you are.
The End 
Hawaiian shirts are also known as Aloha, bold printed or floral shirts. No matter what name you call them, they were there in the past and are here to stay for long. The ever-changing trends of fashion and styling have made them an important staple for men's wardrobes. They can never go out of fashion because of the funkiness they have to offer. Styling them well is the main game, rest assured you can be the king of the party anywhere, wearing these shirts. So wait no more and go give your wardrobe a tropical splash this summer.