Is there any clothing item that has stood the test of time the way leather jackets have? If you dive deep into the leather jacket history, you'll see how their versatility has extended its purpose and popularity over the years, from when they were invented to their eventual progression into a classic wardrobe staple.
In this guide, we'll elaborate on the leather jacket history, answering questions like when leather jackets were invented to when leather jackets became popular. We'll further expand upon the purpose of leather jackets, at least when they were initially, and how and when women started to embrace this top-selling piece of clothing.
When Were Leather Jackets Invented? – Tracing the Origins from the 1900s
Coming directly to the main question: When were leather jackets invented? The iconic leather jacket history begins in the 1900s with the invention solely credited to the military. The formidable US Army Aviation Clothing Board created aviator jackets or flight jackets because they wanted to provide the militants with protective gear which they could wear in the cockpits of fighter planes during the First World War.
At the time, these planes were open-air and had absolutely no insulation; men required military gear that comprised warm clothing. Hence, this is when the popular brown men's leather jackets called bomber jackets were produced that had shearling lining for additional warmth. Of course, this layer helped the pilots when they entered high altitudes where the temperature went below zero degrees.
So far, no civilian has been made aware of leather jackets and their existence. It was used purely for aviation purposes and protective gear.
History Of Leather Jacket: The Late 1920s… When Leather Jackets Came Into Style
This is when the leather jacket history gets interesting – the time when leather jackets came into style. In the 1920s, a man named Irving Schott, after slightly altering the style of the bomber jackets used by the militants, introduced leather jackets into everyday civilian fashion. Now young men were seen wearing leather jackets with a zipper closure instead of the buttoned closure that the earlier version of the bomber jackets had.
The style further evolved into what we now know as motorcycle jackets. The new version of leather jackets has a more asymmetrical with a double-breasted design. Initially, this leather jacket was named Perfecto; Irvin was inspired by his favorite Cigar brand. This version of leather jackets earned instantaneous success amongst bike riders.
Pop Cultural Integration in the 50s & 60s – Hollywood's Favorite New Fashion Accessory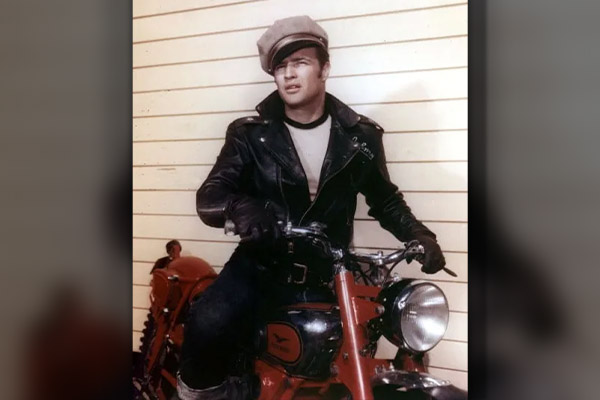 It wasn't long until we witnessed the glorious presence of leather jackets on screen too. Marlon Brando was the first actor to have worn a leather jacket, Irving Schott's version, on the silver screen. He wore it first in his popular movie "The Wild One," in which he essayed the role of a man who had a flare for fashion and ease in wearing the most gorgeous pieces of clothing.
The actor utilized his dashing looks, along with outerwear and accessories, in portraying an authoritative character well on screen. Marlon Brando, even today, stands as one of the most fashionable men in the world. And so, you can imagine the impact this hardcore leather outerwear would have had on his fan following. Everybody was seen wearing a leather jacket on the streets, and soon it turned into an important wardrobe staple for men.
Soon enough, James Dean was seen wearing leather jackets in his most popular movie to date – A Rebel Without A Cause. In this venture, he was portraying the role of a bad boy; further solidifying the angsty vibe that this leather outerwear possesses. The history of leather jackets cannot be complete without the mention of these two formidable actors and their fashion aesthetics.
From this decade onwards, it felt like the leather jacket era was here to stay. Men were seen wearing leather jackets everywhere.
Women Embraced Leather Jackets in the 1970s Onwards.
Are you wondering when did women come into the leather jacket history? In the 1970s, the history of leather jackets got expanded due to women coming out to openly claim and embrace this uber-cool and comfortable leather outerwear.
What was now a common wardrobe staple for metal heads and bikers found a place in a wardrobe of women. All popular musicians, especially rocker women, were found adorning this leather number. From Blondie to Joan Jett, everyone was
Women's leather jackets followed similar collar and closure designs as well as material, lining, and finishing. However, it was still considered to be a "rebellious phase" for women. You could see women's leather jackets in bomber styles as well as biker styles with bigger notch and zipper closures.
Leather Jackets in the Modern World
The history of leather jackets is still on a continuum. Today, you can see both men and women adorning not just the regular bomber, biker, and fur leather jacket styles. They have become even more versatile as they're available in different types of leather, like sheepskin, suede, nubuck, and whatnot.
With unique lining and designs available, there's so much room for both men and women to adorn this leather outerwear to fully express themselves. Most fashion enthusiasts prefer getting themselves custom leather jackets as they're extremely particular about their aesthetics and style preferences. Hence, they go for bomber jackets with removable hoods at times.
Wrapping Up The History of Leather Jackets
In the history of leather jackets, we discussed various aspects of the leather jacket history. From its invention to popularity both on the street and on the silver screen, we even went on to discuss when this leather outerwear, which was originally designed for male pilots in the cockpit, found its place in a women's wardrobe. Thus, the different types of leather jackets not only represent a certain leather jacket era but also add an element of nostalgia to a fashion enthusiast's memory.