Bags add an extra something to your look that noticeably transforms your style.
Over the last few years, men's fashion has taken on a fresh new form that is reflected in the bags for men.
While functionality is key, especially for men's bags, style, as well as design aesthetics, have changed.
This has resulted in confusion among people, most of whom would like to know the difference between a briefcase and a messenger bag, so read on to find out more on the subject.
The briefcase for starters dates back to the 1850s where men; especially lawyers, initially used it to carry legal 'briefs' which probably inspired the coining of its name 'briefcase'.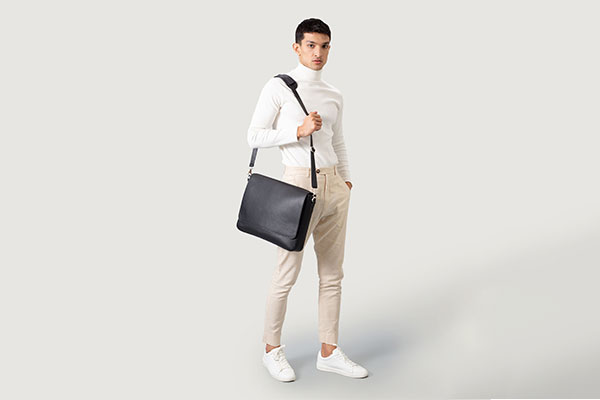 This bag had to be big enough to carry authorized papers in their official sizes in a secure manner.
At the time, a briefcase had a formal appearance right down to its hardware which included locks that are sometimes found even today.
Over the years, briefcases have not only changed in shape and in some cases size and structure, both internally and externally, but they are also being used by legal personnel along-side bankers, salesmen and businessmen.
As for the functionality of the briefcase, it is used to hold anything from documents and stationery to laptops.
Moving onto color, briefcases then and now are mostly available in black, brown and tan.
This again is to maintain its official appearance and style. Most of all; briefcases can be held in only one way i.e. by its handles which makes this point perhaps, one big difference between a briefcase and messenger bag.
If you are one who is looking for a leather briefcase that breaks through the norms of this timeless accessory, then head on over to The Jacket Maker where you can get your very own briefcase, custom-made to suit your personality, preference and lifestyle.
From design and structure to color, hardware and any detail you can think of, we've got you covered.
This leads us to the messenger bag which bends the rules a bit, between formal and informal styled bags for men.
Having the ability to be carried two ways, either from the handles or shoulder strap that offers a cross-body element to this type of men's bag.
Messenger bags are invariably softer to the touch as opposed to their briefcase counterparts which cues in some history to identify why this is so.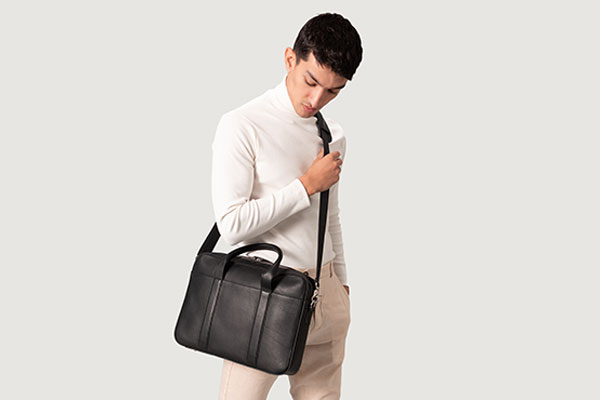 Messenger bags as the name suggests; were carried by messengers and courier service-men back in the 1950s, mainly due to its design which enabled them to get in and out of the bag making it a little less secure but very accessible for those who would need the paper or mail without any hassle and in a matter of seconds.
Fast-forwarding to present day, messenger bags have evolved with time; much similar to briefcases.
This again; is because of the changes in technology, consumer preferences as well as the necessity of the customer which no longer remains solely used by messengers or courier-men but anyone from students to creatives, not excluding executives and corporate level men looking for some style alternatives.
This would be the perfect place and time to include the choice of wardrobe and how it determines which of these two bags men should carry with them.
For instance; a man in a suit would look a thousand times better with a briefcase than another man in a suit carrying around a messenger bag. The analogy we're going for is style imbalance which should be avoided at all costs, even by those who seek to break most fashion rules.
Picture a man in a shirt and tie sitting behind a desk looking smart and dapper but when he gets up you notice he's got on shorts and sneakers. Get the drift?
Although both these men's bags have undergone many changes over the years, what still remains the same is selecting one of the bags to complement what you are wearing at the time.
Leather messenger bags at the most can go with anything from a casual to a smart casual look, yes; this includes semi-formal work environments, as opposed to briefcases that are ideal additions to suiting and other formal situations such as one involving a banker, businessman, lawyer etc.
Moving onto the structure, make and materials of the messenger bag, unlike briefcases that have a heavy canvas, construct and frame, messenger bags have a wider range of materials that include nylon, canvas and leather from which it can be made.
These materials are often water-resistant and durable yet the apex of the differences between these two could well be the fact that messenger bags, unlike briefcases, have a front flap that almost entirely covers the front of the bag.
This flap may have pockets on top or underneath for some security and peace of mind, especially if one is on a route.
What one will not find in a messenger bag are dedicated pockets and compartments for notepads, pens and papers as is found in briefcases.
Last but definitely not least are the large variety of colors that are available in messenger bag styles. These are understandably more diverse and open-ended as opposed to the briefcase range.