Leather jackets are essential garments for keeping you warm and cozy during winter. Their cut, silhouette, and of course, the fabric, make them a priority on any man or woman's list of essentials for colder weather. Depending on their style and material, so many different types of leather jackets are available so you won't ever feel that their purpose is limited.
Their versatility makes them supremely functional and the quality of the leather makes the jackets durable and resistant to abrasions and water as well. Therefore, stop wondering when to wear a leather jacket. Subliminally we think of winter as the leather jacket season and it isn't entirely wrong.
Shearling, hooded, or down jackets are effective in keeping you warm during the winter meanwhile bomber and biker jackets are top picks for warmer seasons.
In this guide, we're going to explain to you everything related to the leather jacket season and whether or not leather jackets are warm intrinsically.
Do Leather Jackets Keep You Warm?
Now let's counter the most important question: Do leather jackets keep you warm? Yes, men's and women's leather jackets are inherently warm and so they serve you well as a winter essential. If you are someone who prefers a light layer for chilly weather outside, you can opt for a jacket with a cotton or polyester lining.
However, if you're planning to go out in the snow and the temperature is below zero degrees, the best thing to do is choose a leather jacket that has shearling lining or quilted insulation because these thick linings add furth warmth to the jacket.
How to Tell If A Leather Jacket Is Warm?
The level of warmth that a leather jacket possesses is dependent on the type of lining that has been used in your leather jacket. There are so many different types of linings that can be used; cotton, fleece, quilted, faux fur, wool, polyester, shearling, etc.
Normally a leather jacket's temperature is ideal for cool weather. The leather itself provides warmth to the wearer from cool winds but its the thickness of the lining that further makes the jacket warm. You can opt for polyester, cotton, or even wool for lightweight protection.
For thicker insulation, you should go for quilted fabric, fleece, or even shearling. If you add a hooded, faux, or real fur to the jacket as well, this jacket becomes functional during harsh, cold temperatures when the weather is below zero degrees.
How Warm Are Leather Jackets?
By now you should not have to worry about how warm leather jackets are. Leather jackets are extremely warm and an essential part of your winter capsule wardrobe. To elevate the warmth, style these jackets with scarves, sweaters, and wool, ribbed tops.
Are Leather Jackets Good For Winter?
Yes, leather jackets are good for winter. In fact, your winter capsule wardrobe is not complete without a leather jacket. This leather outerwear is supremely durable, long-lasting, highly versatile, and requires very little maintenance.
You can wear men's leather jackets with a v-neck long-sleeved wool top and charcoal jeans. Accessorise this look with a scarf and match the colour of the socks with the jacket and belt. Wear Chelsea or Derby boots with this for a holistic winter look.
Why Are Leather Jackets Used For Warmth?
Generally, winter is deemed as a leather jacket season. These leather garments are crucial in providing the wearer with warmth and comfort. Their lining and design elements enhance the level of comfort by making this jacket warm for the wearer. Quilted and shearling linings have high insulation properties that are significantly extended to the garment.
Are Leather Jackets Too Warm for Summer?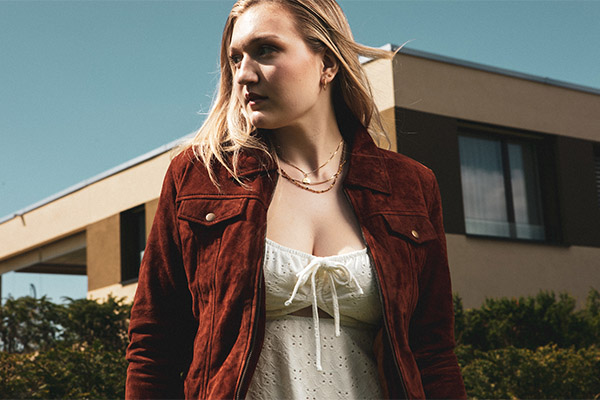 Leather jackets can be warm for summer weather if the lining that is used in its construction is thick. For instance, if you go for a leather jacket with quilted, fleece, or shearling lining, you'll find it almost unbearable to wear during the hot summer.
However, if the jacket has a polyester or cotton lining, it becomes breathable. You can then wear leather jackets as protective gear – like biker jackets while on an adventurous trip. For light layering, opt for the best bomber jackets with lightweight and thin lining as deemed best. 
Are Leather Motorcycle Jackets Good for Cold Weather?
No, leather motorcycle jackets are not the best option for colder weather. It's best to either opt for down jackets or winter jackets with shearling or faux fur for cold and harsh weather. The design of these jackets protects them from harsh weather.
Sometimes, these jackets come with removable hoods that you can use to shield your head and neck, and combined with fur and thick lining, leather jackets become your best friends for winter weather.
Are Faux Leather Jackets Warm?
Faux leather jackets can be warm but since they are not made from the highest grades of leather, they get abrasions and cracks all over the surface. Therefore, you are recommended to purchase full-grain leather jackets that are low maintenance, highly durable, and resistant to abrasions and water as well. Although full-grain leather jackets come at a higher price, they are worth the investment and
Is A Leather Jacket Warmer Than A Wool Jacket?
Winter is mostly known as the leather jacket season because this garment is used as protection from the chilly weather. Both leather jackets and wool jackets are warm, however, if you add a wool lining to the leather jacket, you'll find it to be warmer than a general wool jacket due to higher insulation. 
What Temperature Is A Leather Jacket Good For?
Leather Jacket is extremely versatile and can fit in all kinds of weather – except during heat waves, of course. You should ideally wear it when the temperature is colder.
Is Leather Jacket Good For Extreme Cold?
If the weather is extremely cold, it's best to pair leather jackets with some warm layers underneath. Go for a thick lining, like shearling or quilted. Add mufflers and mittens and beanies to the mix. 
Can You Wear Leather Jackets In The Snow?
Yes, you can wear leather jackets in the snow as this layer doesn't allow snow to easily penetrate through the fabric. 
Can You Wear A Leather Jacket Every Day?
Leather jackets are durable and highly long-lasting. Due to their high functionality, low maintenance, and versatile cuts and designs, you can wear a leather jacket every day. 
Conclusion
In this guide, we discussed the most appropriate leather jacket weather and how you can dress to add insulation and warmth. Leather jackets are warm, and with the addition of thicker lining, one can always make it warmer. You can also get custom leather jackets to make changes in your lining for additional warmth.