Chilling on the benchers. Cheering on, your favorite team while slurping on ice-cold beverages. Wasn't college just a dream?
As soon as college is over we're forced to get out of fantasy land and face the real world. Everything is different when you're an adult trying to make your place in this fast-paced world. The one thing that you can take comfort in is fashion.
Fashion can be used to remind you of your fun days at college or high school. How? Well by wearing clothing that reflects your time spent there. One of the best clothing pieces that will take you back in time is a varsity jacket.
A varsity jacket, also commonly known as a letterman jacket, used to be the pride of college athletes. This double-toned jacket with buttons, a woolen hem, and a huge embroidered letter (or number) were the envy of all. These jackets were commonly worn by men but soon became a style symbol.
Come to think of it, why should men have all the fun? Varsity jackets look just as good on women, if not better. There are two common styles available.
Oversized varsity jacket- This style is a great piece to throw on and add a little oomph to an otherwise basic outfit. It works on many different body types and is great for layering.
A cropped varsity jacket- This style is a more stylish version of the everyday varsity jacket. The cropped hemline creates the illusion of a slimmer waist. This style is better suited for the warmer months.
Modern Varsity Jacket Outfit Ideas For Women
Varsity jackets have always been marketed as a 'men's clothing piece'. Thanks to the evolution of fashion and a couple of risk-takers, varsity jackets are now a staple piece in women's wardrobes. Fashion in 2023 revolves around such statement pieces.
Letterman jackets can be a bit intimidating to wear, with their block colors and embroidered letters/ numbers. If you plan on wearing this jacket you will definitely be seen.
Women look great in everything. A varsity jacket has a bit of a masculine touch so it's understandable why most women avoid them. These jackets are extremely versatile and can set the tone for your overall outfit. We have put together 7 different ways that you can style a varsity jacket and look fabulous in it.
Sporty Girl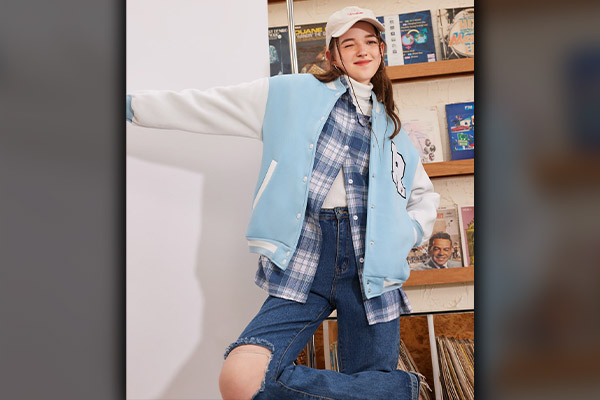 Let's start our outfits with a classic varsity jacket. We're talking about a blue-and-white color combo jacket with a woolen neckline and big buttons. This style is probably the most worn style of letterman jackets.
Pair a letterman jacket with a pair of shorts and a basic tee. Add on white sneakers to complete the look.
Alternatively, you can go for the whole baseball player look and pair a gray crop top with a pair of blue jeans. Add on a varsity jacket and a snapback to pull the look together. All that's left to do now is for you to work on your baseball terminologies like, 'Homerun!'. Once you've mastered that you're ready for any ball game.
Spring Fling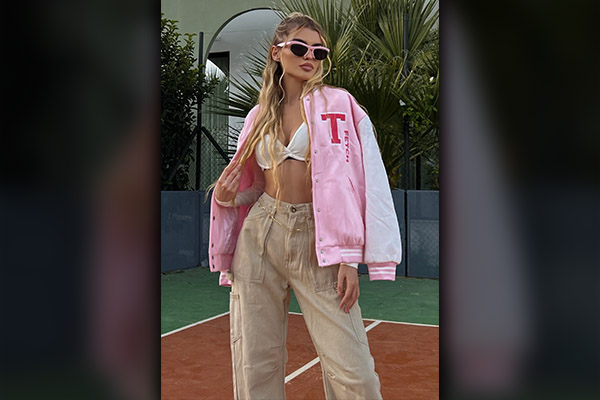 Cropped varsity jackets look extremely cute when paired with a skater skirt. Pair a pink varsity jacket with a white crop top and a floral skater skirt. Add on boots or sneakers to complete the look.
You can also pair an oversized varsity jacket with a v-neck T-shirt and jeans. The look is easy to put together and the jacket just adds a mannish element to an otherwise cute look.
Ain't Nothing Like Black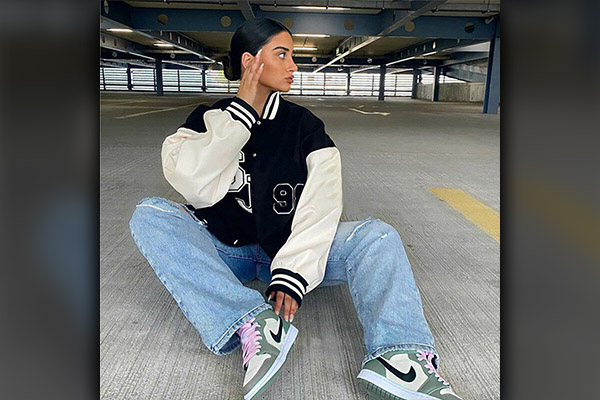 For days you don't want any hassle but want to look mysterious and chic, a black varsity jacket is your best option. This jacket looks good with so many different clothing pieces.
Go for a monotone look and pair a black leather varsity jacket with a black tube top and black skinny jeans. Add on black sneakers, boots, or even high heels to complete the look.
You can also pair a black mini dress with a black letterman jacket. Tie a ponytail and finish the look with a pair of strappy heels.
Preppy Princess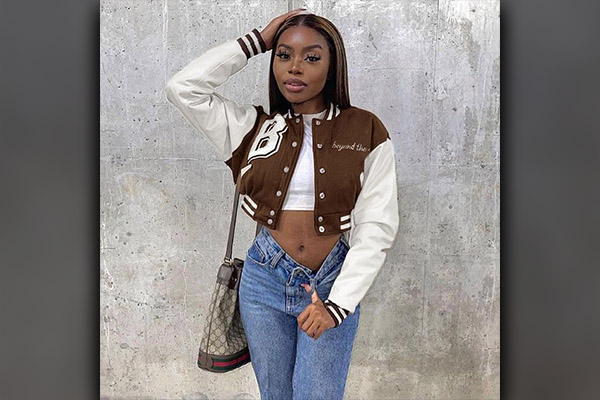 If collared button-down shirts are more your style then you fall into the 'preppy' category. Varsity jackets are a great way to show support for your favorite organizations or movements. All you need to do is add on an embroidered patch of your choice and you are all set. You can customize these jackets to your liking or wear a factory-made one. Either way, these jackets are stunning.
Pair a light blue button-down shirt and tuck it into a plain dark-blue pleated skirt. Add on a blue and white or plain black varsity jacket. Pick one that has a kind of bomber jacket silhouette for a more flattering fit. Complete the look with pumps or block heels.
What screams preppy more than a v-neck sweater? Pair a red and white letterman jacket with a gray v-neck sweater. Add on a pair of fitter trousers or linen pants to complete the look.
Date Night Ready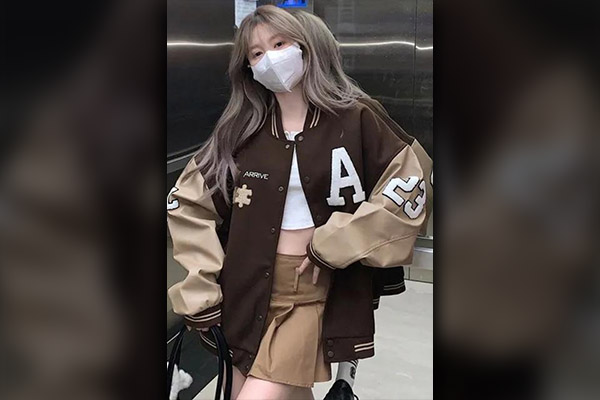 Have a big date, but you don't want to go overboard? No problem. Pair a black leather bomber jacket with a plain white crop top. Add on blue skinny jeans and ankle boots to finish off the look. Your date won't know what hit him.
Keep it classy and pair a black and gray letterman jacket with a gray top. Add on blue denim jeans and brown Chelsea boots to complete the look.
Streetwear Diva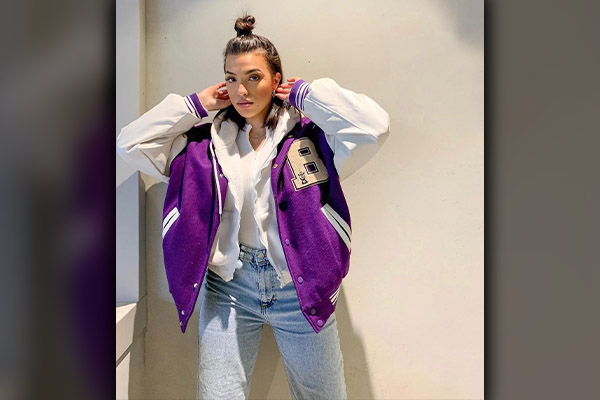 Baggy shirts and cargo pants are everywhere right now. These clothing pieces belong to the fashion category known as streetwear. Streetwear is the latest fashion trend in 2023. It's an amalgamation of comfort and fashion, and people can not be any more pleased with it.
Street style for women is quite similar to that of men and so there are a bunch of outfits that you can create.
Pair a graphic tee with an oversized letterman jacket and denim shorts. Add on a pair of eye-catching sneakers to complete the look.
Black Cargo pants when paired with a gray tank top look excellent. Add on a red flannel shirt and a varsity jacket over the tank. The red of the shirt will pop up against the neutral shades. The overall outfit will be hard to miss!
Flared Jeans and Varsity Jackets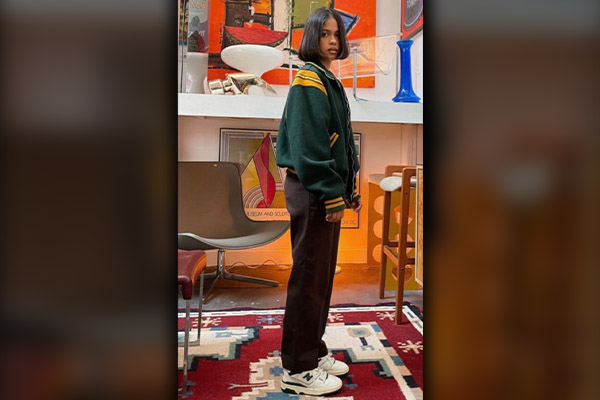 Summer heat does tend to make skinny jeans and leather pants unbearable to wear. Thankfully, flared jeans are the latest trend. These jeans fit perfectly around the waist and flare just around the calves.
Create a sexy outfit just by pairing a white tube top with denim flared jeans and a black and red Letterman jacket. Add on matching sneakers and a purse to finish off the look. 
Feeling creative? Why not pair a yellow varsity jacket with a white printed tee. Add on black flared jeans and shoes to complete the look. The yellow adds life to the overall outfit and makes a bright statement.
FAQ's
What to Wear With a Letterman Jacket?
 A letterman jacket is a stylish piece and can be dressed up or down accordingly. It looks great when paired with tank tops, crop tops, skirts, jeans, and t-shirts. 
How Should a Varsity Jacket Fit?
A varsity jacket should have a snug fit overall, but there should be just enough space for a layer of clothing like a hoodie, to be worn within. Varsity jackets come in all sorts of styles and so, the hemline of the jacket varies. 
Are Letterman Jackets Still a Thing?
Yes. Letterman jackets are still a thing. In fact, they are more popular than ever. They look great and pair with many clothing pieces. These jackets come in a variety of styles and colors, ensuring that there is something for everyone. 
Conclusion
Varsity jackets were clothing pieces that reflected pride. They stood for something whether it be a school's honor or a team's unity. Fast Forward to today and varsity jackets are a staple wardrobe piece.
Men were the desired wearers of varsity jackets but now women wear them too. Women are forces of nature and there is nothing they can't make work. Varsity jackets are no different.
They look incredible and have an expensive feel to them. They can be worn casually or can be dressed up. All in all, these jackets add a touch of masculinity to your otherwise feminine wardrobe. Invest in one and get to outfit planning!