Going for evening glam for some may be a no brainer, but adding that finishing touch with a clutch, is where the style equation often gets tricky. Here we share our five favourite clutch styles that we're sure you will love and will up your evening glam instantly. Before going any further though, it is important to know exactly what type of style or more importantly which type of glam you're looking for. As diverse as the bag options may be so too are the types of glam you can achieve by the simple choice of clutch. From a chic simplistic glam to a vintage Hollywood glam, a modern glam to an artsy quirky glam. Seems overwhelming doesn't it? No fret as we at The Jacket Maker have got you covered. Read on to find out ways to incorporate evening glam simply by use of a clutch.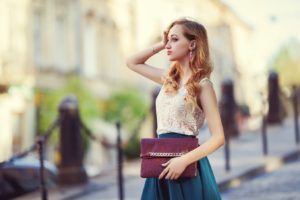 You're very Own Mod Glam Clutch
Mod Glam is derived from a modern glamour look that is versatile, functional and yet ever so stylish. This type of style is ideal for young gals or career women looking for some glam that can go from day into evening. Picking a clutch that embodies these elements is often an easy peasy process. This could be due to the colours that are often neutrals and that can be used with various ensemble palettes. The shapes too are classic with maybe a subtle detail that makes the overall clutch a bit more special. What's more, is that you could go with this clutch for a workday look and use the same for an evening glam look that has an equally powerful impact. While textures too fit in well with this style it is advisable to keep textures to a minimum or better yet out of the picture for a totally clean and crisp appearance.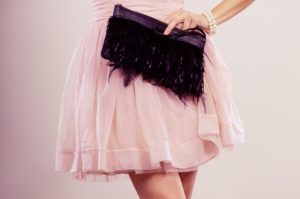 Catching up with Playful Quirky
If evening glam was truly creative it would be because of this particular type of style. An evening glam option for women of any age. All you need to have is a flair for fun, quirkiness and style that is stylish yet unexpected as well. Think of clutches that have a bold colour, a dazzling detail or feather type finishes that often include fringe, sequins or even studs. Hopefully not all together, but hey! We're not judging. The key to remember here is to only allow one eye-catching element that adds the playful card to this type of evening glam style. You want this look to be memorable and not drastic in a bad way. A perfect match for cocktails and if done well formal engagements too.
Classy Vintage Evening Glam Clutch
Taking cue and inspiration from anything between old Hollywood movies to music, art and culture. This type of evening glam is where the chicness and sophistication unfolds. Think bright red lips, sparkling silver hoop earrings, soft curls and long eyelashes. A clutch that nods to this retro styled universe would be perfect for adding some drama without having to go over-the-top. Then again perhaps pushing the envelope on this one maybe a good idea. Clutches that have classic shapes and sleek craftsmanship with a good balance between colour and artistry. Think chic metallic tones, dull golds and shimmery dust finishes and you're on your way.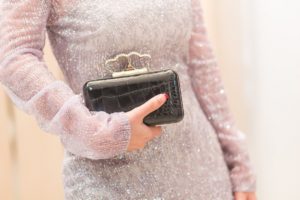 Jet-setting International Glam Clutch
An evening glam look that has many confused is the international glam option that is best described as an eclectic look that draws elements from different parts of the world, whether in moderation or plain and simple crazy and over-the-top. Think of a mix between vibrant colour, rose gold finishes, lace, pearls or leather, mixed with metallic hardware or edgy knuckle adornments all work in favour of this international evening glam look that would be appropriate in various countries across the world. Now isn't that interesting.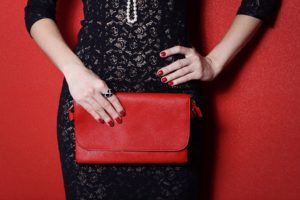 Funky Fatale Evening Glam Clutch
We know! As fascinating as this title is so is this type of evening glam style that many women will love. In a nutshell, it is a well balanced mix of classic and modern elements gelled together to give you an eye-catching evening glam style, where your clutch will do all the talking. Think of mixing leather with pearls or satin with dark denims or corduroy and our favourite of all, mixing velvet with leather will totally push your overall evening glam look to the top of the list. If materials isn't the place you'd like to do your blending, how about doing so with colours, types of hardware or tiny details with large impact.
Interested in customizing an evening glam clutch to your hearts desire? The Jacket Maker can totally handle it. Click here for more on custom clutch bags that creates on whole new dimension to fashion clutches for women of all ages.