Humans forever love receiving gifts. No one can resist the feeling of excitement that comes over when there is a gift waiting to be opened. The adrenaline rush that one feels to see what's inside is something we all want to experience again and again. In everyday life and personal relationships, gifts are more about showing love, emotions, and care— the gesture matters the most. However, corporate gifts for clients are always more than that.
Significance of Corporate Gifts for Clients
Corporate gifts are a way to build and nurture positive professional relationships with clients and partners alike. Whether it's celebrating a new client acquisition, incentivizing your list of clients or perks for long-time clientele. Corporate gifts help cement relationships, generate repeat business, enhance brand awareness & a lot more.
Corporate gifting is an indispensable element of successful marketing & client prospecting as well as a retention strategy. Giving gifts to clients on special occasions, holidays & when getting on board is a sure way to show them that you value the trust they've placed in you.
Corporate gifts for clients are one of the basic actionable ways to foster positive and stronger client relationships. But like any gift, it's important to give something that speaks the language of your client's interests. Also, they should be useful, exciting, and not basic at all.
Top Corporate Gifts For Clients – 11 Amazing Options
Finding corporate gifts that represent your company's culture & values while strengthening existing relationships and cultivating new ones is no easy feat. If you're looking to give an impressive, memorable gift you'll be able to take full credit for, look no further than the list below. From the practical to the frivolous, these corporate gifts for clients will impress even the most discerning of clients.
1. Diary & Notebook Covers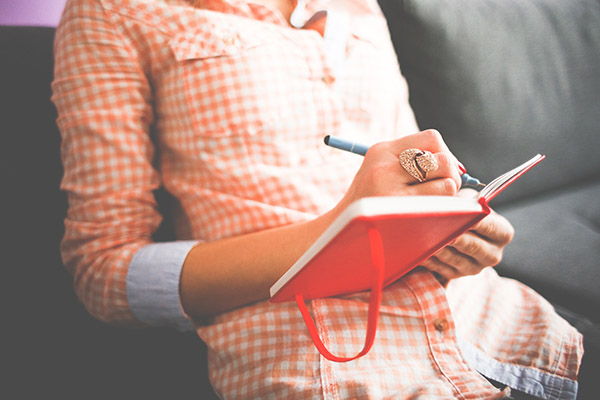 Notebooks, diaries & planners. They're everywhere in the corporate world. Although it may be tempting to buy an old' notebook and throw it into a nice gift box, you can do better than that. While many businesses give out notebooks and diaries as gifts, think outside the box for corporate gift ideas— literally.
We say skip the cliché and opt for leather diary covers. Keeping in mind that personalization is the key to an excellent business gift, opt for a custom leather diary cover, and let them know that you appreciate their patronage. Customize them with engraving or embossing with your client's brand logo name or names to give them a hyper-personal feel.
2. Personalized Coffee Gift Set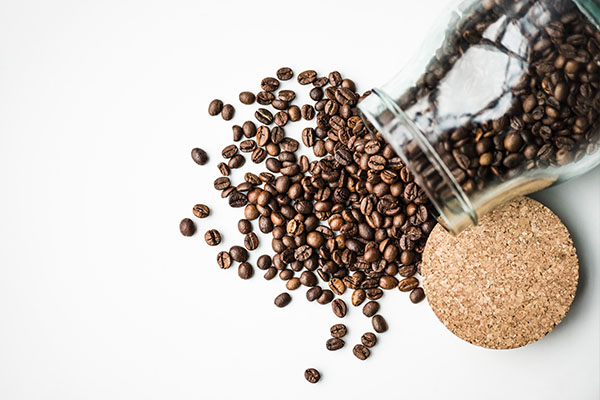 A morning cup of coffee can set the tone for your entire day. Give your clients a delicious way to start their days by delivering personalized coffee gift sets with their favorite coffee beans and a customized mug—- a cost-effective but super impressive option.
The little details add to the whole experience. Go the extra mile on your packaging and give the mug an artistic touch by printing their avatar on it. A quote from a thought leader in your industry will give this corporate gift an inspiring touch. This is a practical gift that they are likely to use and remind them of you every day.
3. Leather Coasters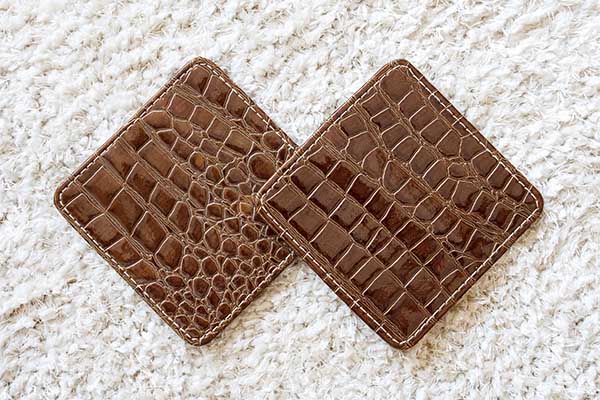 Tea, coffee, and all sorts of hot drinks are a staple at every office in the corporate world. People need them to stay alert and energized throughout the day, but sometimes it can leave a mess or a permanent stain on the furniture. Leather coasters prevent that by providing a soft surface for these drinks to rest on, making sure stains are guaranteed not to form.
This nifty item can be turned into a great corporate gift. Functional, thoughtful, and a lot more affordable than you think. SMEs and startups can indulge in personalized leather coasters, and they make excellent bulk corporate gifts for clients. Get them embossed and embroidered with the client's company name or each recipient's initials for maximum impact.
4. Leather Jackets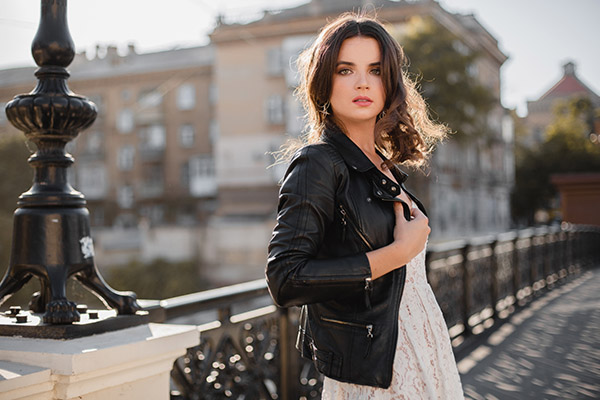 Custom jackets and outerwear like personalized leather jackets are great luxury corporate gifts. It demonstrates that you took the time to learn about the recipient and present them with something that they'll truly appreciate and want to wear. They are exclusive corporate gifts for clients better than the ordinary that only gets dusty in the corner of the office.
A leather jacket is a timeless style statement and is synonymous with luxury without any doubt. A high-quality piece, custom created for someone makes a thoughtful present and evokes a sense of grandeur without the pretense of other luxury items. Whether it's for a birthday or to say you value your clients, custom leather jackets are one of those gifts that keep on giving.
Additionally, you get to choose from a variety of designs, styles, and leather types. From classic motorcycle jackets to sleek blazer styles. There are profuse options for the unique taste of your clients. For newbies, here is a tip. Opt for leather jackets made from full-grain leather as it's the highest grade in natural leather.
5. Card Holders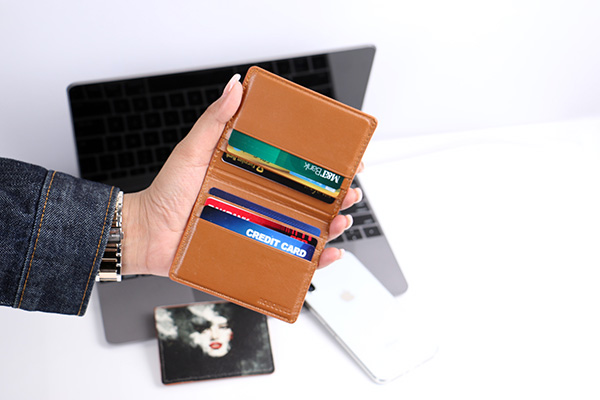 Spend a day in the corporate world, and you'll be surprised that business cards are still a thing. Despite digital communications, there's still a lot of room on the shelf for the old standby. Chances are, your clients are also receiving them at conferences, meetings, and events. Think of all your competitors that will be prospecting on your clients.
You can't do pretty much anything about it except being good at your services. However, a great corporate gift like a cardholder will give you an added edge. Give your clients a customized multifunctional cardholder for their business cards, credit cards & more, and stay on the top of their minds.
Custom card holders are a win-win corporate gift for clients. Even if your competitors managed to reach them, when your client looks at this luxe yet practical gift, it would remind them of your thoughtfulness and a wholesome business relationship.
6. Leather Bags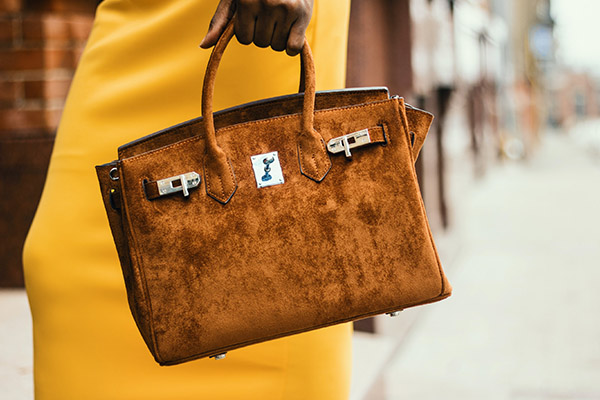 Bags are classic accessories that make for a gift that never goes out of style. But they are more than just fashionable — they offer a way to stay organized, protect your belongings, and keep all of your work in one place. In today's busy world, a practical custom bag can be the difference between a busy day and an extremely chaotic one.
However, fabric and canvas bags might be a viable, cost-effective option for business gifts; nothing beats the luxe appeal of premium custom leather bags. Given the sturdy material in which they're made, they're low-maintenance and resilient, and they look great too. Plus, they are one size fits all corporate gifts, so you don't have to worry about sizing issues.
From backpacks to messenger bags to the trending tote bags and more. With diverse designs, the leather bag category enables you to treat your clients to something that is equal parts practical, stylish and luxurious. Beautiful, handcrafted custom leather bags are one of the best gifts for business owners and other high-profile clients on your list.
7. Wallets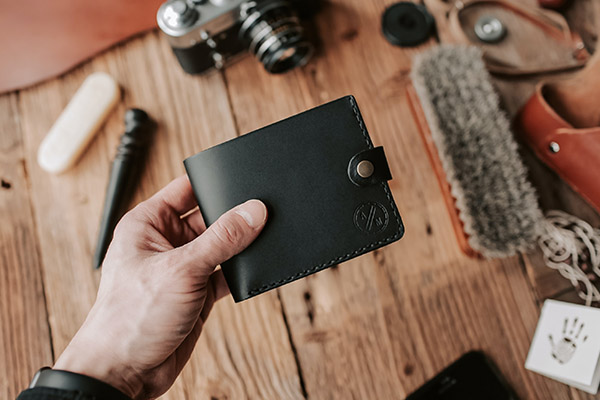 Leather goods like custom leather jackets and bags are luxurious items that might sound like a lot to spend on gifts for small business owners. Even if money may be tight, you can still find a gift that has everyone's favorite luxury material: leather. We are talking about custom leather wallets.
A leather wallet is still a great high-end gift — it doesn't have to be that expensive to give someone a touch of luxury. They're versatile accessories that help the recipient keep their essentials close and save room with pockets. The greatest part is that it won't break your bank to get one for all your clients and even their families. And you'll be giving them something special that they'll use on an everyday basis.
If you're looking for an added special touch, then go for embossed lettering or custom engraving for the desired initials or logo on it. It was a simple yet classic move that impressed many and made the gift more personal. If your client is a style-conscious woman, custom clutch purses are trend-led business gifts that scream class and luxury in no particular order.
8. Passport Covers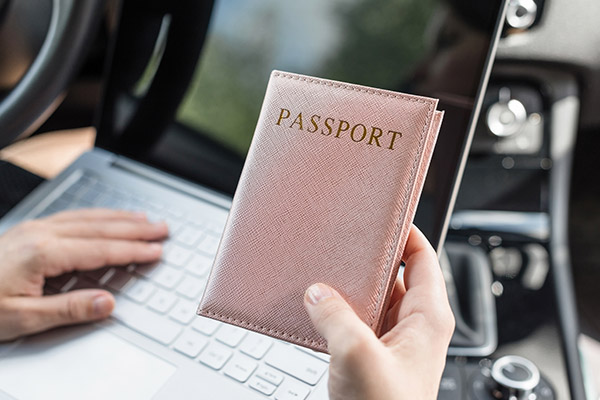 International travel is a big part of the business world. But it all begins with the passport. When traveling for business, it's not just important to stay safe but to keep your passport in sight at all times as well. If you misplace that one document, all work, and carefully laid plans may go out the window.
A passport holder is a useful accessory to keep the passport safe; give it a distinct look to avoid getting lost in your travel stuff. Thus it makes a great corporate gift for clients who are always on the go. Accompany your onboard clients everywhere they go with a passport cover.
Also, what's better than a passport cover? A custom leather passport cover built from the ground up to fit your client's liking and your vision of a perfect corporate gift. Go for a sophisticated minimalist one for the VIP clients or a cute funky one for your artsy clients. You can't go wrong with a corporate gift for clients like a personalized passport cover.
 9. Bomber Jackets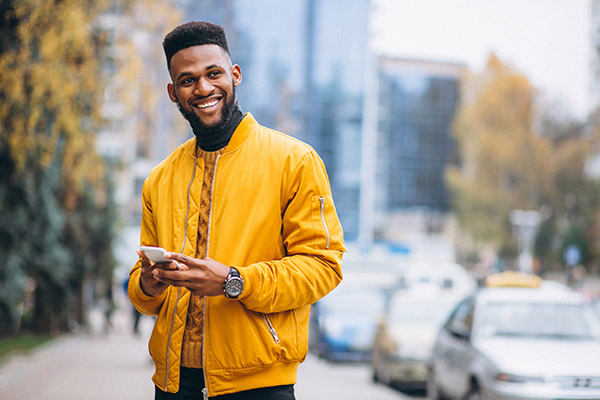 Got a cool client on board who keeps up with the latest fashion trends? Change your usual business gifts for something different. When you're working with a client with a more casual approach to business, bomber jackets are sure to impress.
The bomber jacket was popularized by the military, but it quickly became a style staple for anyone in need of a stylish outerwear garment. Made of leather, cotton, nylon, suede, and many other materials, the bomber jacket can be used to inject casual wear with some coolness and edginess or be dressed up classically smarter.
For corporate gifting for clients, it's better to forgo an off-the-rack piece for custom bomber jackets. Take the extra time to give your valuable clients one-off pieces that fit their aesthetic, sense of style and personality.
Demonstrate your dedication and thoughtfulness by picking the right fabric, embroidery, and other factors to ensure the bomber jacket is stylish, up to date, and is of use for the recipient.
10. Laptop Bags and Sleeves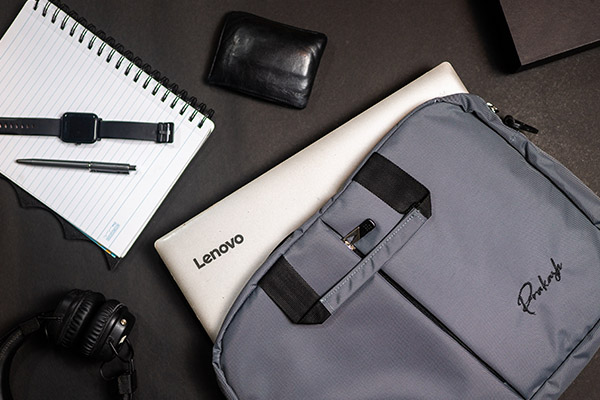 The modern corporate world revolves around tech devices. Business professionals are making the most of their working days with innovative hardware. Laptops, smartphones, and tablets allow them to be productive and work effectively on the move.
So it's important to give these prized possessions a good home in a well-made sleeve or bag. A high-quality custom laptop bag or sleeve makes for a corporate gift for clients, too— custom being the keyword here to take your corporate gift to the next level.
By presenting your clients and partners with pragmatic gifts like laptop bags and sleeves, you can ensure that their devices withstand the rigors of business travel.— As well they being a stylish accessory for their professional wardrobe.
You can pick from a variety of laptop bags available— from sleek laptop leather sleeves to padded laptop backpacks to custom portfolio bags with laptop sections to rugged, waterproof options; there's something here for everyone.
11. Leather Desk Pads & Mouse Pads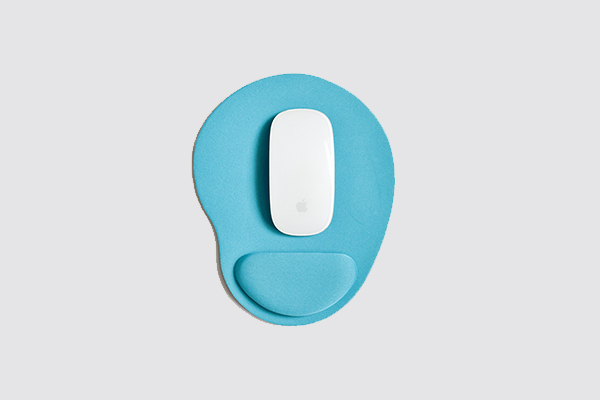 Full-grain leather goods like custom briefcases unquestionably make luxury expensive to give someone a touch of luxury corporate gifts for the c-level executives. However, if you're looking for a trendy everyday use item that is extremely useful, aesthetically pleasing, and pocket friendly with a touch of luxury, leather desk pads and mousepads are the way to go.
Leather desk pads and mouse pads epitomize that good things come in small packages. They keep things organized and mitigate the wear and tear on your desk caused by your tech devices or your arms. Also, they are perfect for when you want to create a productive workspace away from your regular space. Easy to fold and carry, you can tag them along whether you are working in a coffee shop or pulling an all-nighter at home.
Step away from the regular corporate trinkets and include desk pads and mouse pads in your corporate gifts for clients. To take them up a notch, personalize them for your clients with custom printing their names or brand logos.
Corporate Gifts for Clients – The Jacket Maker Way.
The Jacket Maker is a trusted name designing and manufacturing leather jackets to the highest standards. From sourcing the finest leather to expert tailoring, our leather outerwear is handmade to perfection.
With a similar philosophy, our corporate gifts for clients are a reflection of our ongoing commitment to superior quality, unrivaled service, and overall excellence. Whether you are looking for a one-of-a-kind custom trench coat for your client's firm's CEO or custom tote bags for the entire team, we can bring your vision of an impressive client gift to life.
Plus, we bring you the broadest range of personalization options, from choosing the leather type to lining materials to logo printing to name embroidery & everything in between and beyond.
To Conclude
Incorporating unique corporate gifts into your marketing and outreach strategy is a fantastic way of staying in the minds of your clients. However, corporate gifts aren't just another thing to buy on a whim which is why we've done the work for you.
This inclusive gift guide was to help you to transform the traditional corporate gift from something generic, dull, and boring into something that is guaranteed to delight. Which one grabbed your attention? Let us know in the comments.