Commuting to and from work can feel like a massive chore on its own. Add in all the devices, documents, and other stuff you have to carry to work every day and the situation gets worse.
While not much can be done about the commuting issues, you can carry all of your work essential items easily by investing in one of the best work bags for men. Not to mention the style benefits of carrying a bag that fits your professional vibe.
Here is a complete guide on the different types of bags available on the market so you can make an educated purchasing decision.
What To Expect In This Article?
Messenger Bag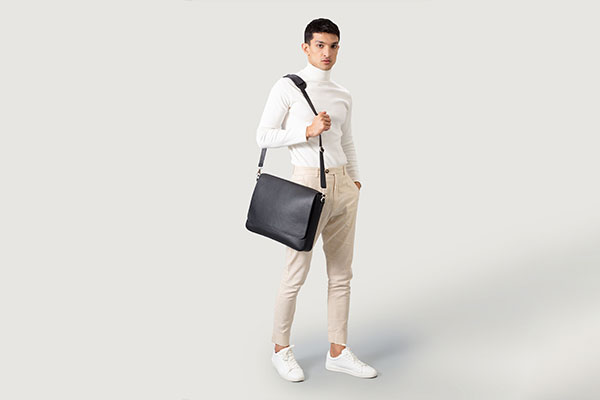 Messenger bags are one of the best office bags for men and their popularity backs up this claim. You will see them everywhere as they are the symbol of gentlemen going to work. Messenger bags also work for a number of professions from programmers to lawyers.
These are slim men's leather crossbody bags with long straps to wear them over your shoulder. Some designs also include a handle to carry the bag in hand. The items inside are covered by one big flap that goes over the entire bag. The average size of these bags is also perfect for everything from laptops to files and folders.
Material
The most common and ideal choice for messenger bags is quality leather. A leather messenger bag with a noticeable leather patina looks the most mature and professional. Leather is also exceptionally durable so a bag made from real leather would last years or even decades with regular daily use.
You can also find messenger bags in nylon or canvas material. These look fine for the most part but don't really fit the working man aesthetic as well as leather does.
Color
The safest and most stylish color choice for messenger bags is black. It fits right in with almost every business attire in your wardrobe and looks fantastic after getting some natural patina.
The second best option is brown. You can match these with other leather items in your outfits like brown belts or shoes. You can choose between the different shades of brown according to your preference.
Briefcase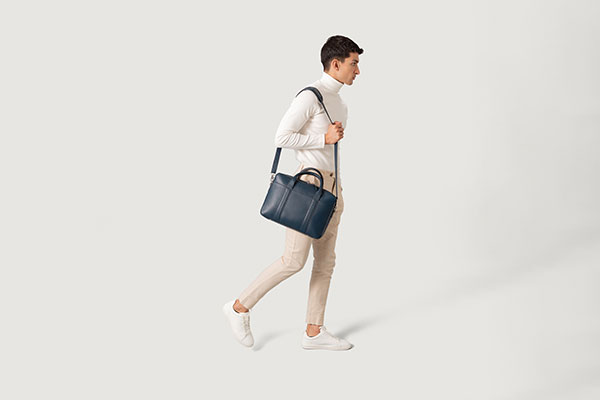 Briefcase bags were initially used by lawyers to carry their "briefs" to the court, hence the name. While leather briefcase bags have diversified a lot since then, their designs are still a reflection of their original purpose. These are often large enough to carry legal size documents with ease. Some designs even come with proper physical locks or padlock hooks for security.
Briefcases are usually associated with white-collar jobs that deal with a lot of documents like lawyers, bankers, accountants, and salesmen. That said, you can definitely choose briefcases if you like their design, even if your profession is not on this list.
Materials
The ideal material choice for briefcases is the same as messenger bags. Other options include fabric, metal, and hard plastic. While these have benefits of their own, none of them are better suited for work than the leather briefcases for men. This also stands true for both aesthetics and functionality.
Just keep in mind that the long-term usability of your slim leather briefcase depends on its construction quality. Pay close attention to leather texture and type before making a choice.
Color
If you want your briefcase to look the best, go with brown as it looks the most professional. Darker shades of brown work better than the light ones and shiny finishes tend to leave a better impression than the matt option.
If you want to distinguish your men's leather work bag from the crowd without standing out completely, go for a dark maroon option with bronze metal buckles and zippers.
Backpack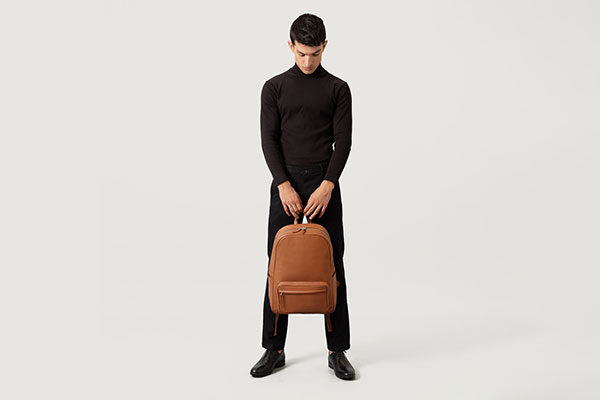 Backpacks are large bags with plenty of internal space. They come with two shoulder straps and are worn on your back (hence the name).
When looking for the "best business bags for me," very few men consider backpacks as they're usually associated with students. While this association is completely justified, the right backpack can also be the best work bag for men. All you have to do is look for backpacks with minimalistic designs and slim profiles.
Generally, backpacks are used by tech professionals since they might have to carry a large number of electronic devices or artists with digital or physical art supplies. If you work in a similar industry, a backpack is the most comfortable choice for you.
Materials
Since backpacks are not used by office professionals like accountants or managers, you have many more choices than leather. Denim and canvas are the two prime candidates with durable nylon not far behind.
Leather is still an option if you want that aesthetic. Quality leather backpacks can get quite expensive, though, so looking into something like microfiber leather would be worth it.
Colors
Just like materials, you have plenty of color options as well. Black and grey tones are the safest choice. But you can also pick different shades of blue, maroon, or violet to add some style to your work ensembles.
Keep in mind that you are still a professional, no matter the field. So, overly vibrant bags with elaborate patterns and shapes are not an option.
Laptop Sleeve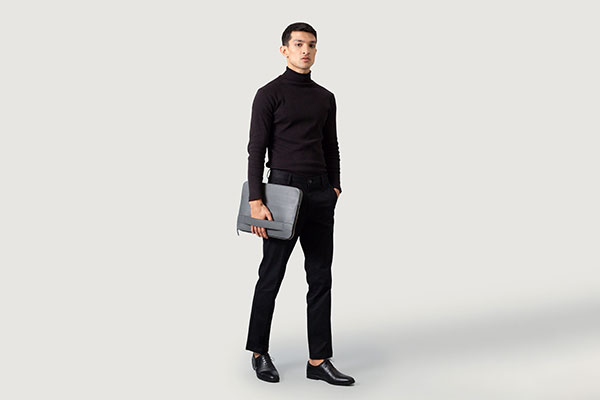 Most modern-day office jobs require nothing more than a thin laptop, so why burden yourself with larger bags?
Laptop sleeves are slim covers that are designed to hold your laptop and nothing else. If your only essential work carry is a modern thin-n-light laptop, getting a leather sleeve is the most optimal choice. They look incredibly classy and are also pretty easy to carry around as a daily commuter bag for men.
You can also find sleeves for your specific laptop model for a flawless fit and peak aesthetics. If you can't find one designed for your laptop, a universal one will do just fine.
Material
Material choice for laptop sleeves is not as critical as it is for other men's satchel bags. The trick here is to find a material that matches your style.
For example, if you're a young fashionable game designer, a denim laptop sleeve would work effortlessly. Similarly, brown leather is the right choice for a serious businessman's bag.
Color
The right color for your laptop sleeve depends on the material of your choice. Leather sleeves look their best in shiny black or brown finishes. Denim shines in blue and gray. As for materials like neoprene, lighter colors like off-white, cream, and light blue tend to leave the best impression.
Reasons To Invest in a Men's Work Bag
Are the best work bags worth an investment from your hard-earned money? This question might cross your mind and the answer is yes, they are worth it. Here are a few of the biggest reasons why.
Convenience
Jobs, especially office-based jobs, can require you to carry a lot of stuff. This includes a laptop, charger for that laptop, documents, a notebook and pen, and even official stamps. There is no convenient way to carry all of it by hand and a bag is the most logical solution.
You can put everything in the bag, and then put the bag over your shoulder for a completely hands-free experience.
Plus, you can find plenty of work bags with compartments for different items. These compartments keep your work items organized – allowing you to access everything without wasting any time searching.
Style
While practicality and convenience are the biggest reasons to invest in men's professional bags, we cannot ignore their style potential. Simply put, a proper work bag is a perfect addition to your professional aesthetic. Just carrying a messenger bag for men around will signal others that you mean business.
You can also invest in multiple stylish bags for men over time and choose between them depending on your outfit and situation. For example, a genuine leather messenger bag would look incredible alongside a matching leather trench coat, while a waist bag would shine over a denim jacket on casual Fridays.
Protection
Options like laptop messenger bags for men keep your stuff safe. They included water-resistant compartments, foam padding, and soft interiors so your documents and laptop stay safe during every commute. Some even come with a hard structural skeleton that protects your work essentials against drops.
Final Words
Sifting through the best work bags for men and finding the right one for your use is a long-term decision. Not only are these bags a major investment, they will also affect how you're viewed as a professional. So, before you finalize a bag, make sure that it fits your profession, position, and personal style.
Don't get lost in the world of aesthetics either. Yes, your work bag should look good, but it should also hold everything you need without any issues. Remember that the ideal work bags for men strike a careful balance between professional looks, proper functionality, and long-term durability.