The first signs of winter and everyone's thinking, 'time to bring out the boots' okay perhaps not everyone but a good number of people who understand the value and importance of having a good pair of clean leather boots that can be shown off as well as serve a more functional purpose of warmth and comfort.
While all this may sound all too good to the ears as well as the feet, what many of us try to sneak out of is the cleaning and maintaining of those boots we all have a soft spot for. Truth be told it happens to the best of us, yet this need not be a daunting task as it is actually really simple once you try this brief yet effective way which we're about to share with you below. Trust us, after this you're going to be jumping to the occasion of cleaning up those boots, just so you can enjoy the process as well as pleasure of sporting a well maintained pair of boots. Here we go!
First off, it is advisable to use a protective water repellant coating on your boots before wearing them, if you don't already do so and be careful to avoid heartily soiling your leather boots, by being cautious as to where you wear them and how. Secondly, should your leather boots be stained by road salt, you can totally go for a desalting product easily available at the cobblers. A cool tip to avoid salt lines from forming on your leather boots and becoming semi-permanent, would be to treat them as soon as you get home and by doing this, you would prevent build-up. Simply dampen the leather with a wet sponge and then stuff the leather boots with paper, so they hold their shape until they dry.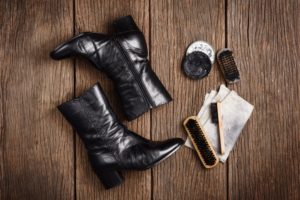 Home Cleanse
After making a solution of equal parts of water and vinegar or a mild moisturizing soap instead of vinegar, take a rag and soak in this cleanser. Dab the stained parts of your leather boots and wipe with a damp cloth, once you are done. Now wipe the leather boots dry with a towel and allow them to dry naturally. NEVER try to speed-up the drying process by placing leather boots near heated area or they will become brittle and easily prone to cracks and damage. Once they are dry, it's time to buff your leather boots with a soft cloth.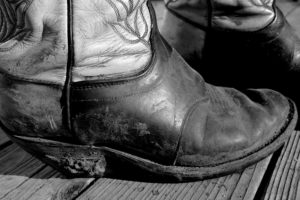 Scuffed Boots NO More
For leather boots that are scuffed, avoid scrubbing them roughly as this would do more harm than good. Simply dip a soft cloth in clean water and then dip it in baking soda. Rub this cloth gently over the scuff marks on your leather boots and then wipe them clean with another damp cloth. Now buff them dry with a soft cloth and allow to dry completely and naturally.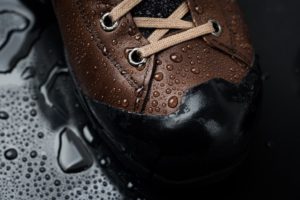 Dirty and Wet Situations
For leather boots that are wet and dirty, you have to allow them to dry before stuffing them with newspaper which will help them retain their shape and help in the drying process as well. Once this is done, brush off the dirt, use a commercial leather cleaner and then polish your leather boots. Applying saddle soap is a good idea and voila! Your leather boots are back in business.
Future Damage Prevention
As a rule of thumb, always give your leather boots a good protective coating at the start and end of each season as well as in between to post cleanings. It's always a good idea to spray clean, dry leather boots with a waterproofing spray to prevent salt stains as mentioned above. A great idea would be to line up all your leather boots and conduct a cleaning process in one sitting. This will save you time and hassle later on.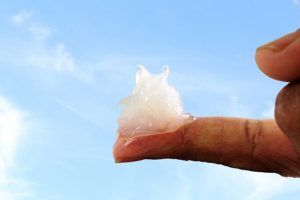 Awesome Alternatives
Check out these cool and awesome alternatives that you can use to clean your leather boots. Did you know that petroleum jelly can work wonders for your leather boots? All you have to do is dip a soft, dry cloth into a jar of petroleum jelly and apply to your boots only after they have been cleaned. Use this jelly especially on scratches and scuffs by rubbing the cloth over the area in circular motion. NEVER use petroleum jelly on suede boots. For salt stains you can use diluted vinegar, using again a soft cloth apply this over the salted, stained area and watch the magic unfold. Last but definitely not least, you can use corn-starch to remove grease stains from leather. What's even more interesting, is that you can this on suede as well. On completely dry leather boots, use a healthy amount of corn-starch and let it sit on the grease stains for a half hour or over-night to allow the corn-starch to absorb the grease. Using a damp cloth remove the corn-starch residue using a bit of dish soap and the grease stains will vanish.
Storage Solutions
Aside from the point mentioned above, regarding the proper drying of leather boots and avoiding direct heat sources such as a radiator or dryer, let your leather boots dry naturally and you will notice they will have less chances of being brittle and prone to damage as when you expose them to harsh heated conditions. For storage, never store leather boots or any leather products for that matter, in plastic bags, this prevents the leather from breathing. Remember! Leather is a skin or hide which means it requires some degree of air to breathe. If you do decide to go with a box then let the lid of the box loose so some air may enter the box. For more on storage click here.
Sources: Howstuffworks, Forte, Heloise